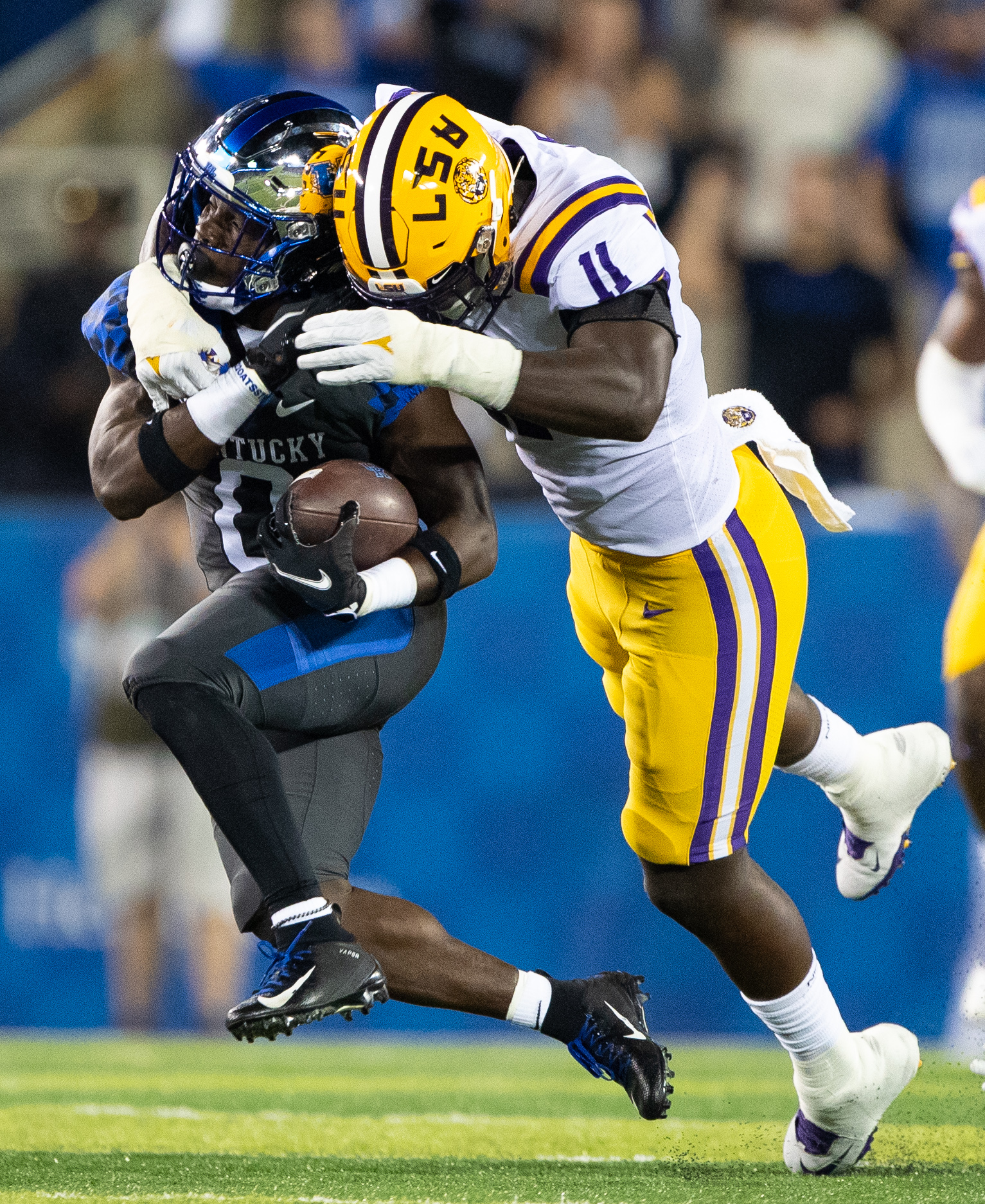 LSU TIGERS
7 way-too-early predictions for LSU's defense in 2022
The LSU defense remains a work in progress.
First-year coordinator Matt House will spend the summer tweaking the scheme to fit the talent he saw during spring practice.
It's safe to say the Tigers will be multiple and display a variety of fronts.
LSU has a young and frisky defensive line, improved depth at linebacker and a promising secondary bolstered by a series of transfers.
But it also lost a few key players, although last season, injuries limited Derek Stingley Jr. to 3 games before he headed to the NFL and Eli Ricks to 6 games before he headed to Alabama. Also gone to the NFL is leading tackler Damone Clark.
After a slow start and despite the injuries, the defense played much better during the final third of last season after the previous coaching staff simplified things and became more aggressive.
Now the players are getting to know a new coaching staff and system.
This group should be improved over last season, but a few early-season growing pains wouldn't be surprising.
Here are 7 way-too-early predictions for LSU's defense in 2022:
1. Opponents will have a lower pass completion percentage than last season
Quarterbacks were able to be routinely efficient against LSU last season.
The Tigers allowed a 64.2% completion rate, which was 4th-worst in the SEC.
But they will be deeper and more experienced in the secondary, which will lead to better pass defense and better defense overall.
2. The Tigers will allow fewer TD passes than they did last season
The same factors that will lead to a lower pass-completion percentage also will lead to a reduction in touchdown passes allowed.
Last season LSU allowed 29 TD passes, tied with Vanderbilt — Vanderbilt! — for most in the SEC. Georgia only allowed 10. The 2016 Tigers only allowed 9. The 2011 Tigers gave up 7.
By any measure, 29 is completely unacceptable for a program that refers to itself as DBU.
The balance between experience and youth and the presence of talent throughout the secondary will make it harder for opponents to reach the end zone – especially through the air.
3. LSU will take the football away more often than it did last year
The Tigers tied for last in SEC in takeaways last season with a mere 12, including an SEC-low 8 interceptions.
As a practical matter, the loss of Stingley and Ricks won't hurt that much because they played so little last season.
Additionally the Tigers added a few veteran transfers – Mekhi Garner (Louisiana), Jarrick Bernard-Converse (Oklahoma State), Greg Brooks and Joe Foucha (Arkansas) – to join returnees such as Jay Ward, Sage Ryan and Major Burns.
Throw in what should be a very good pass rush and a dozen or more interceptions and upwards of 20 takeaways are realistic expectations.
4. Ali Gaye and BJ Ojulari will have the most sacks of any tandem in the SEC
Speaking of the pass rush, Gaye and Ojulari give the Tigers one of the best 1-2 pass-rushing tandems in the country.
Gaye had 7 sacks last season and Ojulari was on pace to surpass that, making 2.5 in 4 games before being injured.
They will be key pieces in House's defense.
5. Greg Penn III will lead the team in tackles
LSU has an impressive list of linebackers who have led the team in tackles in recent seasons – Clark, Jacob Phillips, Devin White, Duke Riley, Lamin Barrow, Kevin Minter, etc.
It's too early to say Penn, a rising sophomore, will have a comparable career to his predecessors. But his performance last season and the spring suggests he's ready to be the Tigers' top tackler in 2022.
6. Maason Smith will be the Tigers' most decorated defender
The sophomore lineman and former 5-star recruit can play and be effective at multiple positions.
He has the talent to be a star and will set the tone for the defensive front.
7. LSU will allow fewer points than it did last season
The Tigers allowed 26.6 points last season, 5th-most in the SEC.
But more interceptions, fewer touchdown passes and a lower pass completion percentage should add up to fewer points allowed.
And they will.
Read More
Sports betting in Louisiana is live and running. Whether it is betting on SEC football or LSU football games or the Heisman race each year, if you live in Louisiana, you can now do it from your mobile phone.