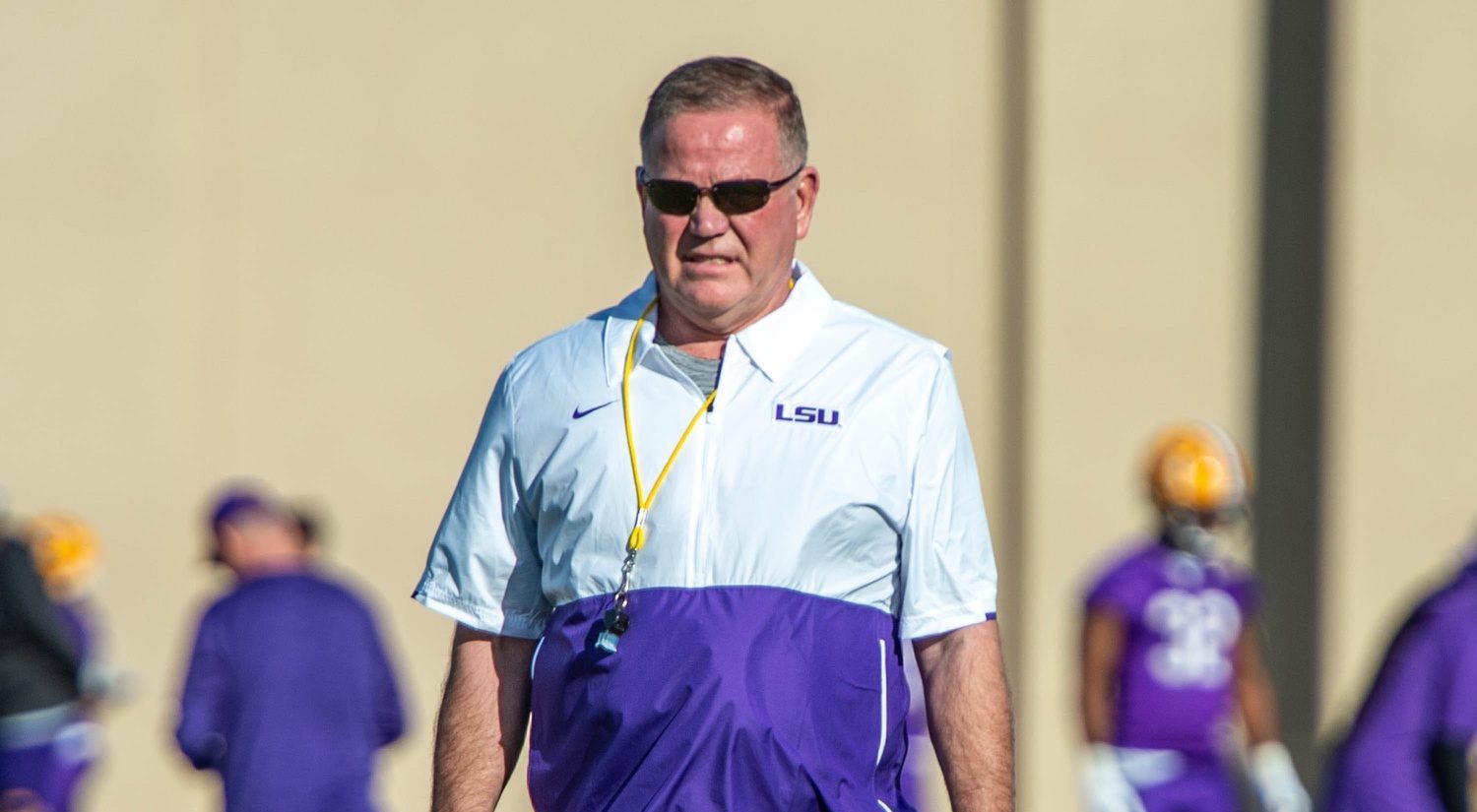 LSU TIGERS
Brian Kelly is all-in on learning, recruiting Louisiana while rebuilding LSU roster
New LSU football coach Brian Kelly had to rebuild the Tigers' roster.
The Massachusetts native also pledged to immerse himself in the Louisiana culture.
Those two things wound up intersecting quite a bit.
Kelly, who was hired away from Notre Dame nearly 6 months ago to replace Ed Orgeron, had a lot of holes to fill on his roster.
He was hoping to fill out his roster with an offensive lineman and a defensive player, but he was still lacking those spots when the transfer portal effectively closed May 1.
But the NCAA's decision to remove the single-season limit of 25 scholarships puts Kelly on the cusp of overcoming the myriad holes left by an inordinate number of early defections to the NFL and departures through the transfer portal during the final years of Orgeron's tenure.
Kelly called the limit of 25 "antiquated" because it was established before early departures to the NFL and the transfer portal became huge challenges to player retention.
"We weren't able to get to 85 (scholarship players)," Kelly said. "So we'll be below water going into this recruiting (season), but we'll be able to catch up."
Kelly spoke with a small group of reporters this week when the LSU coaches caravan stopped in suburban New Orleans. He explained what he has been telling Tigers supporters throughout the state.
"I didn't come down here with any other expectation but putting together a championship program," Kelly said. "It's a process, but you should look at our football team and have an expectation of what a head coach has been doing for 32 years. This should be a prepared football team that plays hard, that plays hard for four quarters, that is ready to play every game."
Kelly acknowledged that the cumulative talent level on the 2022 roster doesn't reach the heights he expects in subsequent seasons, but it has risen significantly since he arrived.
"You all will have your opinions about they may be short in this area, but if they continue to play football that way this going to be a really good team when they have a little time to recruit to some of their shortcomings," Kelly said.
"That's all I've really been telling them. You should have an expectation that this team should be prepared to win each and every game. If we're short in some areas, you guys are going to tell me where that is. We've got to go fix it and that's what we're working on in recruiting."
The offensive line is the position that Kelly has fixed the most since arriving. The Tigers landed 2 decorated players from the transfer portal in Miles Frazier (Florida International) and Tre'Mond Shorts (East Tennessee State), recently welcomed back Anthony Bradford, and Garrett Dellinger was just cleared for full contact.
Kelly called Bradford's return "a huge get for us" and said Dellinger "obviously will be a key piece playing a lot of football for us."
"Two veteran starters add a lot to what we're doing from an offensive perspective," Kelly said.
The coach added that he thinks LSU will "peg (Bradford) at tackle," though guard is still an option.
"He's got some really good versatility," Kelly said. "He has a big summer ahead of him."
Bradford played in 6 games last season then was declared "unavailable" for the rest of the season and did not participate in spring practice.
Dellinger was one of the top prospects on the line but missed much of last season because of a shoulder injury.
Kelly said he has found recruiting at LSU significantly different than it was at Notre Dame and that's where the Louisiana culture comes in.
"We're much more hands on, on a day-to-day basis," he said. "Notre Dame became for me a little bit more of deal closing. 'We'll bring the head coach in at the end.' (At LSU) I'm in at the start, which I kind of like – developing relationships from the very beginning."
Kelly said being more hands on in recruiting enabled him to get "a real feel for the state of Louisiana."
"No disrespect to Indiana," the coach said, "but it doesn't turn out the same number of NFL prospects as the state of Louisiana does. At Notre Dame we were trying to pull kids out of L.A. and all these different areas. It wasn't the same. Immersing myself in the recruiting is cultural.
"When you recruit a kid from Louisiana, his feeling for LSU is like he's playing for the Yankees, he's playing for the Canadiens if he's from Montreal. It's that passionate."
Read More
Louisiana online sports betting is officially live in much of the state. Louisiana joined the handful of other SEC football states with legalized sports betting in January 2022.