LSU TIGERS
Can LSU take the edge against Bama?
It has been a while since LSU really did anything on offense against Nick Saban's Alabama defense. The teams have played eight times this decade and the Tigers are 2-6, due in large part to some exceptionally poor showings on offense. The Tigers have averaged 12 points per game this decade against the Tide, have been shut out twice, scored 20 or more just once (24 points in 2010), haven't broken 300 yards of total offense since 2012 and haven't broken 200 yards since 2014.
The Tiger offense will undoubtedly be pretty essential in this contest. It is difficult to beat a Top-5 team these days without scoring at least 20 and the Tiger defense, while strong, isn't as good this season as some other units they've had this decade. Their prognosis in this meeting isn't particularly bright.
The struggle against Alabama
We've detailed in this space how LSU's offense this season is built off the threat of the jet sweep paired with inside runs like zone and power or counter. Russell Gage turning the corner on the sweep is probably the worst thing that can happen for a defense so most defenses scheme to avoid it.
Alabama already has a philosophy built around forcing the ball inside where their unending assembly line of future pro defensive linemen and linebackers roam. Check out their play against Texas A&M's option run game here: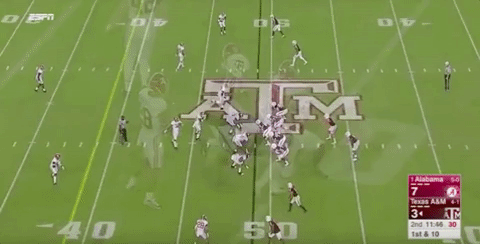 The unblocked defensive end stays home to deny the quarterback a soft edge, then closes in to make the tackle. Or take this example against A&M's dreaded GT counter-read play: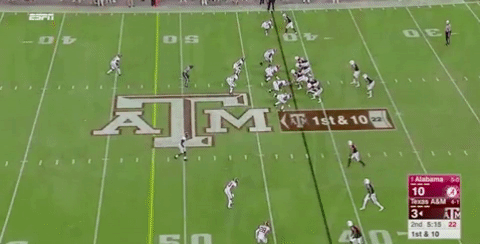 The unblocked DE (No. 49 Isaiah Buggs again) stays in contain mode and presents a "give" read to Texas A&M QB Kellen Mond. The opposite DE forces the ball inside as well, forcing A&M to outexecute the Tide in the box.
Alabama is still technically a base 3-4 defense and we'll probably see more of that Saturday as the Tide turn to a front that lets them play outside linebackers on either edge to prevent the jet sweep. With OLBs denying the edge, LSU must beat the Tide mano a mano in the trenches:
With the kinds of DL that Alabama regularly fields, such as Raekwon Davis and Da'Ron Payne this season, that's a tough proposition. Alabama also now has two healthy inside linebackers, Shaun Dion Hamilton and Rashaan Evans, to further complicate matters. And free safety Laurence "Hootie" Jones, a 6-foot-2, 215-pound enforcer, is the Tide's leading tackler.
This is a tough team to force the issue against downhill, as LSU has found time and time again this decade.
LSU's 2017 effort
LSU has only played one other base 3-4 defense this season, in its opener against the BYU Cougars. LSU worked some counter runs off the sweep to try to create some angles and leverage for its backs: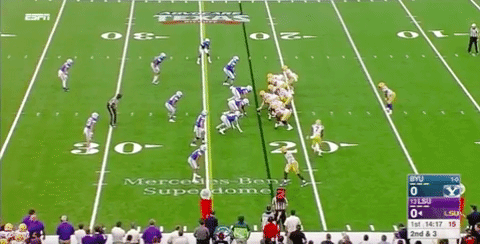 Teams certainly would rather use some trap blocks and down angles to run the ball against Alabama rather than try to beat the Tide's personnel heads up on a zone or straight power run. Against the sure-tackling Cougars, LSU ran 57 times for 296 yards (5.2 yards a pop) and controlled the clock with 41:54 of possession.
But the Tigers are beat up on the offensive line and started true freshmen at left tackle and right guard in their last game, Oct. 21 against Ole Miss. That's a dicey proposition against the Tide's deep bench of upperclassmen defensive linemen.
LSU's best hope is going to come from schemes like the one above or perhaps a shovel play: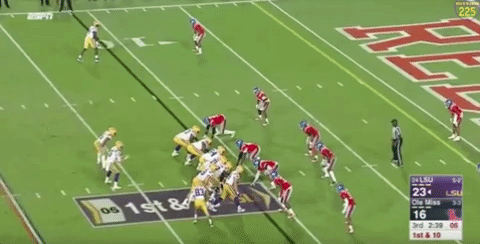 This is essentially a power run but with the jet sweep serving to kick out the DE rather than asking a fullback or tight end to do it. Then, instead pitching the ball forward to the tight end, on this play LSU runs downhill behind a pulling guard.
LSU might also mix things up in terms of who they leave unblocked along the Alabama defensive front. Saban will have the Tide OLBs well drilled on denying the sweep with discipline, but what about the interior DL?
Alabama has had a bye week to prepare but LSU did too and the Tigers will hit the Tide with every conceivable angle, motion, and look that offensive coordinator Matt Canada can conceive. LSU will try to break Alabama's discipline and get athletes loose in space past the dreaded Tide defensive front.
The Tigers can't do much worse than they've already done this decade.
Read More
Louisiana sports betting is officially live in much of the state. Whether it is betting on SEC football or LSU football games or the Heisman race each year, if you live in Louisiana, you can now do it from your mobile phone.