LSU TIGERS
Chasen Hines, key LSU offensive lineman, announces 2022 plans
Chasen Hines has been a key member of LSU's offensive line the past couple of years, appearing in 17 games the past 2 seasons at right guard.
Take advantage of Underdog's special Jimmy Butler Game 4 offer!
...
Now, LSU's turnover along the offensive line continues as Brian Kelly prepares for his first year at the helm of the program.
Read More
Sports betting in Louisiana is live and running. Whether it is betting on SEC football or LSU football games or the Heisman race each year, if you live in Louisiana, you can now do it from your mobile phone.
As you can see below, Hines took to Twitter on Thursday to reveal he was declaring for the 2022 NFL Draft, forgoing his final year of college eligibility:
https://twitter.com/chasen_hines/status/1481667085101064193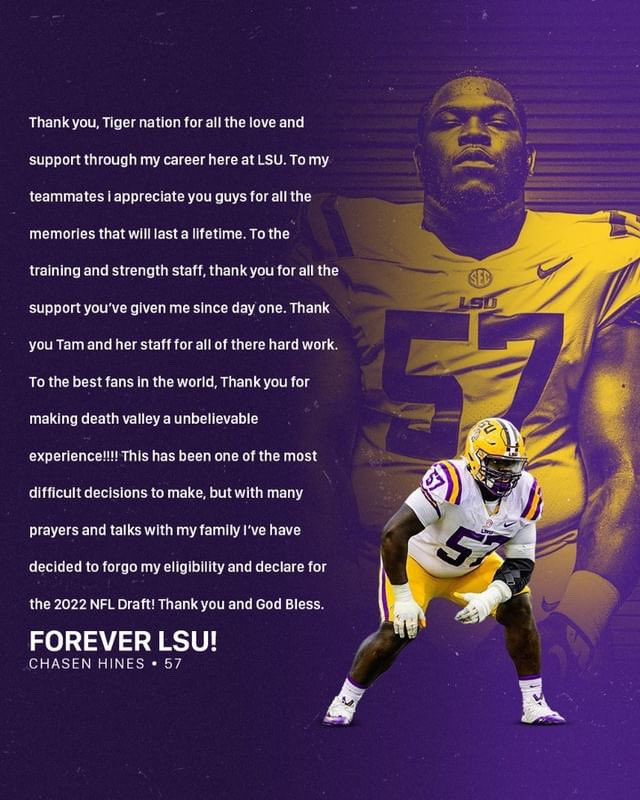 LSU is expected to have Cam Wire return along the line entering 2022, but outside of him, it'll be a total rebuild for OL coach Brad Davis.
We'll see who steps up to fill the starting spots, but Hines will be a tough guy to replace moving forward.