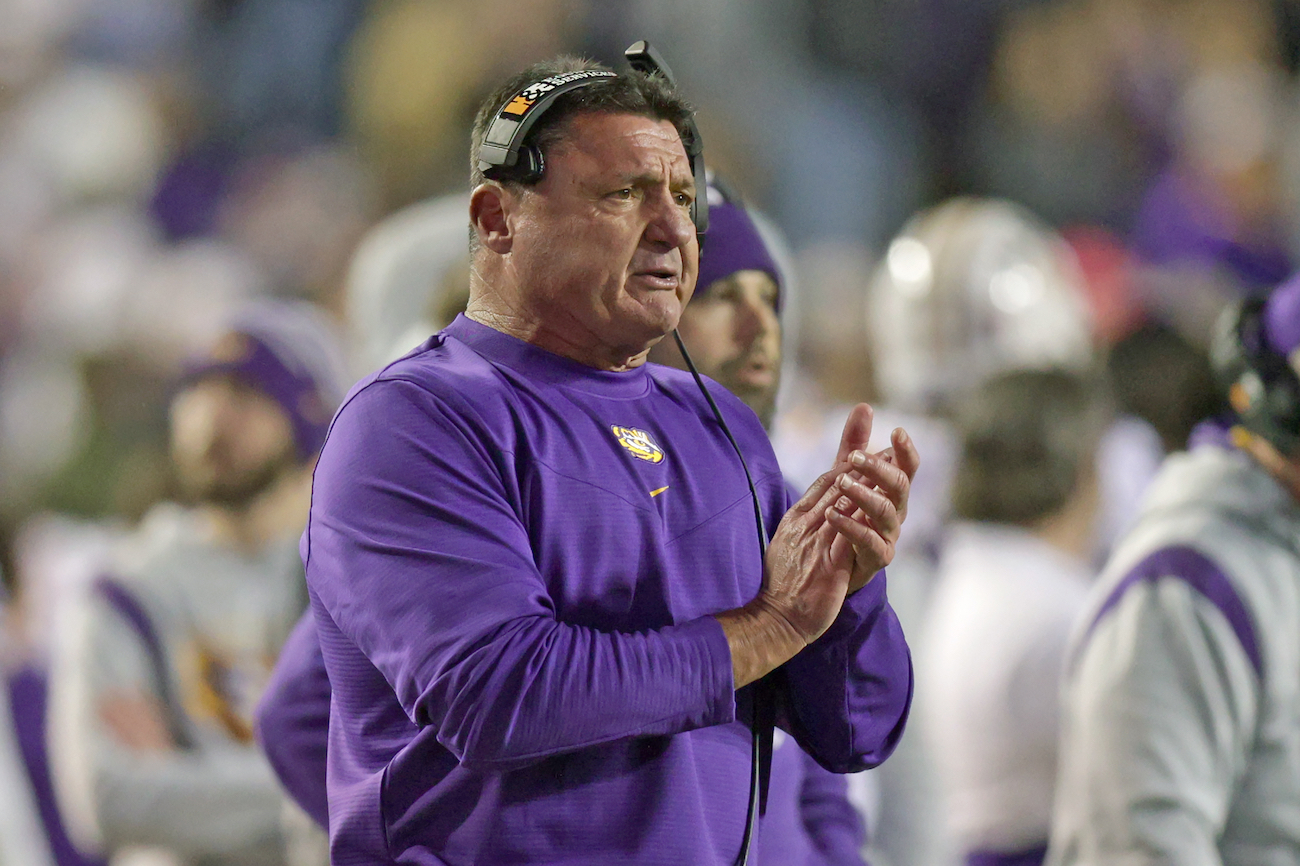 LSU TIGERS
Ed Orgeron's final game a celebration of LSU at its best
This LSU season has been Ed Orgeron's last one as head coach because it showed how far the program has slipped during the past 2 seasons.
But the regular-season finale against Texas A&M on Saturday night in Tiger Stadium was something very different.
The Tigers' dramatic 27-24, last-minute victory against the 15th-ranked Aggies was a celebration of what LSU football can be – what it has been at its best.
And it was an opportunity to appreciate the fact that despite the failures of the past 2 seasons – Orgeron will always be a prominent character in the story of the best of the best at LSU.
His tenure included as good a season in 2019 as the Tigers, or any other college football program, has ever had.
Joe Burrow's father Jimmy tweeted a clip from his son's speech after becoming the Tigers' second Heisman Trophy winner ever in 2019.
The clip was accompanied by this message: "Thanks Coach O for what you did for the Burrow family and LSU. We wish you the best."
Basketball Hall of Famer Shaquille O'Neal, one of the most successful and popular athletes in Tigers history, was on the sideline Saturday night. He said he was there to thank Orgeron for all that he did for the school and the program.
Glenn Dorsey, perhaps the best defensive lineman in LSU history, was recognized for his impending induction into the College Football Hall of Fame.
And speaking of halls of fame, former Tigers offensive lineman Alan Faneca was in attendance, sporting his gold Pro Football Hall of Fame jacket.
Orgeron grew up in Larose, La., and his dream job was to be head coach at LSU.
He joined the Tigers in 2015 as defensive line coach and recruiting coordinator.
Four games into the next season, he realized his dream when he was named interim head coach as the university fired Les Miles. Orgeron was named full-time head coach after the season.
His tenure featured a lot of ups and downs but probably flew by for him.
Orgeron might have allowed himself periodic reflections during his final game on the Tiger Stadium sideline.
He might have watched Cade York drill a 50-yard field goal on the first possession of the game and recalled York kicking a school-record 57-yarder through the fog to beat Florida in the penultimate game of last season, LSU's best post-championship victory.
Until Saturday night, anyway.
Orgeron might have looked at Max Johnson throwing a 45-yard touchdown pass to Jaray Jenkins and a 61-yard catch-and-run to Trey Palmer and the 28-yard game-winner to Jenkins with 20 seconds left and smiled while recalling Burrow hooking up with Ja'Marr Chase and Justin Jefferson and Clyde Edwards-Helaire.
He might have watched Darante Jones' defense continue its late-season improvement and recalled how Dave Aranda's defense had several difficult games before rounding into championship form down the stretch in 2019.
Surely he recalled the 74-72 loss in 7 overtimes to the Aggies in College Station in 2018 and the premature Gatorade bath he received when his players thought they had won at the end of regulation.
He also must have recalled the rematch a year later when the Tigers completed their perfect regular season on their way to completing a perfect championship season.
He probably recalled Burrow running through the Tiger Stadium tunnel wearing "Burreaux" on the back of his jersey as a salute to the fans of Louisiana that fully embraced the Ohio native.
There was never a need for Orgeron to make a similar gesture in his final home game. He had the background, the accent and the unabashed love for the Tigers and all things Louisiana to have always been embraced by the LSU community.
Even though the post-championship phase of the Orgeron era was filled with disappointment his final team's final home game had to have made him proud of his players doing what he always wanted them to do – represent his state and his state's flagship university with heart, toughness, strong effort and success no matter how challenging.
He might even have – for the briefest of moments – whimsically recalled the game against Texas A&M at the end of the 2015 season when Miles, his boss, was apparently on the verge of being fired before his players rallied around him, beat the Aggies to end a three-game losing streak and carried their coach off the field after improbably having saved his job.
Of course there was going to be no such change of heart on this night and everyone knew it. But Orgeron had to take satisfaction in the effort – and the outcome – that his players gave for him in his final game in his favorite building.
And in the end he managed one more full-throated "Geaux Tigers."
Read More
Louisiana sportsbooks are up and running. Residents in the state can now signup at one of the various sportsbook operators and begin betting on NFL, college football, NBA and more.