Houston kids key to stifling LSU defense in opener
BYU's offense didn't even reach midfield on Saturday.
That wouldn't have seemed a wildly implausible result if you watched LSU in 2016 and heard that this game was moved to New Orleans late because of the flooding in Houston, the game's original site. Such a late shift in location could only have helped the Tigers.
That result probably didn't even seem too wild this offseason, despite the Tigers graduating or seeing off eight defensive starters from a year ago and the Cougars returning QB Tanner Mangum and much of his offensive line.
But it was pretty nuts when LSU had to start five freshman on defense while replacing players lost to suspension or injury and still achieved this result. Fittingly, many of those players were Houstonians, putting on a show for their friends and family back home. The Tigers had three prongs to their game strategy that set them up to shut out the Cougars:
First: Ball control on offense
It's always much, much easier to play great defense when you don't have to do it as often. The LSU offense ran 75 plays that chewed up 41:54 of game clock, leaving 18:06 for BYU to run 38 plays. It's very difficult for an offense to build rhythm against an athletic defense, probe for weaknesses, or set up their big line to lean on faster players and start to push them around if it only runs 38 plays and holds the ball for 18:06.
LSU star RB Derrius Guice got 27 carries for 122 yards in a workmanlike game and the Tigers' new "confuse and clobber" offensive stylings had him getting the ball in a variety of ways. That included new offensive coordinator Matt Canada's "shovel-option" play which gives the quarterback the option to either hand off to Guice on a sweep or to shovel pitch the ball back inside to an H-back if the opposing defensive end goes wide to stop the sweep.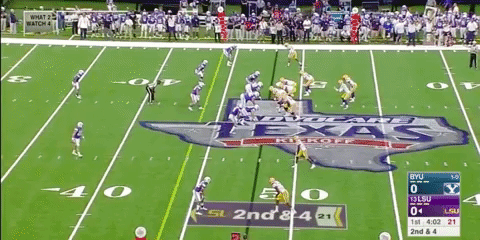 All of Canada's unbalanced formations and creative running plays let the Tigers move down the field in small chunks with the Cougars struggling to prevent them from winning the chains even if LSU wasn't hitting many explosive plays.
As a result LSU only had to play a couple of packages on defense and show a few blitzes to shut down BYU.
Second: Stopping the run
BYU is trying to grow into a pro-style team in the fashion of the old LaVell Edwards teams that put the program on the map in the 1970s and 80s. Toward that end the Cougars are fielding tight ends and fullbacks to run the ball and set up play-action, and also are mixing in West Coast dropback passing. The latter component typically takes longer to develop at a high level and the run game is normally pretty essential for "pro-style" college teams if they want to move the ball and score.
Well LSU wasn't about to let BYU run the football and they turned to a traditional style of defense to make sure that they couldn't, the 4-3 Under.
The 4-3 Under defense is very similar to the 3-4 defense and thus easily fits in with LSU's 3-4 packages. The keys are the B-backer — an end/outside linebacker hybrid position normally played by Arden Key but filled in this game by Houstonian freshman K'Lavon Chaisson — and the Sam linebacker on the edge. For the latter role LSU turned to another Houstonian, senior linebacker Corey Thompson.
The 4-3 Under defense was designed to take out pro-style, I-formation style football and LSU's use of "press-quarters" coverage allowed their safeties to fly downhill and make sure there was no running room for the Cougars. Watch how fast Houstonian freshman Grant Delpit, the strong safety, arrives at the line of scrimmage to hit the BYU running back on this power run.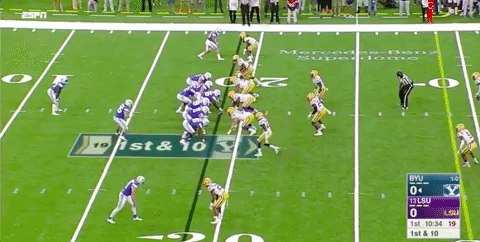 Second: Blitzing Mangum and the pass game
When BYU turned to spread sets to try to throw downfield on passing downs or in hurry-up mode, the Tigers turned to their second package on defense for this game, a 2-4-5 nickel.
The nickel defense would sub out nose tackle Greg Gilmore and bring in Houstonian freshman Kary Vincent to play the nickel position. Sam linebacker Thompson would slide down and play a DE/OLB position similar to the B-backer and stay standing up to give the Tigers a lot of versatility in who they would bring on the blitz.
The Tigers train their B-backer to play some coverage so this package allows them to get four linebackers on the field at the same time who can all blitz or drop into coverage. They'd often drop the middle linebacker down to threaten an interior blitz before the snap but then bring a variety of different combinations of pass-rushers after the snap.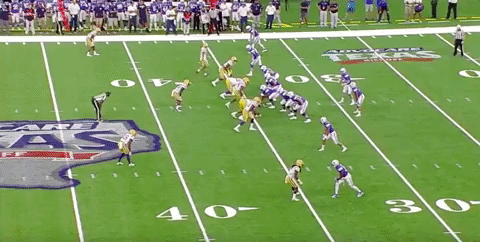 BYU's offensive linemen really struggled to pick up the blitz combinations and even when they did, Mangum still had to beat LSU's defensive backs playing tight coverage.
That formula of ball control, good run defense, and a multiple blitz package was way too much for BYU to handle in its second game of the year. It'll be fun to see how the rest of the SEC holds up against it.