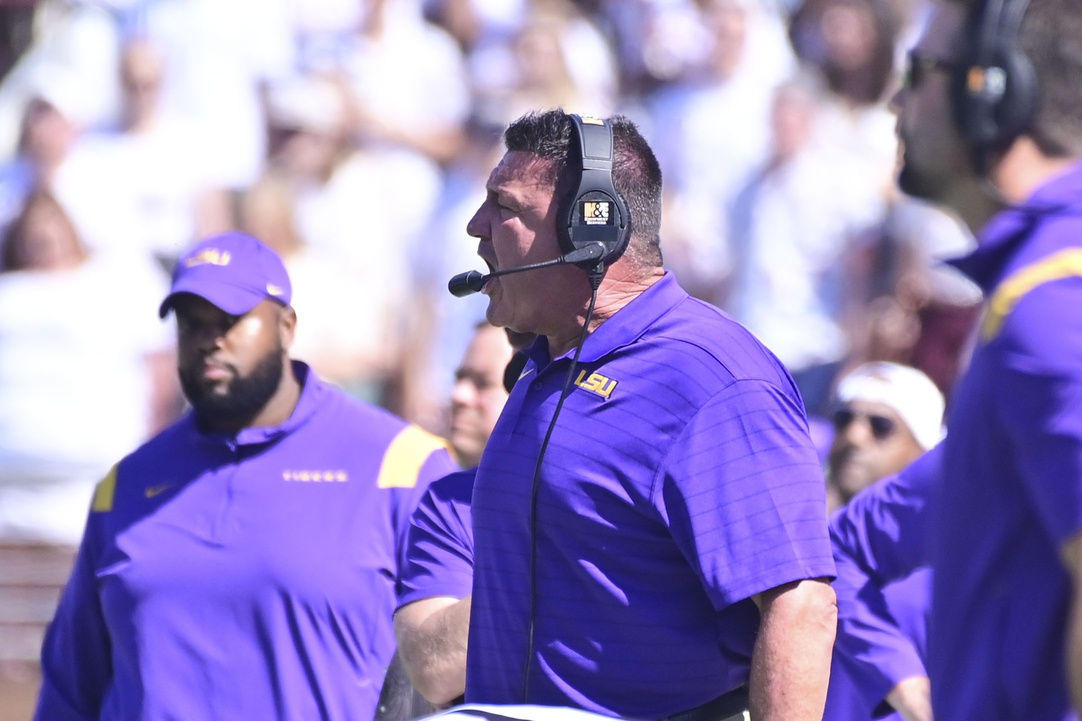 LSU TIGERS
How many more SEC wins can LSU get?
LSU is 3-2 overall and 1-1 in the SEC.
The Tigers have a lot of games left, so they can still finish with a respectable record.
Or not.
LSU played a ranked team for the first time this season when it lost at home to then-No. 22 Auburn 24-19.
But facing ranked teams is going to be the norm going forward.
The Tigers visit No. 16 Kentucky on Saturday night. Then they host No. 20 Florida. Then they visit No. 17 Ole Miss. Then an open date precedes a visit to No. 1 Alabama before they host No. 13 Arkansas.
Then they host Louisiana-Monroe before finishing the regular season at home against suddenly unranked Texas A&M.
Just how many more games can LSU win? OK, a win against ULM looks like a pretty good bet.
But what about all those games against SEC teams? How many of those games can the Tigers win? Another way of asking the question is: Will LSU win another SEC game this season?
Chances are the Tigers will win at least 1 more SEC game. But chances were that the reigning CFP champions would win more than 5 games last season and LSU finished 5-5.
Chances were that this team would be better than 3-2 at this point, but it lost its opener at UCLA, then squandered a 13-0 lead against Auburn last week and here we are.
Where do we go from here?
First stop Lexington. Sure the 5-0 Wildcats are going to have a hard time regaining this week the emotional peak they had last week for a 20-13 victory against then-No. 10 Florida, their first home win against the Gators in 35 years.
So LSU might not have to take Kentucky's best shot. But Kentucky might not need its best shot to beat LSU.
The Wildcats play really good defense and they held Florida to 171 rushing yards, barely half of what the Gators were averaging.
Holding the Tigers to a similar fraction of their paltry average would mean LSU would rush for about 40 yards, which is nearly quadruple what it had against Auburn.
Speaking of Florida, it arrives in Tiger Stadium in 2 weeks. Kickoff is set for 11 a.m. local, so already this isn't an ideal set-up for LSU.
The Gators got caught looking ahead to the SEC Championship Game last December and the Tigers made them pay for it with a 37-34 upset. So Florida will surely have that game on its mind and try to make amends for it.
Whatever help LSU might get from a possible unfocused Kentucky team likely will be balanced by a very focused Florida team.
The Tigers followed the win against the Gators last season with another win (53-48) against Ole Miss to finish the season. So LSU figures to have the Rebels' undivided attention as well.
But the Tigers should be able to match Ole Miss on even terms – unless they try to tackle Matt Corral the same way they tried to tackle Bo Nix.
After an open date, LSU goes to Bryant-Denny Stadium on Nov. 6. The Tigers might win another SEC game going forward. They might win more than 1. But even if they do, this game won't be one.
Next up, Arkansas comes to Tiger Stadium. Were the Razorbacks exposed in that 37-0 thrashing at the hands of Georgia last week? Or was that just Georgia being Georgia, meaning Arkansas is more like the 8th-ranked team that it was before that game?
If the Razorbacks turn out to be more pretenders than contenders, then the Tigers could beat them. Or not.
After the game against ULM, LSU hosts Texas A&M on Thanksgiving weekend.
If the Tigers are still looking for that elusive second SEC win, the game will be overshadowed by the search for Ed Orgeron's successor.
Aggies coach Jimbo Fisher would be a natural candidate, but he might be in a predicament of his own.
A&M already has lost 2 SEC games, falling last week to the only SEC team LSU has beaten (Mississippi State).
And the Aggies play at Alabama on Saturday night.
So the Tigers aren't the only ones scouring their schedule for additional SEC wins.
Read More
Louisiana sports betting is officially live in much of the state. Whether it is betting on SEC football or LSU football games or the Heisman race each year, if you live in Louisiana, you can now do it from your mobile phone.