LSU TIGERS
LOOK: Auburn fan loses bet, gets butt tattoo to commemorate huge collapse vs. LSU
LSU overcame a 20-0 deficit on Saturday afternoon to pull off a huge 27-23 upset over No. 10 Auburn in Baton Rouge.
It was only a Week 7 victory, though, so there's still a lot of the season left before we get a true read on how this year went for the Tigers.
Still, one unlucky Auburn fan will now remember the upset forever, getting the final score tattooed on his butt after losing a bet with an LSU fan, as you can see in the mildly NSFW photo below (courtesy of Reddit user Tiger_Vet):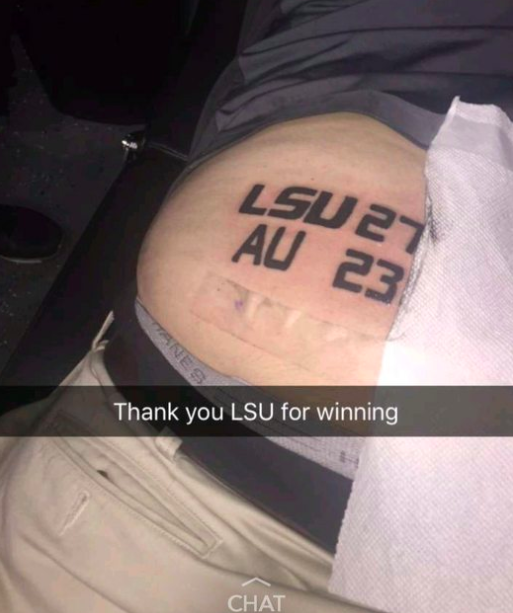 Considering Auburn hadn't won in Baton Rouge since 1999, that was not a wise bet by the Auburn fan.
Now the LSU fan not only has bragging rights for this year, but has also made sure their friend will never forget what happened at Tiger Stadium on Saturday, Oct. 14, 2017.
Read More
Sports betting in Louisiana is officially live in the great state of Louisiana. Whether it is betting on who will win the SEC this year or the next New Orleans Saints football game... if you live in Louisiana, you can now do it from your mobile phone.