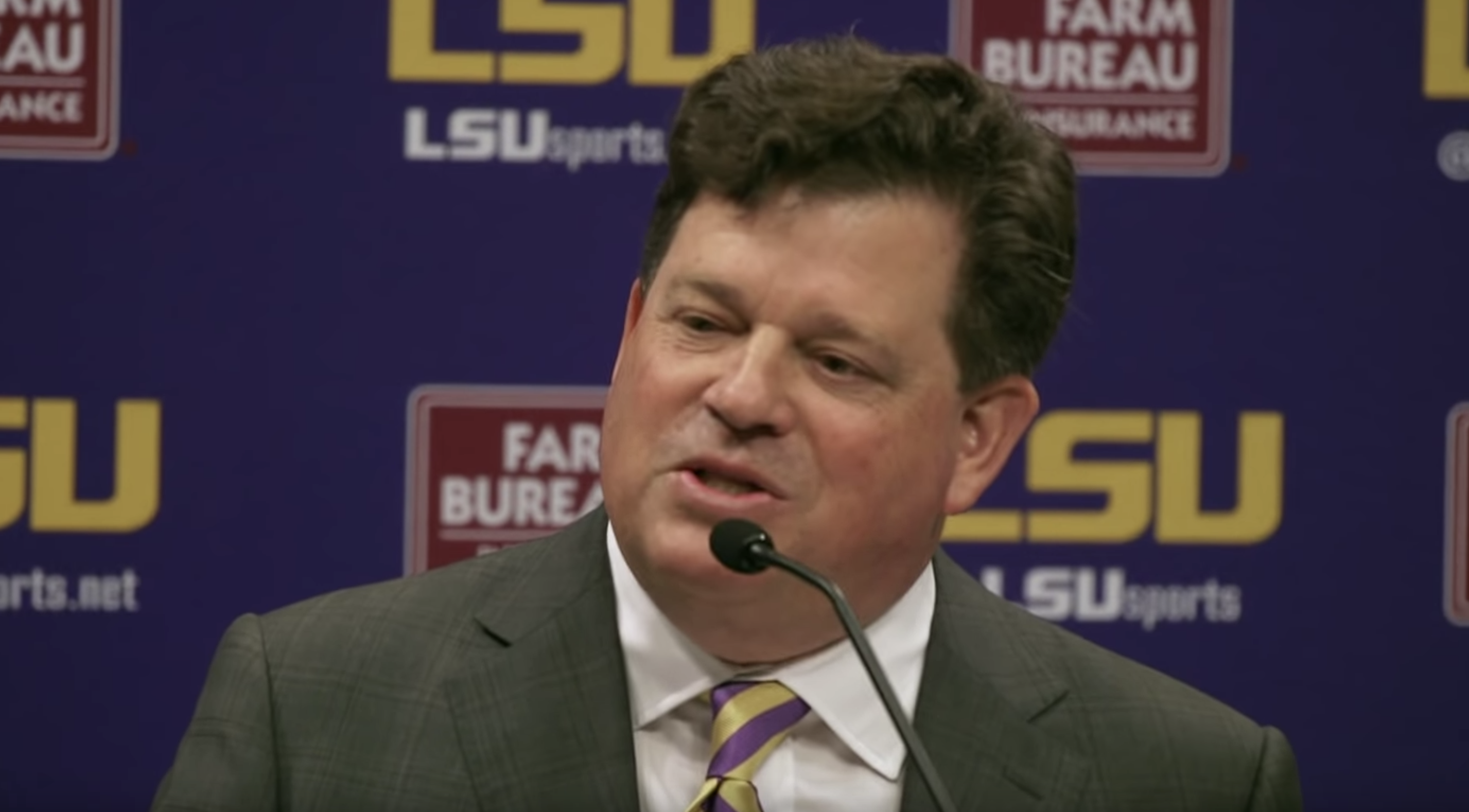 LSU TIGERS
LSU AD forfeits the high ground by ending donation to the university
Scott Woodward has committed his first blunder since being hired as LSU's athletic director barely 3 months ago.
Just days after critics complained about the $28 million renovation of the Tigers' football operations and performance nutrition center, Woodward offered some remarkably tone-deaf words during an interview with Tiger Rag that was published Monday.
Woodward, an LSU alumnus who was hired from Texas A&M, said he is eliminating a program established under his predecessor, Joe Alleva, in which the athletic department donated millions of dollars to the university. He did, though, make a vague reference to some sort of continued support for the university.
Under the program, LSU athletics contributed nearly $50 million to the university between 2012 and 2017, surpassing the initial guarantee of $36 million for that time period.
"It's something that's very dangerous, when universities rely on recurring money, especially from an auxiliary like the athletic department," Woodward told Tiger Rag.
About that, Woodward is right. It is very dangerous because some short-sighted individual, let's say a new athletic director, can come along and take away that money.
"I think," Woodward continued, "while I will always support the university in some form or fashion, we cannot sustain what we're currently doing."
Why not?
The LSU football program turned a profit of $55 million and the athletic department a profit of about $8 million in the 2017-18 fiscal year, the most recent year for which numbers are available.
Woodward offered no evidence that the athletic department is facing new-found financial hardship – not even after unveiling the $28 million project amid much chest-thumping nor after raising football coach Ed Orgeron's salary to $4 million per year or making defensive coordinator Dave Aranda the highest-paid assistant coach in college football ($2.5 million per year).
All of those expenditures were handled by the self-sustaining athletic program and no one should begrudge Aranda, Orgeron or the football players what they have earned. But the ribbon-cutting ceremony for the football operations center revived a debate about priorities while the dilapidated Middleton Library remains the poster child for crumbling infrastructure relating to academics.
There are libraries… And then there's the #LSU library https://t.co/G8xoqBDxBx pic.twitter.com/SlLEftYLLm

— Alex Perera (@AlexPerera4) July 22, 2019
The state of Louisiana has slashed funding for higher education, and fund-raising for the university perennially lags behind that of the athletic department. A recent story reported that LSU's endowment of $16,180 per student ranked 13th out of 14 SEC schools.
The problem isn't that too much is being spent on athletics because athletics (namely football) pays for itself and donors have the right to donate their money however they see fit. The problem is that lawmakers – and the citizenry by extension – as well as donors place a higher priority on football than they do education.
But that doesn't completely let athletics off the hook, now that Woodward has spoken.
Whenever a lavish athletic building has been unveiled or a coach has gotten another million or so bucks added to a salary that dwarfs that of even the most respected educators on campus, defenders of LSU have reflexively pointed to the millions donated by the athletic department to the general fund, which is almost unprecedented among universities.
At least it was. Now Woodward has forfeited the high ground.
The athletic department remains free to raise as much money as it can and spend it however it wishes.
But at the ribbon-cutting, LSU President F. King Alexander touted LSU's commitment to academics and athletics, saying, "We want to win Heisman trophies and Butkus awards, but we also want to win Nobel Prizes."
Woodward took a similar tact in the interview with Tiger Rag, invoking former LSU President Mark Emmert: "We're going to be great at physics, football and everything in between."
But it's difficult to swallow those statements when they're spoken as you're taking millions of dollars from a general fund that can't make basic repairs to a crumbling library and diverting them to an athletics program with a multi-million-dollar surplus.
Read More
Louisiana sports betting is officially live in much of the state. Whether it is betting on SEC football or LSU football games or the Heisman race each year, if you live in Louisiana, you can now do it from your mobile phone.