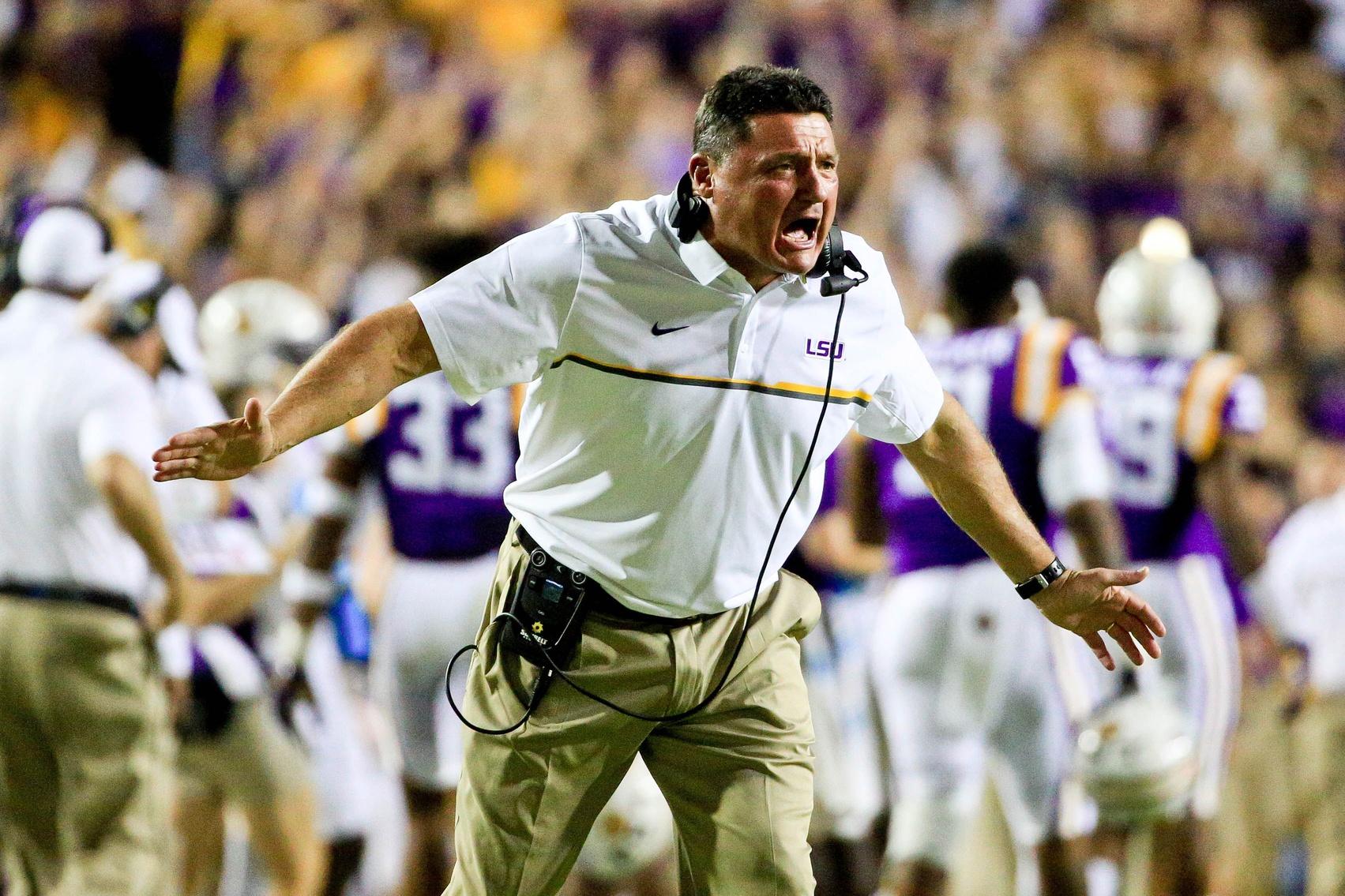 LSU TIGERS
LSU is buying in to what Ed Orgeron is selling, looks like a new team
At halftime Saturday, LSU was tied 10-10 with Southern Mississippi. Clearly, a team coming off an unexpected bye was rusty.
Two weeks ago, the Tigers blew the doors off Missouri in Death Valley. It was their first game after the firing of coach Les Miles. Louisiana native Ed Orgeron was now wearing the primary headset as interim coach.
Unfortunately for the Bayou Bengals, they weren't able to carry that momentum into the next week. Hurricane Matthew forced the postponement of their trip to Florida, which opened the door for some testy back-and-forth between both universities and the SEC office. Ultimately, the matchup was rescheduled for Nov. 19 in Baton Rouge.
Orgeron and Co. just wanted to play. Their unanticipated break was no break at all since they had spent that period preparing for the Gators.
So by the time the Golden Eagles arrived in Baton Rouge, LSU perhaps wasn't as focused as it should've been in the wake of yet another Mother Nature inconvenience — an all-too-often occurrence for this program.
Star running back Leonard Fournette, still nursing a troublesome ankle injury, was out for the second game in a row. Quarterback Danny Etling wasn't particularly sharp the first 30 minutes. Worst of all, the Tigers allowed Southern Miss to open the contest with a touchdown drive that lasted 8:02.
In the locker room at intermission, Orgeron apparently morphed into his alter ego ("Coach O") and let his squad have it.
"It was good, believe me," Orgeron told reporters after the game, according to NOLA.com. "But it was no Vince Lombardi speech or nothing. I just challenged them. Make a decision, man. We've got to go. They came in here and punched us in the mouth. Let's see what we're going to do, and our guys responded well."
The Bayou Bengals proceeded to outscore the Eagles 28-0 in the third quarter alone, eventually prevailing 45-10. It was a tale of two halves, to say the least. Whatever Orgeron told his players, it clearly worked.
Derruis Guice, making his third start this season in Fournette's stead at tailback, ripped off TD runs of 61 and 20 yards in the span of 2:32. Etling then got into the act with some long-distance strikes, hitting D.J. Chark for an 80-yard score and Malachi Dupre for a 63-yard touchdown. Just like that, it was a rout.
Etling threw for 276 yards and 3 TDs on just 18 attempts, delivering the big plays that former starter Brandon Harris never did.
"We had a little rust off the crazy week we had last week," Etling said. "We were flat. There was no screaming or yelling or blaming each other. We started the third quarter on both sides of the ball and started to kill it."
Quietly, Etling is the fifth-rated passer in the conference — ahead of Tennessee's Joshua Dobbs and Texas A&M's Trevor Knight. In four starts, he's topped 200 yards passing three times and sports a TD-to-INT ratio of 5-to-1.
Nevertheless, the headliner once again was Guice. When Fournette was tearing the league a new one in 2015, Guice averaged 8.6 yards per carry as a change-of-pace option. Despite a heavier workload, that figure has actually climbed to 9.1 this season. Among players with 40-plus attempts, his yards-per-carry average leads the nation.
Like Etling, most of Guice's damage came in the third frame. Orgeron's spirited speech is at least partially responsible.
"He screamed," Guice (below) said. "He sounded like he was about to die. After that, it all stuck with us. That's the head man. You've got to do what he says, or you're not going to play."
Following a 2-2 start, including ugly losses to Wisconsin and Auburn, LSU actually controls its destiny in the West. While the schedule the rest of the way is difficult, this is the club so many expected in the preseason.
The Tigers, ranked No. 5 in the initial AP Poll, were thought to be challengers not only for the SEC, but for the College Football Playoff. Miles promised changes to his stagnant offensive system. Fournette was one of the leading candidates for the Heisman Trophy. The defense boasted blue-chip talent at every level.
Nevertheless, the Badgers outplayed — and outcoached — them in the opener. Three weeks later, a defeat at Auburn doomed Miles.
Even if Orgeron is a long shot at best to remove the interim tag and earn the job on a permanent basis, he has the Bayou Bengals buying what he's selling: a second chance at what too many claimed was a lost season already.
Etling might not have an NFL future, but he's taken much better care of the ball than Harris did. Fournette has been himself when healthy, plus Guice has more than picked up the slack with No. 7 sidelined. Defensively, Arden Key is a feared pass rusher. Tre'Davious White is a lockdown cover man, too.
Alabama had clowned Miles five consecutive times. He isn't there anymore, though. The Crimson Tide come to Tiger Stadium on Nov. 5.
"I know it's not about me, " Orgeron said. "It's about the position: LSU coach. I get that. And it's also a boy from Louisiana. That means a lot. I want to represent Louisiana well and make people proud. I understand what I'm representing."
LSU didn't stand a chance against 'Bama with Miles still at the controls. However, Orgeron is an X-factor that the Tide must now consider.
---
John Crist is the senior writer for Saturday Down South, a member of the FWAA and a voter for the Heisman Trophy. Send him an e-mail, like him on Facebook or follow him on Twitter.
Read More
Sports betting in Louisiana is officially live in the great state of Louisiana. Whether it is betting on who will win the SEC this year or the next New Orleans Saints football game... if you live in Louisiana, you can now do it from your mobile phone.