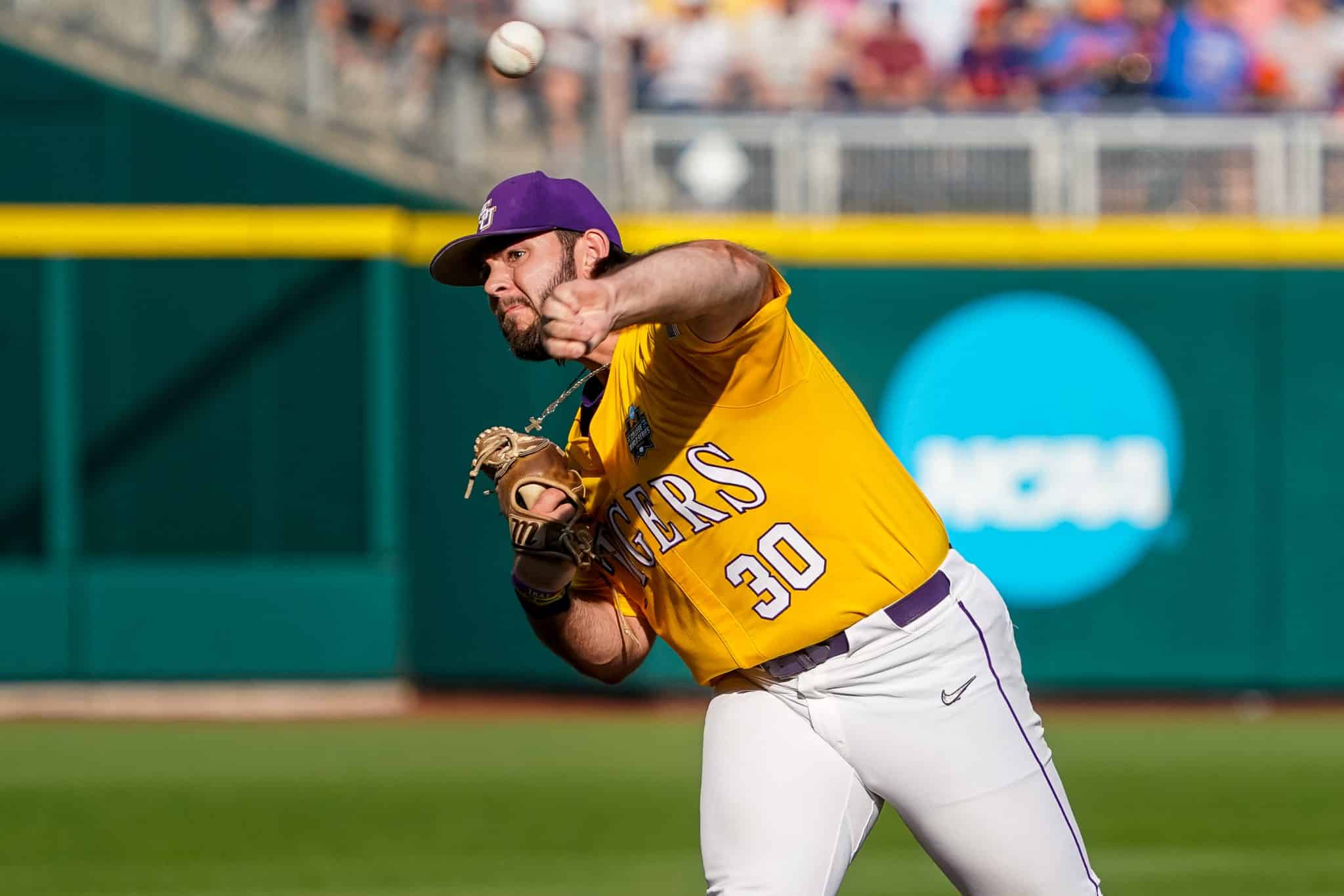 LSU TIGERS
LSU eliminates Tennessee from CWS behind phenomenal performance from Nate Ackenhausen
LSU baseball is moving on to the national semifinals of the College World Series after blanking Tennessee Tuesday, 5-0.
The Tigers will face off against Wake Forest starting Wednesday, needing 2 wins to advance to the Championship Series against one of Florida or TCU.
And the Tigers were able to beat out a strong Tennessee pitching staff behind an unlikely hero: Lefty bullpen arm Nate Ackenhausen, who made his first start of the season against the Vols in a huge, huge spot.
Ackenhausen shut down Tennessee following an LSU run at the top of the 1st. He threw 6 innings, allowing just 4 hits with zero allowed runs and 7 strikeouts. The Tigers got all they wanted and more from the reliever Tuesday.
Tennessee also refused to do itself any favors pretty much all night. The Vols left 9 men on base and failed to plate a single run with 5 in scoring position.
Some mistakes on defense came back to bite the Vols, too. An error by Tennessee 3B Zane Denton scored LSU's 2nd run of the night:
The Tigers plate another

LSU – 2
TENN – 0
? ESPN pic.twitter.com/WVkFdfEYdk

— LSU Baseball (@LSUbaseball) June 21, 2023
A wild pitch from Tennessee's Camden Sewell scored run No. 3 for the Tigers soon after.
Tennessee would threaten in the 8th inning but failed to bring in a run with bases loaded after a brutal at-bat from Hunter Ensley. LSU, in turn, added a pair of insurance runs in the top of the 9th off the bat of Dylan Crews.
Ballgame:
The missile knows where it is at all times. @__dc4__ | ESPN pic.twitter.com/yTgi8ShZS2

— LSU Baseball (@LSUbaseball) June 21, 2023
LSU will face off against Wake Forest Wednesday night at 7 p.m. on ESPN. Should the Tigers win Wednesday's rematch, the pair will host a win-or-go-home game on Thursday for a trip to the championship series.
Read More
Louisiana online sports betting is officially live in much of the state. Louisiana joined the handful of other SEC football states with legalized sports betting in January 2022.