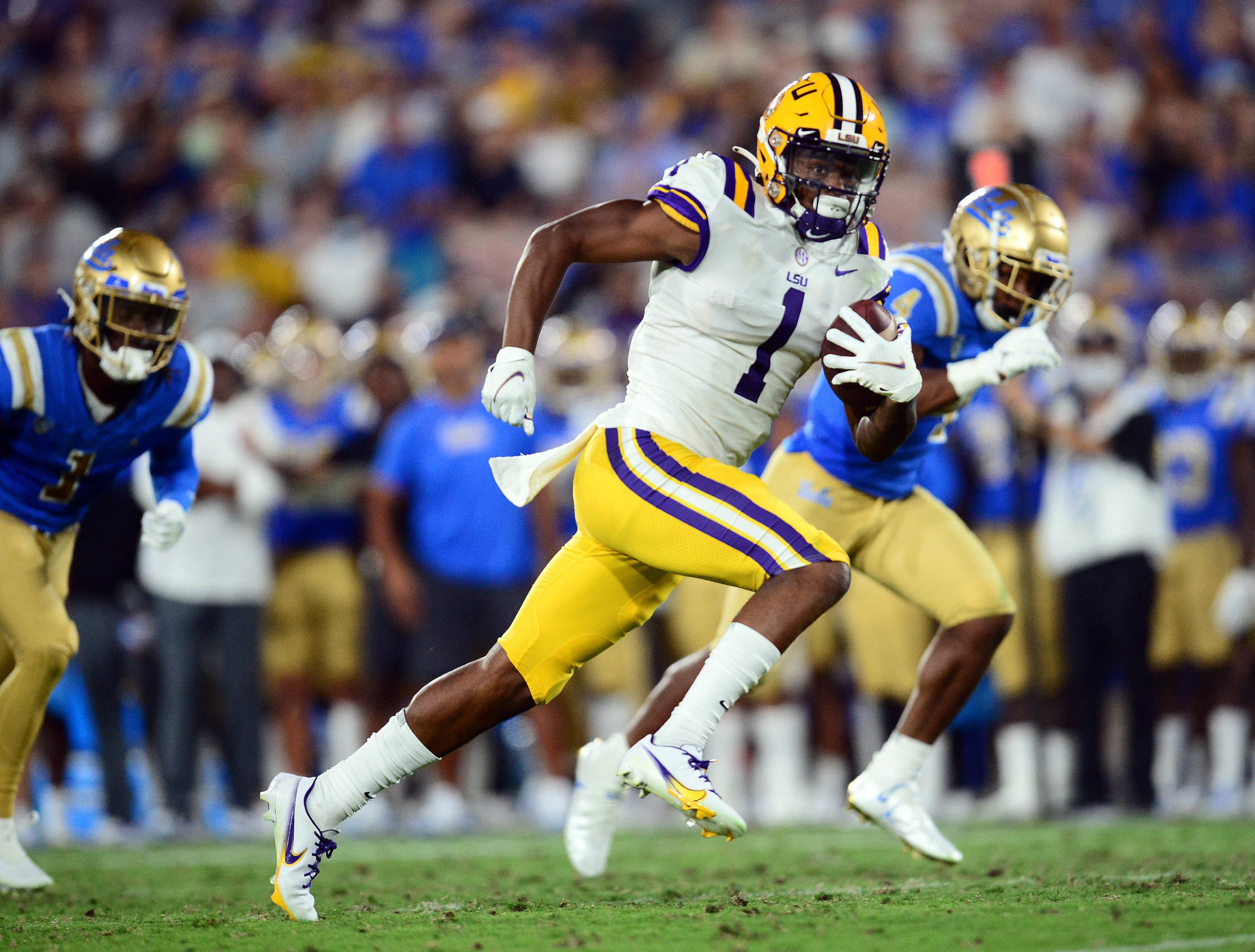 LSU TIGERS
LSU football: The 10 most critical questions entering camp
LSU has gone through a lot of change since the end of last season.
It has a new coaching staff.
It has an inordinate number of key players to replace.
It's counting on a lot of new and unproven players to succeed in the SEC.
So naturally there are a lot of questions facing the Tigers as the 2022 season approaches.
Here the 10 most critical questions facing LSU entering camp:
1. Will the Tigers get off to a fast start?
Brian Kelly knows what he's doing.
He has a lengthy coaching resume that demonstrates that much. But he and his staff are rebuilding a program.
There's a lot of new stuff for everyone to deal with. Presumably, LSU will experience growing pains early but get better as the season goes along and the players and the coaches get more comfortable with each other.
The Tigers open with Florida State in the Caesars Superdome on Sept. 4 and face Southern and New Mexico in September. They don't face an opponent that had a winning record in the SEC last season until Oct. 22.
If the Tigers can hit the ground running, they have a chance to stack some wins before they hit the teeth of the SEC schedule.
2. Can they find a clear-cut leader at quarterback?
LSU has plenty of talent at quarterback. Ostensibly, it has 4 contenders to be the starter, though it seems program veterans Myles Brennan and Garrett Nussmeier, as well as Arizona State transfer Jayden Daniels, have a leg up on true freshman Walker Howard.
But having 4 potentially good quarterbacks doesn't automatically translate into having 1 clear-cut leader. If a clear-cut leader had emerged, then the competition wouldn't be as open as it is this close to preseason camp.
Brennan has maturity, Nussmeier has experience (albeit limited) and Daniels has played in 29 games in the Pac-12.
But the Tigers need 1 person to seize the starting job and emerge as a team leader by Sept. 4.
3. Will the offensive line be stable — and good?
The line has featured a revolving door the last 2 seasons and has struggled because of a lack of continuity.
Having more stability throughout this season would be helpful, but that alone isn't enough.
The Tigers need to find a solid starting 5, then hope for continuity.
If they wind up with both, that will be a significant development.
4. Will the Tigers finish the season with the same roster they start with?
Of course no team is going to go an entire season without any attrition. But LSU's problems the last 2 seasons have been partly a result of an inordinate number of player losses due to injury, opting out and disciplinary action.
The law of averages suggests it is due for better luck this season, but that remains to be seen.
5. Who's going to lead the defense?
Micah Baskerville might a leader. Greg Penn III is another possibility. So are BJ Ojulari, Ali Gaye and Maason Smith.
But the defense mostly has candidates to be leaders, not proven ones.
Many of the other key defenders either are inexperienced players or experienced players who started elsewhere and transferred in during the offseason — so they're new to their teammates.
At least a few candidates must earn key roles — and the trust of their teammates — during preseason camp.
The pass defense is especially suspect after LSU allowed the 2nd-most touchdown passes (29) and the 4th-highest completion percentage (64.2) in the SEC and made a league-low 8 interceptions last season.
6. Do the Tigers have the backs necessary for an SEC-quality running game?
Much like the quarterback position, the running back position features several players with impressive talent — but none who has been a key contributor for an extended period.
John Emery Jr., Noah Cain, Armoni Goodwin, Tre Bradford and Josh Williams are all candidates to get a crack at leading the running game.
But until 1 or more of them shows he's capable of that, the running game, 2nd worst in the SEC last season (114.0 yards per game and 3.3 yards per rush), remains a major question mark.
7. Do they have a tight end they can count on?
The Tigers don't have a tight end on the roster who has proven himself on the college level.
They could look at Jack Bech, the leading pass catcher as a wide receiver a year ago, as a tight end, but moving him would weaken that unit.
8. Can Kayshon Boutte have a full season like last year's half season?
Boutte was on pace to make 76 catches for 1,018 yards and, most impressively, score 18 touchdowns before suffering a season-ending ankle injury halfway through last season.
He should be healthy for the start of training camp and be one of the elite receivers in the SEC, if not the country.
9. Can LSU have a winning record?
Since going 15-0 and winning the CFP Championship during the 2019 season, LSU has not had a winning season. It was 5-5 in 2020 and was 6-6 before losing its bowl game last season.
The Tigers need to improve in a lot of areas to return to SEC West contender status.
Kelly is probably going to need more than 1 season to accomplish that. But with all of the personnel issues LSU encountered the last 2 seasons, it still was just 1 win from having a winning record in each season.
So the Tigers should at least be winners in 2022.
10. Can they avoid the SEC West cellar?
A positive answer to question No. 9 doesn't guarantee a positive answer to No. 10.
The Tigers need 7 victories to have a winning record. They should be favored in all 4 nonconference games — Florida State, Southern, New Mexico and UAB.
That means they would need only a 3-5 record in the SEC to become winners. That would match their conference record from last season when they tied Auburn for last.
Read More
Louisiana online sports betting is officially live in much of the state. Louisiana joined the handful of other SEC football states with legalized sports betting in January 2022.