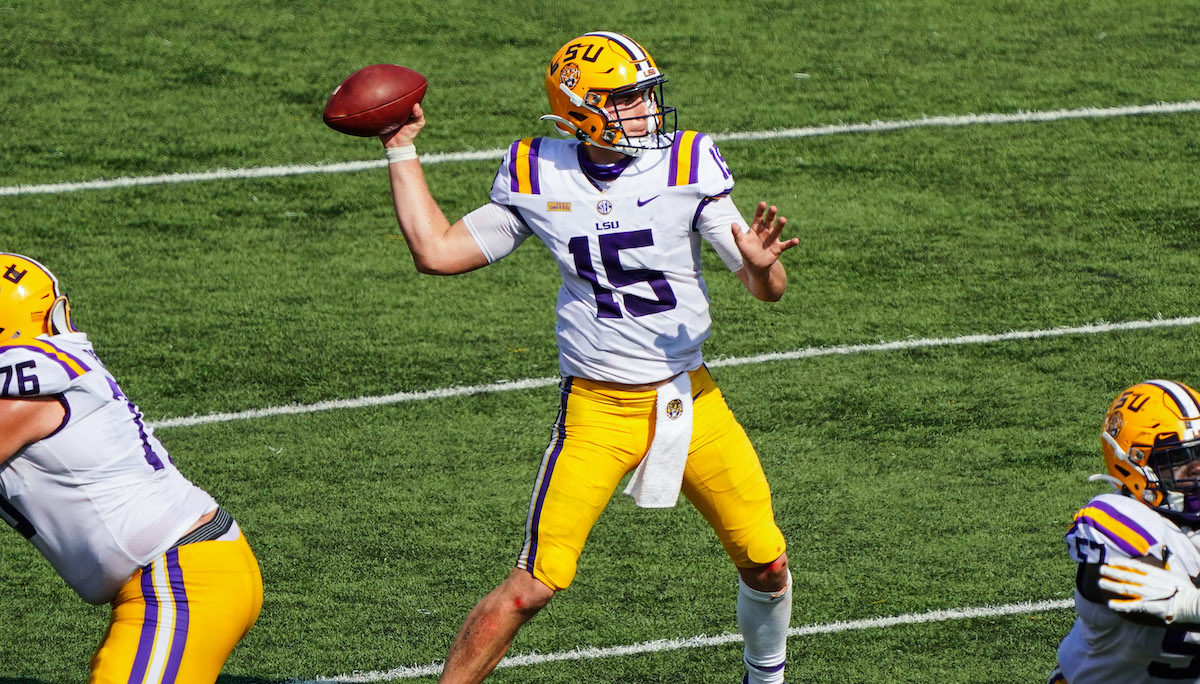 LSU TIGERS
LSU football: Way-too-early look at the 2022 Tigers
LSU is starting over in 2022. Again.
The Tigers are now formally detached from that 2019 CFP championship team.
Virtually all of the key players from that team have moved on.
Ed Orgeron and most of his staff are gone.
All of that and the combined 11-12 record after a 42-20 loss to Kansas State in the Texas Bowl on Tuesday night in Houston demonstrate that the championship season belongs to a different era.
A new era begins in 2022 in the wake of the first losing season since 1999 – Gerry DiNardo's last season and the last pre-Nick Saban season.
The severely depleted roster that interim head coach Brad Davis was stuck with Tuesday night was the last remnant of the old era.
Now it's Brian Kelly's era. Davis tied up the final loose end of the Orgeron era while Kelly focused on compiling his staff – of which Davis will be a part – and trying to build a roster that will be deeper and more talented than the 2020 and 2021 versions.
Orgeron expected that 2021 would be a bounce-back from the fall-off of 2020. But that never materialized.
Again the Tigers were mediocre even before injuries and opt-outs chipped away at their manpower – as they did in 2020 also.
Kelly's job initially is to take what little Orgeron left him and add enough to get LSU pointed in the right direction.
The new coach salvaged a decent recruiting class, convinced talented, but injury-plagued QB Myles Brennan to return shortly after incumbent starter Max Johnson bolted for Texas A&M and has immediate playing opportunities with the Tigers that should be attractive to players shopping for a new home in the transfer portal.
Here's a quick look at what worked in 2021 and a more extensive look at what we can expect from LSU in 2022.
What worked in 2021
Not much.
The passing game worked well – until Kayshon Boutte was lost for good to injury midway through the season.
It continued to have its moments behind Johnson and freshman TE Jack Bech but was never consistently really good in Boutte's absence.
The defense – led by LB Damone Clark – played very well after Orgeron and defensive coordinator Daronte Jones simplified the scheme and adjusted roles for the final 4 games of the regular season.
K Cade York wasn't quite as good as he was in 2020, but he was still good before being sidelined for the bowl game after being injured in practice.
What didn't work in 2021
All kinds of stuff.
Let's start with the offense, where Orgeron's ongoing quest to recapture the magic of Joe Brady, Joe Burrow and Co. in 2019 continued to fail.
Plucking OC Jake Peetz and passing game coordinator DJ Mangas from the fledgling Brady coaching tree failed, just as the Steve Ensminger/Scott Linehan combo failed in 2020.
The loss of Boutte and a series of injuries on the offensive line didn't help, but Johnson's development was limited, a bevy of young receivers never developed and the running game mostly fizzled as a series of injuries exposed an absence of depth on the offensive line.
As for the defense, it showed noticeable improvement down the stretch, but that was mostly relative to the offense's inadequacy and the remarkably low bar that the 2020 defense set.
QB situation in 2022
It could be good. Or bad. Or somewhere in between.
Who knows?
Johnson brought some semblance of stability to the position by starting the last 2 games of 2020 and each regular-season game in 2021, before leaving Kelly and the Tigers in a lurch by entering the transfer portal ahead of the bowl game.
Brennan's about-face, after entering the portal late in the season, brings much-needed maturity to the position, though he still has started just 3 games in 5 seasons – but he was outstanding in the first 3 games of 2020 before multiple injuries intervened.
The presumed return of freshman Garrett Nussmeier, who chose to preserve his red-shirt rather than bail out his teammates and new coach by playing in the bowl game, adds competition – and the arrival of 5-star freshman Walker Howard adds even more.
The arrival of someone else via the portal isn't out of the question. LSU knows as well as anyone how quickly quarterback depth can vanish – and Kelly is determined to cover all his bases.
Remember, Kelly started a transfer QB this season at Notre Dame. Jack Coan, who started for 2 years at Wisconsin before losing the job in 2020, transferred to Notre Dame and won the starting job.
Key losses
In addition to Johnson, the offense is losing leading rusher Ty Davis-Price, who opted out of the bowl game to focus on the NFL Draft.
The offensive line is losing 4 starters in tackle Austin Deculus, guards Ed Ingram and Chasen Hines and center Liam Shanahan.
Defensive linemen Neil Farrell and Glen Logan are gone along with Clark. Cornerback Eli Ricks transferred to Alabama and fellow corner Derek Stingley Jr. is almost certainly headed to the NFL.
The Tigers have to replace a bunch of playmakers before next season, but they already adjusted to the absence of most them during this season or at least for the bowl game, in which LSU had fewer than 40 scholarship players available.
Key returnees
Brennan's return was a psychological boost as much as a talent boost.
Boutte was leading the country in touchdown catches before being sidelined. Left tackle Cameron Wire brings experience to an otherwise young offensive line and Ali Gaye does the same for the defensive front. Safety Sage Ryan was injured for much of his freshman season, but he was a 5-star recruit and should have an opportunity to make a significant impact next season.
Key recruits
LSU has just 13 signees right now, but it has some significant ones.
Howard, a 5-star QB, is joined as a 5-star recruit by OT Will Campbell. The 4-star recruits are OL Emery Jones, DL Quency Wiggins, CB Laterrance Welch and LB DeMario Tolan.
Kelly has put a big emphasis on the offensive line and landed an important player in former FIU tackle Miles Frazier, considered the top offensive lineman in the transfer portal.
Much of Kelly's time thus far has been spent trying to figuratively plug holes in a dyke. He has mostly stemmed the leaking and has time to strengthen the foundation.
LSU is starting over and Kelly is just getting started.
The fresh start in 2022 should bring a more positive atmosphere, but it's too early to tell whether an improvement in the won-lost record is realistic.
Read More
Louisiana sports betting is officially live in much of the state. Whether it is betting on SEC football or LSU football games or the Heisman race each year, if you live in Louisiana, you can now do it from your mobile phone.