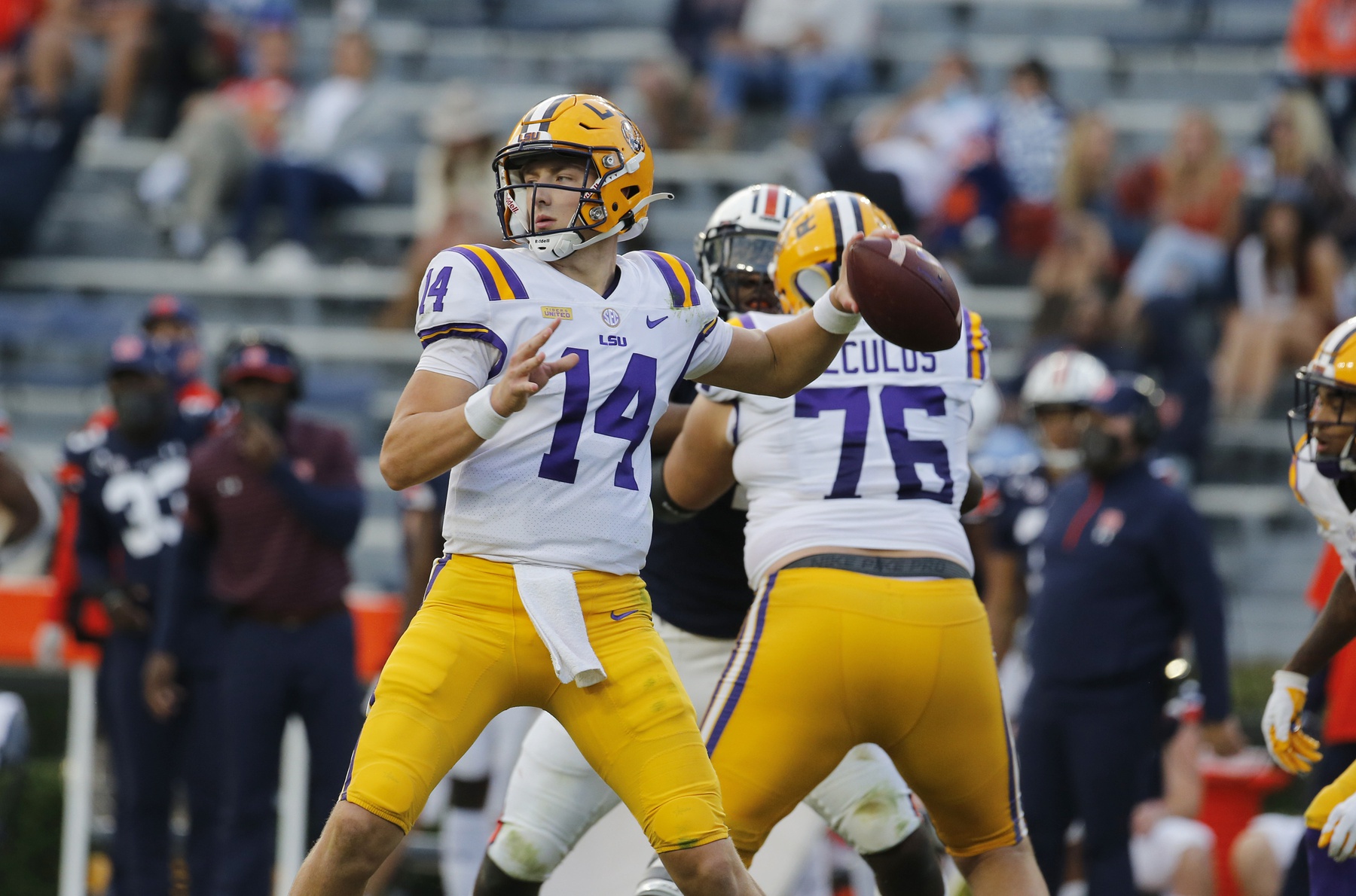 LSU TIGERS
LSU football: What does the future hold for the Tigers' QB room?
The LSU quarterback room hasn't been full recently.
But that figures to change after whatever bowl game the Tigers play in.
LSU has 2 scholarship quarterbacks on hand – Max Johnson and Garrett Nussmeier.
A 5-star recruit – Walker Howard of St. Thomas More in Lafayette, La. – has committed to the Tigers.
That's not a big group, but there's good quality in that group.
And now LSU has a new head coach in Brian Kelly and soon it will have a new offensive coordinator and quarterbacks coach.
It wouldn't be surprising to see another chair or 2 filled – or even for a chair or 2 to be vacated.
Such is the state of college football in the transfer portal era and such has been the case with coaching changes.
Let's start with the guys in the room and who might or might not stay.
Johnson has played 2 seasons at LSU, starting the past 14 games and he presumably will start the bowl game.
He already withstood a competition with Myles Brennan and TJ Finley, losing out to Brennan in the 2020 preseason and initially losing out to Finley when Brennan suffered a season-ending injury in the third game of last season.
He stepped in as the starter for the last 2 games of last season and outperformed Finley to strengthen his position going into 2021.
Brennan and Johnson separated themselves during the spring and Finley transferred to Auburn, leaving Nussmeier as the third quarterback.
Johnson essentially won the starting job by default when Brennan suffered a broken bone in his non-throwing arm as preseason camp was about to begin. Brennan entered the transfer portal before his arm healed enough for him to play.
Like the offense as a unit and the team as a whole, Johnson has had an up-and-down season. He has played well enough to stave off Nussmeier but not well enough to elevate the Tigers above a 6-6 record.
He doesn't seem inclined to sprint toward the portal just because Nussmeier has gained experience, Howard is on the way and a new coaching staff has no commitment to him.
Johnson has stuck around while others have transferred and he might be inclined to stick around again.
Or not.
Nussmeier saw a little mop-up duty before playing all but the first 2 series against Arkansas. He threw a touchdown pass but mostly showed why the more experienced Johnson had hung onto the starting position all season.
After the Arkansas game, Nussmeier concurred with head coach Ed Orgeron and decided to not play anymore and keep his redshirt intact.
The transfer portal has enticed impatient players to bolt for potentially greener pastures, and Nussmeier's expanded opportunity against Arkansas came after he told Orgeron how badly he wanted to play.
He seems impatient, but he might see a greater opportunity with the new coaching staff.
That brings us to Howard. The high-school version of the transfer portal – prior to signing day – is the decommitment, which Howard could easily invoke.
But he's a legacy – the son of former LSU quarterback Jamie Howard. His commitment was to a university and a program more than any individual coach.
Howard might be more likely than Johnson or Nussmeier to be in the quarterback room when preseason camp convenes next summer.
What seems just as likely is that no matter whom among Johnson, Nussmeier and Howard is present, they're likely to be joined by 1 or more quarterbacks not currently on the Tigers' radar.
It could be a late addition to the recruiting class – either in December or February – or it could be somebody utilizing the transfer portal entrance rather than the exit.
The LSU quarterback situation has been fluid ever since Joe Burrow smoked that cigar after winning the 2019 national championship and headed to the NFL.
It figures to be just as fluid leading up to the 2022 season.
Read More
Louisiana online sports betting is officially live in much of the state. Louisiana joined the handful of other SEC football states with legalized sports betting in January 2022.