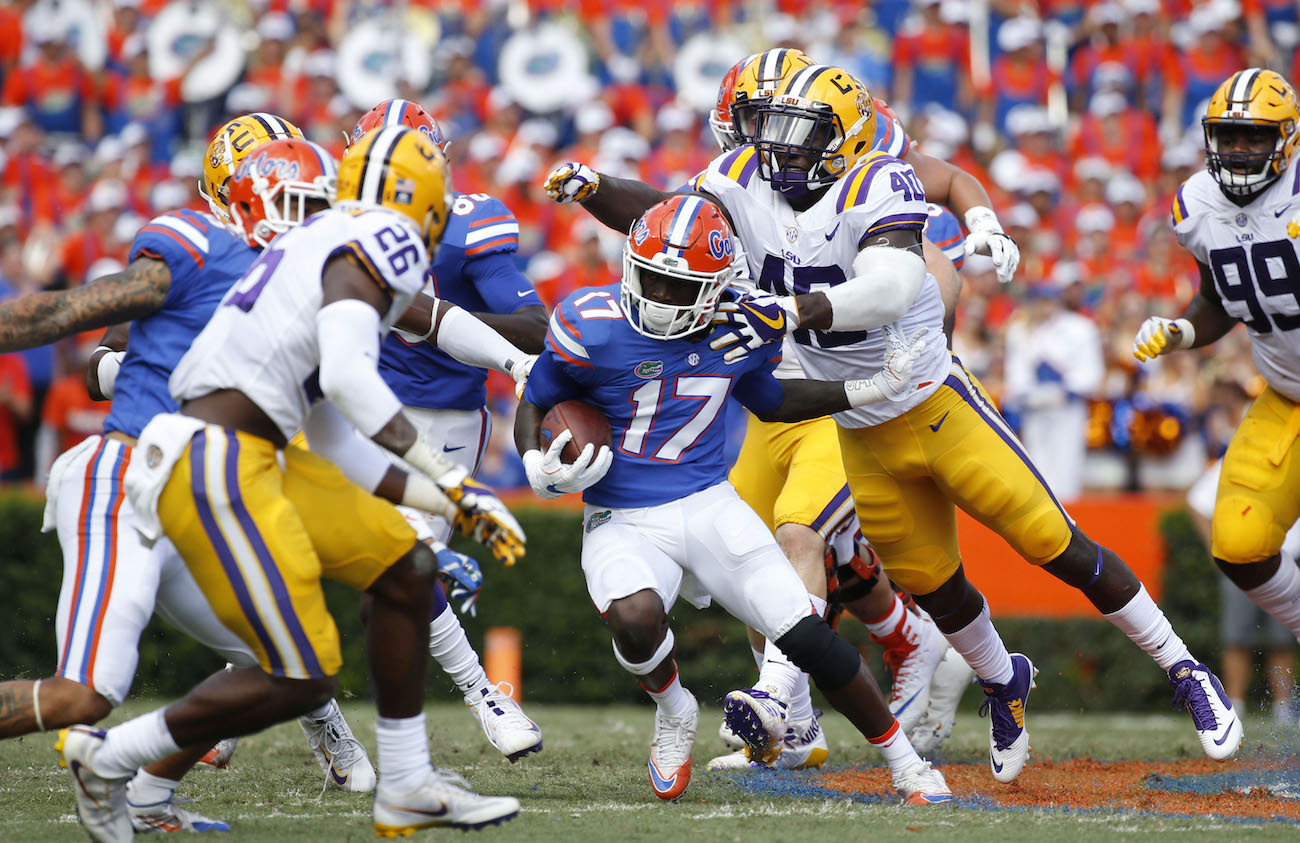 LSU TIGERS
LSU, Orgeron get exactly what they needed in The Swamp: a gritty, physical victory
Les Miles would have been proud.
LSU gave coach Ed Orgeron a much-needed win Saturday the way the Tigers periodically gave them to Orgeron's predecessor — by mixing strong defense, adequate offense, a lot of heart and a little bit of good fortune and leaving the opponent not quite sure how it came out on the wrong end of the score.
This time it was hard-hitting defense, a brief offensive flurry and a missed extra point by No. 21 Florida that enabled LSU to escape The Swamp with a 17-16 victory.
The Tigers didn't solve all the problems that caused them to lose two of their last three, including a head-scratching 24-21 setback against Troy at home last week. Not by a long shot.
But they won, they're 4-2, they're 1-1 in the SEC and for the next week the talk outsdie the program will be about addressing the shortcomings in a big, big victory rather than about whether the right man is running the program.
Great job Coach O. That's what LSU football looks like. Physical and tough

— Booger (@ESPNBooger) October 7, 2017
This performance won't silence Orgeron's critics, but it should reduce them to background noise at least until No. 12 Auburn arrives in Tiger Stadium next week.
It's easy to say there are still offensive problems because there are — erratic but at times encouraging line play (exacerbated by injuries) and limited play-making ability at quarterback to name two. Still there were touchdown drives of 86 and 75 yards and a field-goal drive of 54 yards against the best defense this offense has faced this season.
Sure, depth on defense is still a concern as the Tigers looked gassed in the Gainesville heat and humidity while yielding scoring drives of 70, 75 and 76 yards, but after pulling within the final margin Florida managed just one first down in its final three possessions when a field goal would have won the game.
Even the beleaguered kicking game came through as Connor Culp made the Tigers' only field-goal attempt in a game in which a miss almost certainly would have turned victory into defeat. Sure it was just 38 yards, but that distance and shorter ones had been vexing to the Tigers.
Culp's field-goal and his two extra points stood out even more because the Gators missed an extra point that would have tied the score in the third quarter, and instead helped shift momentum away from the home team.
The difference between LSU's competitiveness in this game and in its first SEC game at Mississippi State (a 37-7 thrashing) three weeks earlier was stark. It certainly helped that two of the most important Tigers — running back Derrius Guice and defensive end Rashard Lawrence — returned from injury, though neither was 100 percent. But their presence and toughness set the tone on both sides of the ball.
And that's really what was most important about this win for LSU and for Orgeron. The Tigers were humiliated at Mississippi State, failed to salve the wounds in a harder-than-it-should-have-been victory against Syracuse, then lost to what was supposed to be a sparring partner on homecoming.
For three weeks, LSU's talent, heart and coaching all were rightfully questioned. But the way the players and coaches responded with a gutsy win on the road against one of the better, though not elite, SEC teams suggests there's enough talent, heart and coaching ability to salvage a season that was in danger of going off the rails.
One reason Orgeron is coaching this team instead of Miles is because, under Miles, a few of those games that could have gone the other way — did.
Saturday's game could have gone the Gators' way, but it didn't because LSU simply wouldn't let it.
These types of wins helped Miles last for 11-plus seasons, but it was the cleaner, more dominant, less stressful ones that were the primary cause of his longevity.
If this program is headed in the right direction, Orgeron will have to start getting some of those type wins.
But on Saturday in The Swamp, he and the Tigers got exactly what they needed.
Read More
Sports betting in Louisiana is live and running. Whether it is betting on SEC football or LSU football games or the Heisman race each year, if you live in Louisiana, you can now do it from your mobile phone.