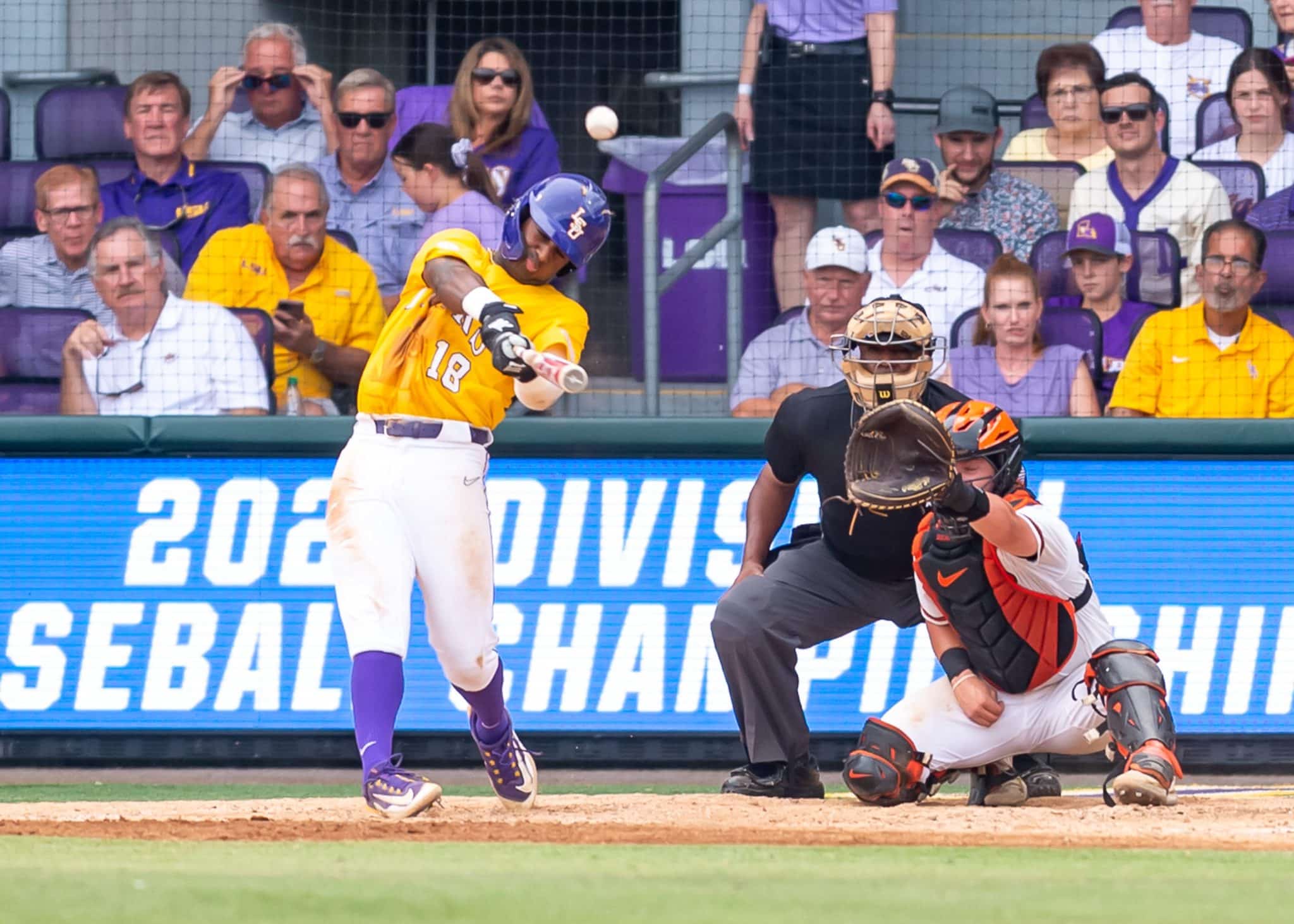 LSU TIGERS
LSU powers past Oregon State, completes sweep to advance to Super Regional
For the 16th time, LSU baseball is going to Super Regionals. The No. 5 national seed Tigers completed a sweep of the Baton Rouge Regional with a 13-7 win over Oregon State, the regional's No. 2 seed.
LSU never trailed on Monday. The Tigers broke the scoring ice in the top of the 4th inning with a 4 spot and never looked back.
A bases-loaded hit by pitch and sac fly scored the first 2 runs. Josh Pearson opened it up with a 2-RBI triple to make it 4-0.
JP FOR THREE@joshpearsonbb2 | ESPN+ pic.twitter.com/3v7dc8pZ3Z

— LSU Baseball (@LSUbaseball) June 5, 2023
OSU got 2 runs back in the bottom of the 4th inning, but LSU answered with back-to-back solo home runs from Hayden Travinski and Cade Beloso.
Yeah, what Hayden said@cade_beloso | ESPN2 pic.twitter.com/dTD81NKxIi

— LSU Baseball (@LSUbaseball) June 5, 2023
The Alex Box crowd was treated to a Crews Missile in the 6th inning. Dylan Crews extended the lead to 7-2 with a solo shot.
Simply The Best@__dc4__ | ESPN2 pic.twitter.com/D8eTjoE8NM

— LSU Baseball (@LSUbaseball) June 5, 2023
The Beavers managed 3 runs in the 9th inning, but by then, the Tigers had 13 on the board.
TIGERS WIN! TIGERS WIN! pic.twitter.com/ecUCcBCcKy

— LSU Baseball (@LSUbaseball) June 5, 2023
LSU used 4 pitchers on Monday. Griffin Herring picked up the win, posting a line of 3IP, 3 H, 2 ER, 4 K, BB over 44 pitches.
The Tigers defeated Tulane 7-2 on Friday. Weather got in the way of the action on Saturday, pushing back the winner's bracket game, and regional final as a result.
In the Baton Rouge Super Regional, LSU will host the winner of Kentucky vs. Indiana in the Lexington Regional.
Read More
Louisiana sportsbooks are up and running. Residents in the state can now signup at one of the various sportsbook operators and begin betting on NFL, college football, NBA and more.