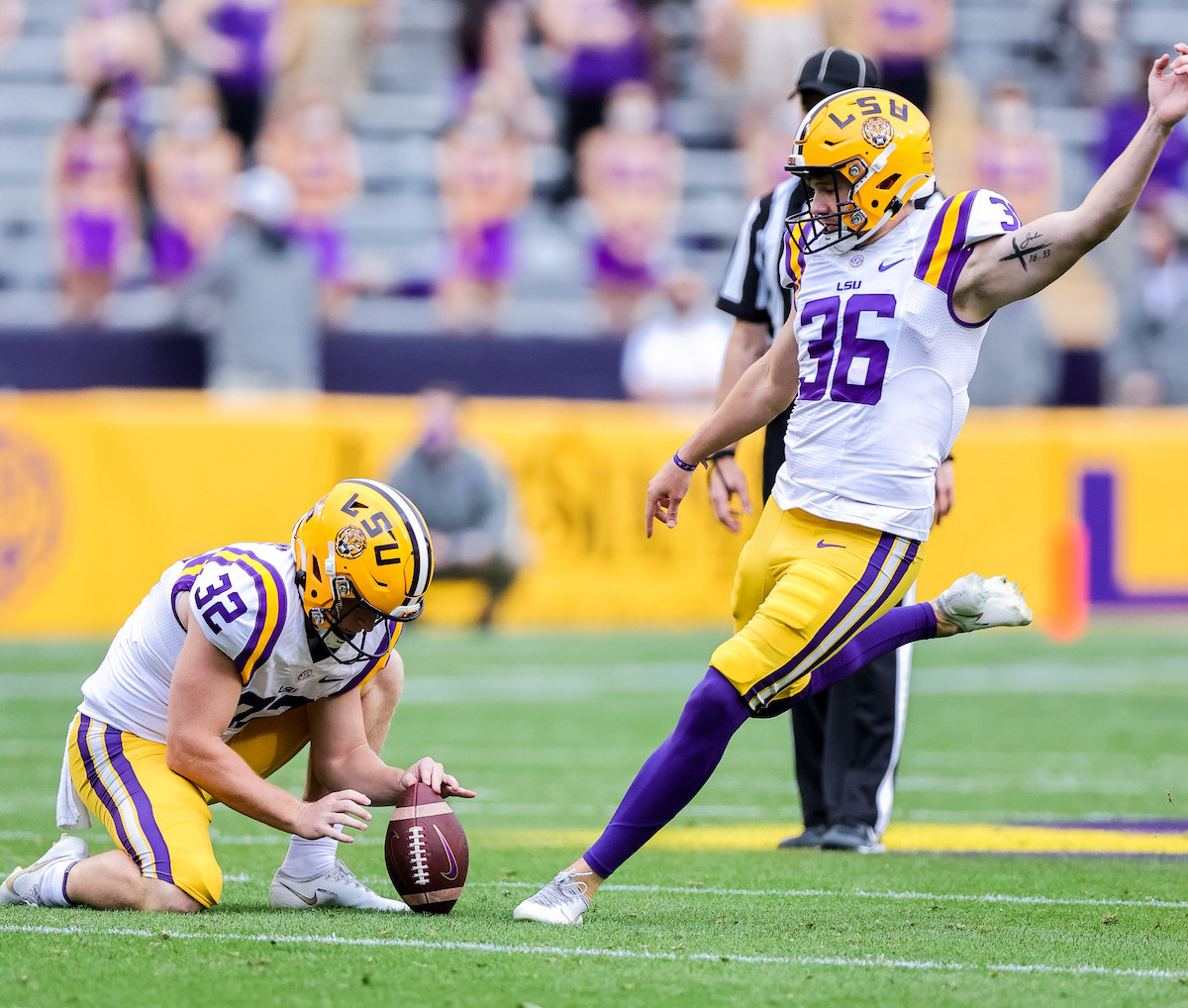 LSU TIGERS
LSU vs. Kansas State: QB? What QB? Here are 5 reasons the Tigers will win the Texas Bowl
LSU and Kansas State meet in the Texas Bowl on Tuesday night. Forgive either or both if they are rusty. It will have been more than 5 weeks since either played a game.
The Tigers upset Texas A&M 27-24 on Nov. 27, one day after the Wildcats lost to Texas 22-17.
Both teams have experienced coaching-staff changes since then, and injured players have had time to heal and healthy players have had time to transfer or opt out.
Offensive line coach Brad Davis will serve as interim head coach for LSU and the Tigers are transitioning from Ed Orgeron's staff to Brian Kelly's.
KSU head coach Chris Klieman recently dismissed offensive coordinator/wide receivers coach Courtney Messingham and tight ends coach Jason Ray. Former KSU quarterback and current quarterbacks coach Collin Klein will serve as OC for this game.
LSU (6-6) and KSU (7-5) present one of the more evenly matched bowl games on paper.
But it will be the Tigers who begin 2022 on a winning note — even if they haven't publicly revealed who their starting quarterback will be.
Here are 5 reasons the Tigers will win the Texas Bowl on Tuesday night.
1. Stronger motivation
It's the trickiest element to many bowl games – is one team more excited to be there and more motivated to perform at its best than the other is.
The Wildcats figure to be excited to be there. They missed out on a bowl after finishing 4-6 last season. They didn't have a single senior opt out of the bowl game. That, alone, is noteworthy.
They'll want to continue this turnaround and set a positive tone for 2022.
But LSU has been through a lot. It didn't go to a bowl game last year, either. It's difficult to count all the players who have bailed on the program to go early to the NFL or enter the transfer portal, and Ed Orgeron was bought out as head coach in October though he coached through the end of the regular season.
Now Kelly is in charge, and Davis is in charge for this game before resuming his offensive-line duties.
These Tigers stuck it out. They survived a lot. They have been rewarded with this game, which is an opportunity to impress Kelly and show the world that LSU is headed in the right direction and they are going to lead the way.
2. Momentum
That last-minute victory against Texas A&M was the Tigers' best performance of the season.
It gave them a 2-game winning streak to end the regular season.
KSU lost its last 2 games and hasn't won since Nov. 13, the last time LSU lost – which was in overtime against Arkansas.
3. LSU is battle-tested
The Wildcats played a challenging schedule. The Tigers played an extremely challenging schedule.
KSU played 3 teams in the current CFP rankings – No. 7 Baylor, No. 9 Oklahoma State and No. 16 Oklahoma. LSU played 5 such teams – No. 1 Alabama, No. 8 Ole Miss, No. 21 Arkansas, No. 22 Kentucky and No. 25 Texas A&M.
KSU played 4 other bowl teams – Nevada, Texas Tech, West Virginia and Iowa State. LSU played 5 other bowl teams – UCLA, Central Michigan, Mississippi State, Florida and Auburn.
4. Very good defense
LSU played much better defense in its last 4 games, thriving off coordinator Daronte Jones' change in approach coming out of the open date.
The Tigers held down Alabama, Arkansas, Louisiana-Monroe and Texas A&M down the stretch.
They allowed an average of 9 fewer points per game in the final 4 games compared to the first 8.
No one down the stretch had much offensive success against the LSU defense.
Neither will KSU.
One caveat: Starters Damone Clark and Neil Farrell have opted out. But LSU has dealt with adversity before. This just presents an opportunity for somebody else to emerge.
5. Cade York makes up for LSU's missing pieces on offense
This game figures to be close and low-scoring. We still don't know who will start at QB for LSU, for instance. Garrett Nussmeier would be the logical choice, but he's already played in 4 games. Another snap, and he loses his redshirt. The Tigers asked the NCAA for a waiver allowing Nussmeier to play without burning his redshirt — and Nussmeier is in Texas preparing and Davis has said he's an option — but LSU has provided no update on whether it was approved.
Leading rusher Ty Davis-Price also opted out.
LSU's depth chart for Tuesday's game has Garrett Nussmeier as QB1 and walk-on Tavion Faulk as QB2. Dwight McGlothern not listed. Expect to see a lot of Darren Evans @FBallGameplan pic.twitter.com/SkNogsjaDq

— Patrick Conn (@PatrickConnCFB) January 2, 2022
So … in that kind of game, field goals become even more important than usual – and LSU has as good a kicker as there is in the country.
York has made the 3 longest field goals in LSU history and he is 15 of 18 this season, including a 56-yarder.
His only misses came from 40-plus, including 2 from 50-plus.
He'll come through – as he usually does.