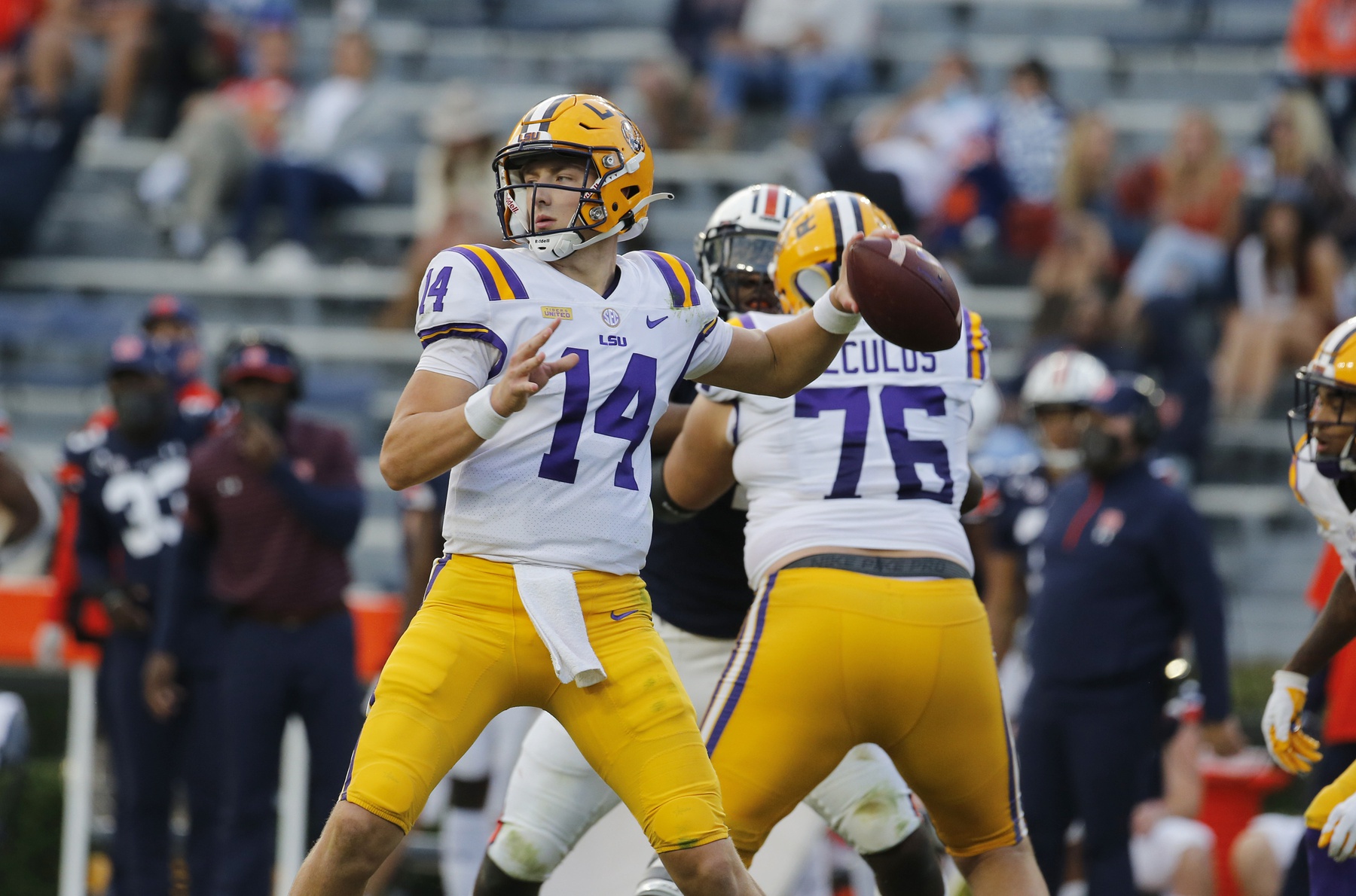 LSU TIGERS
Max Johnson's departure from LSU puts Garrett Nussmeier on the spot
And there goes Max Johnson
He became the latest LSU player – and more importantly the latest LSU quarterback – to enter the transfer portal.
Johnson made his announcement via Twitter on Tuesday: "LSU, Thank you for allowing me to pursue my academic and athletic career here. I have made strong relationships that will last a lifetime with coaches, staff and especially my teammates! With careful and prayerful consideration, I am entering the transfer portal."
About roughly the same moment, Johnson's younger brother, Jake, a 4-star recruit and the top tight end in the country, announced his decommitment from LSU.
Earlier in the day, freshman wide receiver Deion Smith entered the transfer portal and 3-star wide receiver recruit Decoldest Crawford from Shreveport, La., withdrew his commitment more than 2 years after making it.
The decommitments, which are just the latest in a series since Ed Orgeron was bought out in October, are not surprising. It happens with all coaching changes.
New coach Brian Kelly and new recruiting coordinator Frank Wilson, who agreed to terms amid Tuesday's flurry of activity, will have an opportunity to change the minds of anyone who decommits. They'll also have an opportunity to start fresh with other recruits as potential replacements.
But Max Johnson is a different matter.
His entrance into the transfer portal isn't necessarily surprising because his future would have been uncertain under a new coaching staff.
But the timing is notable.
Johnson's decision to leave is for essentially the same reason as Myles Brennan's decision and TJ Finley's decision and Lowell Narcisse's decision and Justin McMillan's decision – and that of virtually everyone who enters the portal – to seek a better playing opportunity elsewhere.
And Johnson will get an opportunity elsewhere – perhaps at another Power 5 program, perhaps not.
Johnson likely figures that by entering the portal now he increases his chances of finding the best opportunity that's out there for him. If he waited until after the Jan. 4 Texas Bowl against Kansas State, other potential suitors might already have found a new quarterback in the portal.
Tuesday was Johnson's version of Black Friday, trying to find the best deal as quickly as possible. When the Tigers learned Sunday that they were in the last bowl game of the season (Jan. 4) that meant Johnson would be losing at least a week of free-agent time compared to other bowl possibilities had he chosen to play 1 more game for LSU.
Perhaps that timing was the final factor in Johnson's decision. Or perhaps the potential for injury in the bowl game convinced him to leave as soon as his mind was made up.
In any event, Johnson, who outlasted Finley and Brennan before finally following them into the portal, leaves the Tigers in a less-than-ideal position quarterback-wise going into their bowl game.
Their only scholarship quarterback on the roster is first-year freshman Garrett Nussmeier, who has seen limited action this season as Johnson's backup. This, of course, assumes Nussmeier doesn't enter the transfer portal before the bowl game.
That's not far-fetched. In fact, until Johnson tweeted Tuesday, there was no evidence that the starting quarterback was a stronger portal candidate than the backup quarterback was.
Otherwise Nussmeier undoubtedly will get the start against Kansas State – if he chooses to. He's played in 4 games. One more snap, and he'll lose his ability to redshirt.
After convincing Orgeron to give him his most extensive playing time of the season in a game against Arkansas on November 13, Nussmeier decided to keep his redshirt intact by not playing against either Louisiana-Monroe or Texas A&M.
Now Nussmeier has a decision to make. He can forget about the redshirt, start the bowl game, ingratiate himself to Kelly by bailing out the Tigers – whose only other options are a pair of freshman walk-ons in Matt O'Dowd and Tavion Faulk – and get a leg up on the competition to start in 2022.
Walker Howard, a 5-star recruit from Lafayette, La., is committed, and Kelly surely is scouring the country – and the portal – for multiple quarterbacks to add to the competition.
Or Nussmeier could also choose to stick with the redshirt, figuring that extra season might eventually come in handy at LSU – or elsewhere – though that would make a poor first impression on Kelly.
Or, there's always the portal.
Stay tuned.
Read More
Sports betting in Louisiana is officially live in the great state of Louisiana. Whether it is betting on who will win the SEC this year or the next New Orleans Saints football game... if you live in Louisiana, you can now do it from your mobile phone.