LSU TIGERS
Photo of LSU alternate helmet, uniforms has everyone buzzing on social media
Some considerable buzz has developed about the possibility of LSU unveiling new alternate uniforms ahead of Saturday's game against Mississippi State in Tiger Stadium.
Some of the debate rests on LSU's traditional look, and how a blue blood in college football should not need to change its look. But the comeback rests on the appeal to recruits, and how it could fire up the roster.
Alternate uniforms have become a regular staple of college football and some teams bring them out multiple times a season. But a color-changing helmet has added a new twist to the conversation about uniforms.
Here is a glimpse at the uniform and helmet, and a sample of some of the social media chatter: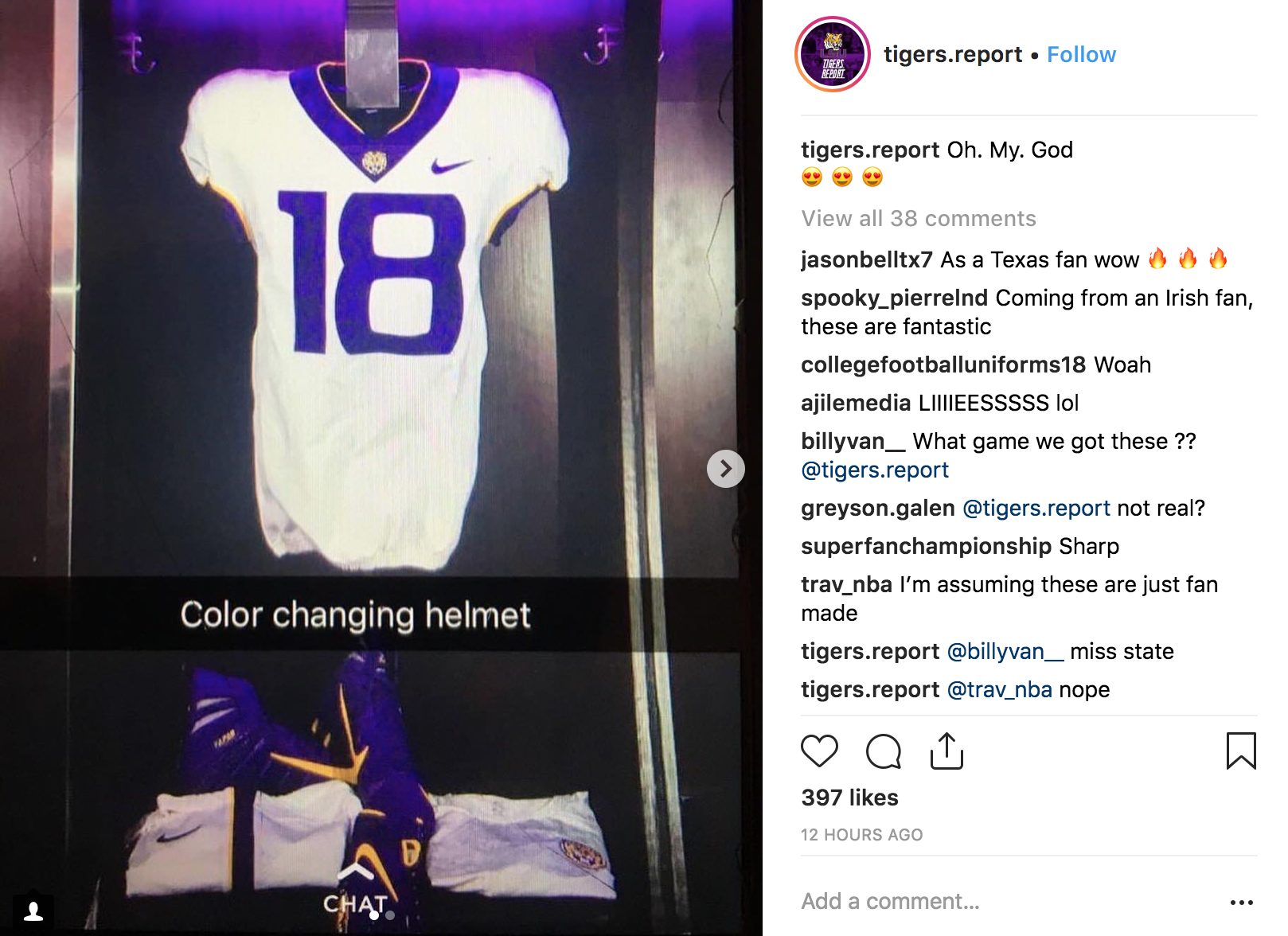 Look out for an announcement on some new alternate LSU uniforms soon

Think: all white unis with a color-changing helmet#LSU pic.twitter.com/bwHatndbAX

— Brian Holland (@BHollandSports) October 15, 2018
https://twitter.com/THATmanGIBBY/status/1052535783163420673
https://twitter.com/JimMWeber/status/1052524265726271488
https://twitter.com/MichaelBradyByn/status/1052414187480211457
https://twitter.com/LSUpatton/status/1052339522162315264
Maybe for Spring game! For regular games I really liked the 1958 helmet numbers. LSU Traditional uniforms are among the best in the nation! The fringe schools need the unusual uniforms to attract attention. LSU Tigers get attention with great games like Georgia domination!!!

— Dennis Lorio (@dlorio1) October 16, 2018
The helmet is cool, but for LSU that Gold Helmet is so unique and beautiful. I just really love it.

— Kenny Hilliard (@hilliard_kennth) October 16, 2018
Proposal: All White helmet and color changing uniforms.

— #5 LSU (6-1) Beat State (@ThatsSchitty) October 16, 2018
No they're awful. LSU's helmets should never be touched at all. They're the nicest helmets in football. The numbers are too big

— Kenny Hilliard (@hilliard_kennth) October 16, 2018
If LSU would come out the locker room one day with Purple Helmets, Yellow Jersys, and White pants, that'd be awesome

— Jordan Landry (@_JordanLandry) October 16, 2018
This is hideous. Who's responsible for this atrocity? LSU has the best looking uni's and helmets in college football, why change up a perfect traditional look?

— LSUFANS.com (@LSUFANSDOTCOM) October 16, 2018