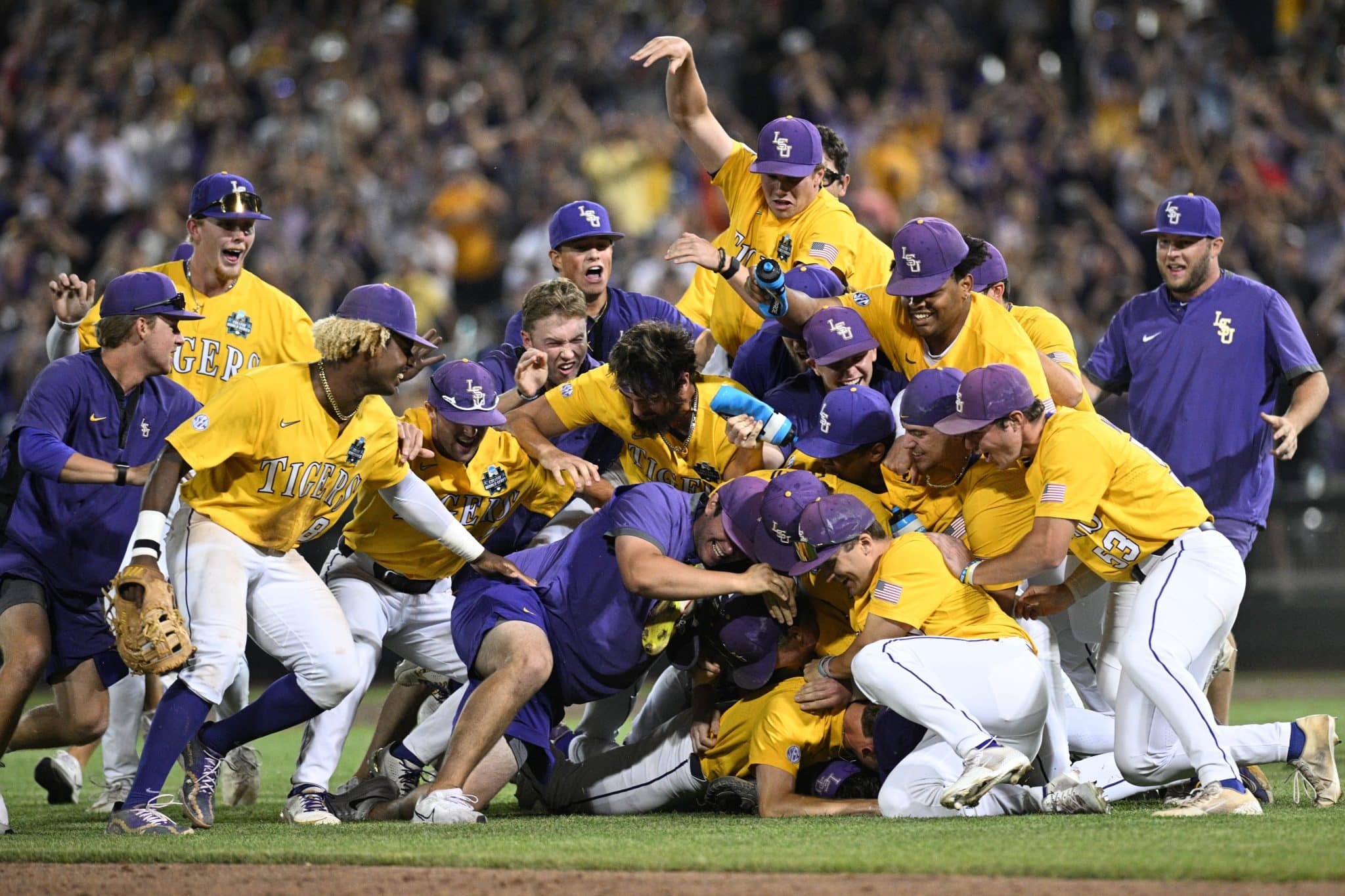 LSU TIGERS
Pirates' dilemma: Which of 2 LSU Tigers goes No. 1 in tonight's MLB Draft? Or is there a cash-saving 3rd option?
Most prognosticators have Dylan Crews No. 1 and Paul Skenes No. 2.
Some have Skenes No. 1 and Crews No. 2.
A few have Wyatt Langford perhaps slipping in at No. 1 or No. 2.
But the expectation is that LSU will make history Sunday by having teammates selected with the first 2 picks of the MLB Draft.
Crews and Skenes?
Skenes and Crews?
Only the Pittsburgh Pirates know for sure, although they might still have some uncertainty about how they'll ultimately use the No. 1 overall pick. They could go with Langford if he agrees to take slightly less money than Crews demands. The Washington Nationals will be standing by to potentially scoop up whichever Tiger isn't picked.
If Florida outfielder Langford or some other dark horse goes to the Pirates or the Nationals, the remaining Tiger will presumably remain a Tiger — because the Detroit Tigers hold the No. 3 pick.
It has long been assumed that Crews – LSU's 5-tool center fielder – would be the No. 1 pick. And he strengthened his resume by winning the Golden Spikes Award and helping lead the Tigers to the Men's College World Series title over Florida.
But Skenes, a hard-throwing, 6-foot-6 right-hander, followed the best regular season by any pitcher in the country with a dominant performance in the postseason, though he didn't pitch in the 3-game title series after throwing 243 pitches in 6 days to help lead LSU into the finale.
Choosing between Crews and Skenes has been a tricky proposition all season.
Crews was generally considered the best position player in college baseball, and Skenes was generally considered the best pitcher in college baseball. National media disagreed on which was the best player in college baseball, and now the Pirates must choose who they think will be the best professional player to come out of this draft.
Both are 21 years old (Crews is about 3 months older than Skenes) and both had 3 exceptional seasons in college.
Crews has 3 seasons in the SEC, while Skenes played his first 2 seasons at the Air Force Academy before transferring.
While batting leadoff as a junior and playing exceptional defense throughout, Crews established himself as quite possibly the best player in a program that has now won 7 national championships.
He's a power hitter who also has developed plate discipline. He's got good speed, which has shown up more in defense and base-running than in base-stealing.
In other words, Crews can help his new employer in virtually every way that a position player can.
Skenes, who added a good 5 mph to his fastball after arriving at LSU, had arguably the best season of any pitcher in Tigers history, breaking Ben McDonald's school and SEC single-season record for strikeouts by finishing with an NCAA-best 209.
Though Skenes was limited to pitching while at LSU, he was an accomplished hitter at Air Force and recently said he'd like an opportunity to be a two-way player as a professional – presumably as a first baseman/designated hitter.
Regardless of whether that happens, Skenes' lofty draft position will be a result of his skill as a pitcher.
Skenes supplements his elite fastball with a slider that greatly improved during his junior season, as well as a sinker and a hard change-up. He frequently topped 100 mph during the NCAA tournament, and the triple-digit throws came as often toward the end of outings as they did at the beginning.
Crews and Skenes both went to LSU in large part because they wanted an opportunity to win a national championship. They not only accomplished that, but both were at their best when the opportunity came about. They performed as a No. 1 overall pick would be expected to perform in such a situation.
Traditionally, position players are considered less risky than pitchers as draft choices because of the greater chance of injury that's inherent in pitching.
That suggests Crews might be the safer pick.
But elite pitchers who do stay healthy – and live up to projections – are harder to come by than elite position players.
That suggests Skenes could ultimately have the higher ceiling.
But otherwise, there's little to separate Crews and Skenes.
Or Skenes and Crews.
You're on the clock, Pirates.
Read More
Louisiana online sports betting is officially live in much of the state. Louisiana joined the handful of other SEC football states with legalized sports betting in January 2022.