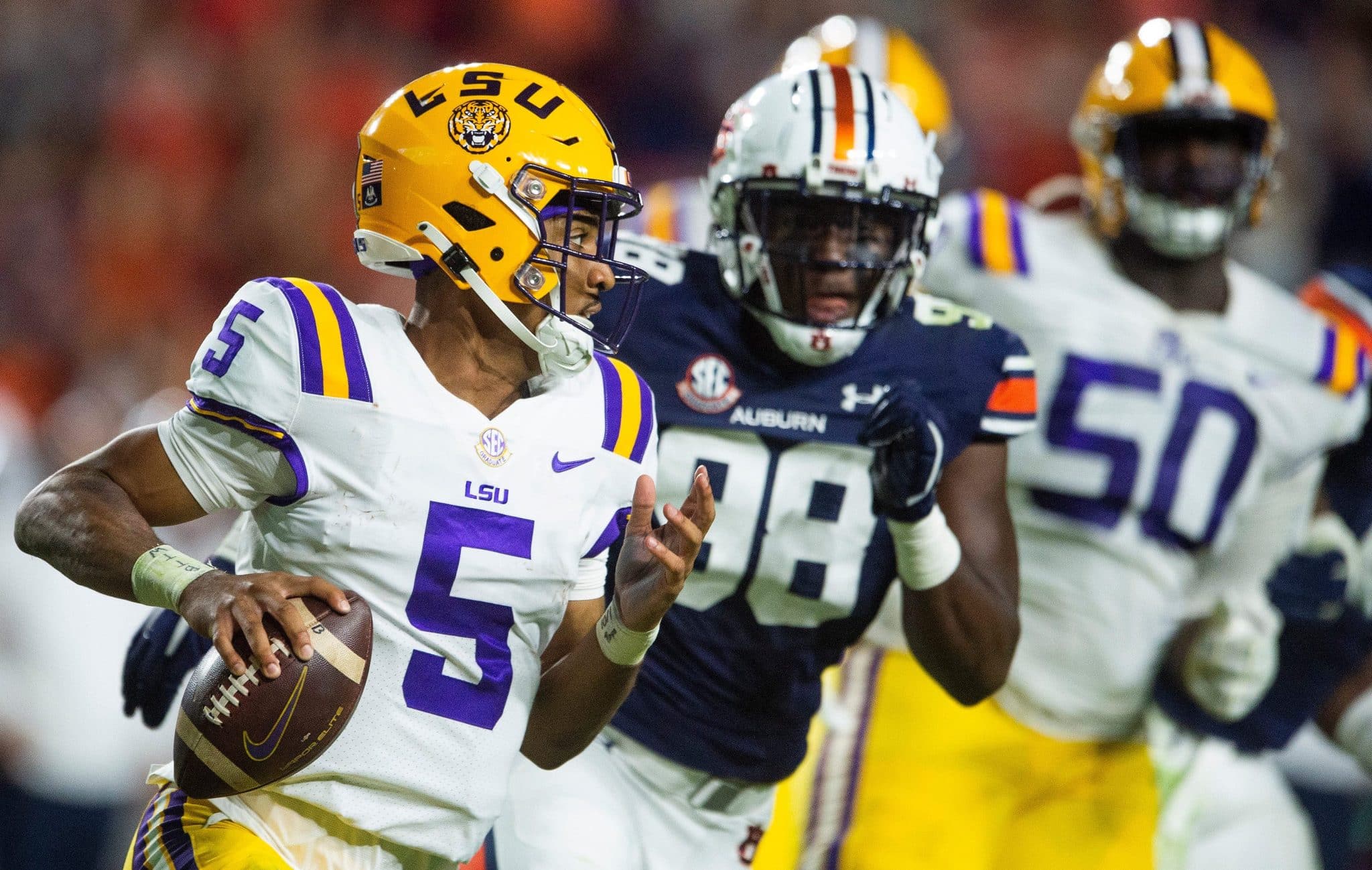 LSU TIGERS
Rapid Reaction: LSU overcomes 17-point deficit to top turnover-prone Auburn
Auburn started fast and LSU started slowly.
LSU got better as the game went along and Auburn didn't.
In the end, this battle of Tigers went down to the wire, with LSU prevailing 21-17 on Saturday night in Jordan-Hare Stadium. LSU overcame a 17-0 deficit.
LSU won in no small part thanks to 3 costly Auburn turnovers in the fourth quarter, including a strange decision by Auburn that resulted in a trick-play interception by LSU that ended a scoring threat.
Auburn made it interesting, though, recovering a fumble to set up its last effort.
Auburn crossed into LSU territory, but LSU forced another turnover to seal the road victory.
LSU (4-1) won its 4th straight game and improved to 2-0 in the SEC, though the victory was dampened a bit when quarterback Jayden Daniels left the game early in the fourth quarter. He was playing with a lower back strain suffered a week earlier against New Mexico.
Trailing 17-0, LSU scored the final 14 points of the first half, including a touchdown in the final seconds that sent it into halftime on a positive note.
It got the ball to start the second half, but the Auburn defense didn't allow it to build on its first-half finish.
LSU's first 2 possessions of the 3rd quarter ended with punts.
It looked like Auburn's 1st 2 possessions would end the same way, but coach Bryan Harsin passed on a punt to go for 4th-and-10 at the LSU 37.
Ashford's deep pass fell incomplete, giving LSU good field position.
It took advantage, driving to a touchdown and its first lead.
John Emery Jr. broke several tackles on his way to a 20-yard touchdown run and a 21-17 lead that LSU took into the fourth quarter.
Auburn drove to a 1st and goal at the 5, but on second down a trick play failed when Harold Perkins intercepted a pass from wide receiver Koy Moore, a transfer from LSU.
Garrett Nussmeier replaced Daniels and LSU went 3-and-out.
The opening kickoff provided a hint of how the early part of the game was going to go for both teams – very well for Auburn and very poorly for LSU.
LSU kicked off and Keionte Scott dropped the ball at the goal line, picked it and was stopped at the 16.
But Sevyn Banks was called for targeting on the tackle and was injured. He was taken from the field on a stretcher, examined at a hospital and released.
Moments later Robby Ashford threw a 53-yard touchdown pass to Ja'Varrius Johnson.
LSU's 1st 3 possessions ended with punts, but the third punt produced the team's best play of the 1st quarter as the ball was downed at the Auburn.
But that didn't faze Ashford or the Auburn offense.
Early in th3 2nd quarter, Ashford completed a 99-yard drive with a 61-yard touchdown pass to Camden Brown.
Auburn was marching again after Ashford's 31-yard completion to Moore put the ball at the LSU 18.
LSU finally got a stop – with the help of a false start – and Auburn settled for Anders Carlson's 29-yard field goal and a 17-0 lead midway through the 2nd quarter.
Those were the last points Auburn scored as LSU took over the rest of the way.
Read More
Sports betting in Louisiana is live and running. Whether it is betting on SEC football or LSU football games or the Heisman race each year, if you live in Louisiana, you can now do it from your mobile phone.