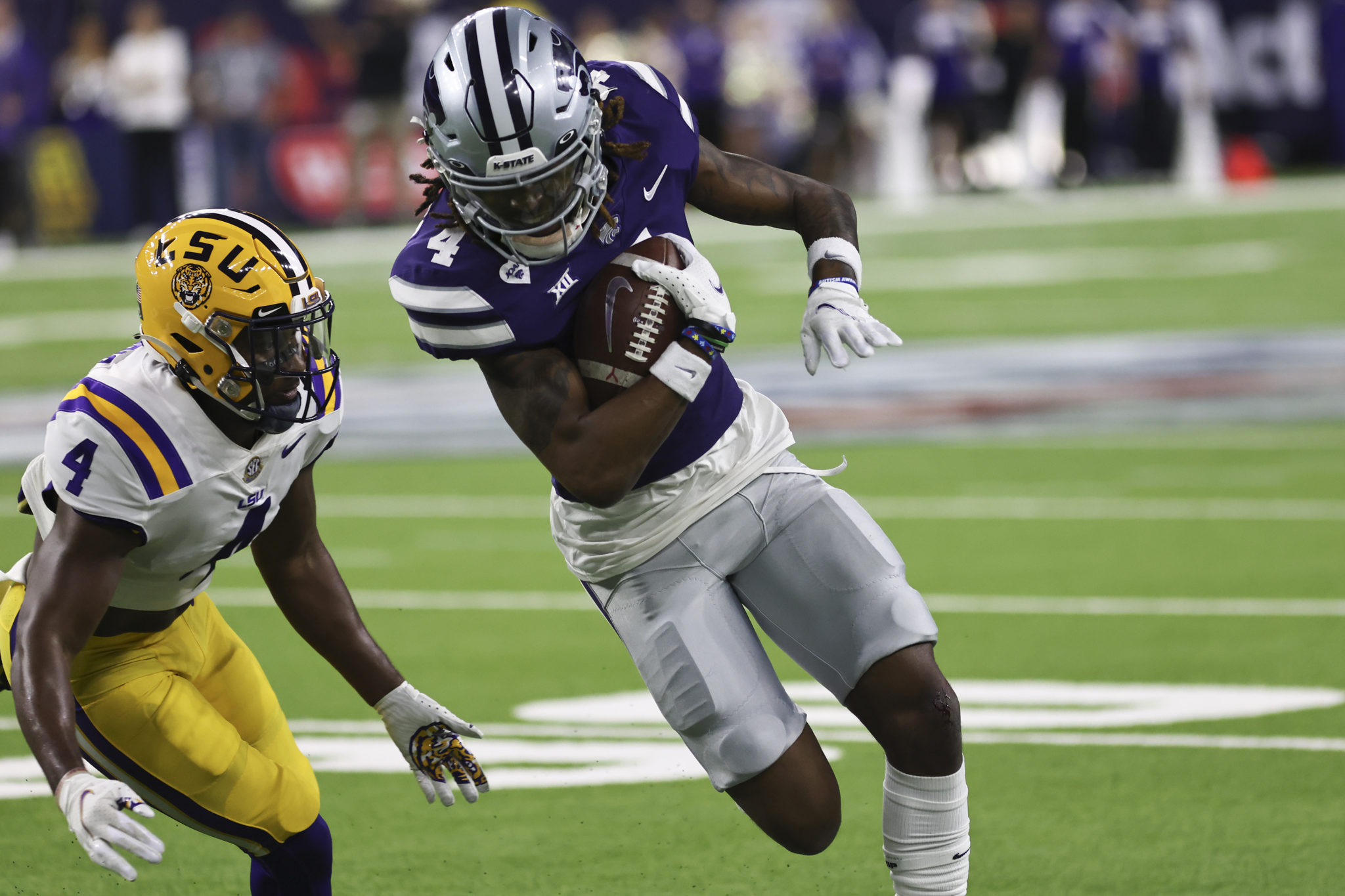 LSU TIGERS
Rapid Reaction: Shorthanded LSU squad blown out by Kansas State in Texas Bowl
LSU played a bowl game with fewer than 40 scholarship players, numerous grad assistants and analysts promoted to temporary on-field roles and a wide receiver at quarterback. It went about as one would expect. Kansas State won Tuesday night's Texas Bowl in a 42-20 blowout.
In addition to LSU being down to 38 scholarship players tonite vs K-State, most of the Tigers position coaches are analysts: OL (Joe Henry); RBs (Mario Acitelli); WRs (Carter Sheridan); LBs (Jake Olsen); CBs (Dwayne Thomas); STC (Chris Forestier) and TE coach Derek Shay is a GA.

— Bruce Feldman (@BruceFeldmanCFB) January 4, 2022
In order to preserve Garrett Nussmeier's 2021 redshirt, LSU turned to fifth-year wide receiver Jontre Kirklin at quarterback. He finished 7-of-11 passing for 138 yards, 3 touchdowns and 2 interceptions while leading the Tiger ground game with 11 rushes for 61 yards.
Quarterback Skylar Thompson and running back Deuce Vaughn had 3 touchdowns a piece for the Wildcats. Thompson spread the ball around to 10 KSU receivers, going 21-of-28 for 259 yards. Vaughn got the bulk of the carries with 21 rushes for 146 yards.
Kansas State broke the scoring ice at the 9:13 mark of the first quarter, going 75 yards on 11 plays on the opening possession. On the following possession, LSU was unable to pick up a first down, punting on fourth-and-12 after a 2-penalty drive. It would be that kind of night in Houston.
Kansas State made it 14-0 with an 18-play, 9:16 scoring drive that carried into the second quarter. The play count through the first 3 possessions was 29 for KSU and 3 for an undermanned LSU squad. The final tally was 62-48 in total plays, favoring Kansas State.
LSU's second drive ended on 3 plays when Kirklin threw an interception. It took KSU just 6 plays to make it 21-0.
LSU got on the board just before the half. A 13-play, 75-yard drive was capped by a 23-yard touchdown pass from Kirklin to Jaray Jenkins.
Unfortunately, LSU's strong finish to the first half did not translate into any second-half momentum. The Tigers went three-and-out to open the half. The Wildcats went 61 yards on 7 plays to extend their lead to 28-7 with 8:46 left in the third quarter.
After the three-and-out, LSU's next 2 drives ended in a turnover on downs and an interception, Kirklin's second of the night.
Kansas State widened its lead to 42-7 by scoring touchdowns on its first 2 fourth-quarter possessions. Kirklin found Malik Nabers for a 15-yard touchdown on fourth-and-12 to make it 42-14 with 3:35 left.
On the final play of the game, Kirklin hit Chris Hilton for an 81-yard touchdown. There was no extra point attempt.
KSU outgained LSU 442 yards to 308, but the Tiger had more tackles for loss (6-3) and sacks (2-0) in the game. The Tigers finished 6-7 for the 2021 season. Kansas State improved to 8-5 with the bowl victory.
On to the Brian Kelly era in Baton Rouge.
Read More
Sports betting in Louisiana is live and running. Whether it is betting on SEC football or LSU football games or the Heisman race each year, if you live in Louisiana, you can now do it from your mobile phone.