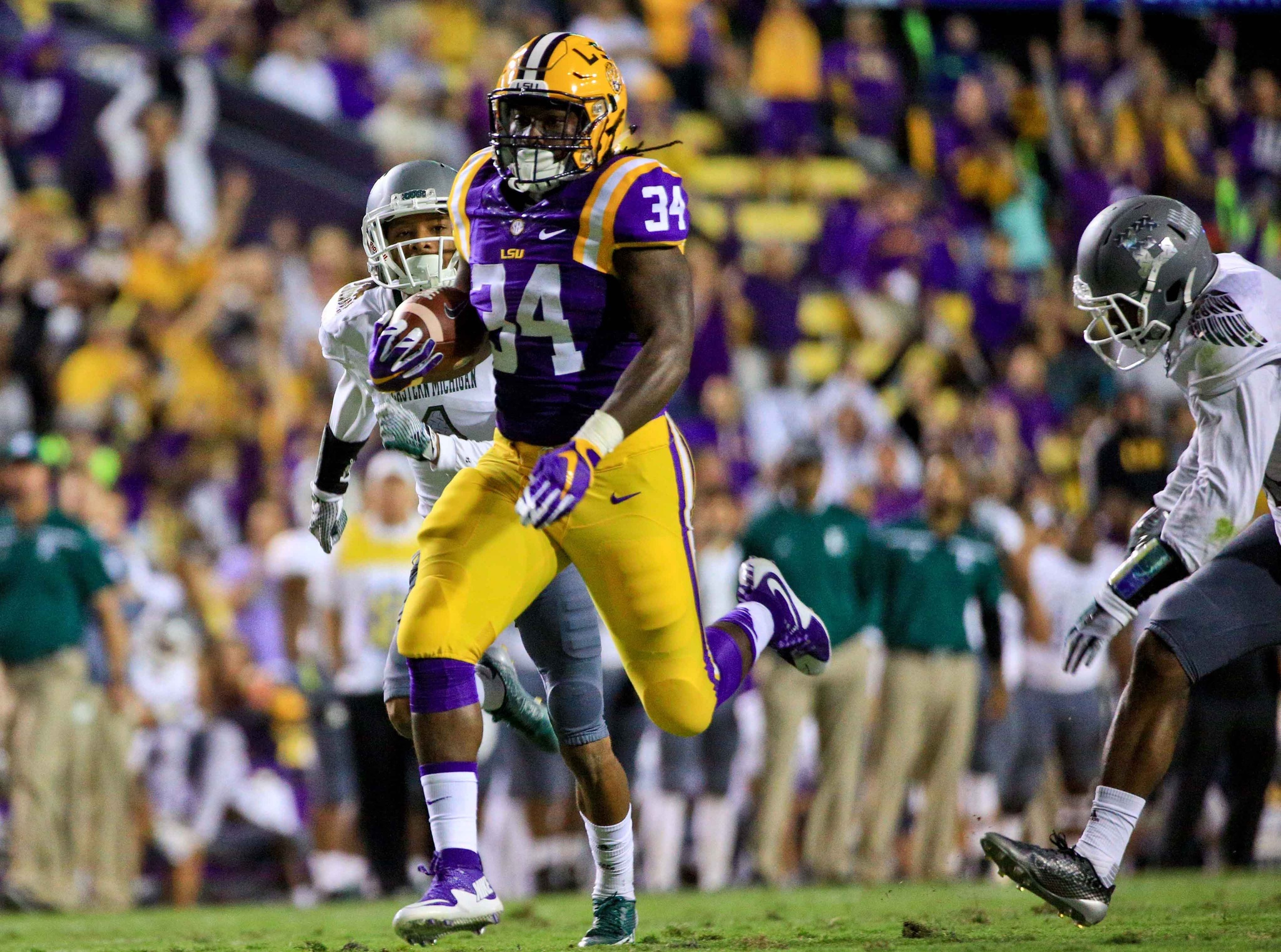 LSU TIGERS
LSU running backs summer outlook: Is there a better group in the country?
LSU is so deep at running back that, according to head coach Les Miles, Darrel Williams will likely play in the NFL "for a number of years," he told the Baton Rouge Advocate last October.
And here's the thing, Williams is probably the Tigers' third running back.
LSU has not only (arguably) the nation's top returning runner in Heisman Trophy candidate Leonard Fournette, but perhaps its best backup in sophomore Derrius Guice along with Williams, a bruising 230-pounder who has become LSU's short-yardage specialist, maybe as good of a third option as can be found anywhere.
With all three back, along with the top two fullbacks, the Tigers' running backs might be the envy of college football at the position, and not just because of Fournette.
2015 Rotation
Running back: Leonard Fournette (300 carries, 1,953 yards, 22 TDs); Derrius Guice (51 carries, 436 yards, 3 TDs); Darrel Williams (60 carries, 296 yards, 4 TDs); Nick Brossette (12 carries, 65 yards). Fullback: John David Moore (5 starts before suffering season-ending knee injury); Bry'Kiethon Mouton (2 receptions, 21 yards).
2016 Rotation
(same as 2015)
Running back: Leonard Fournette (Jr.); Derrius Guice (So.); Darrel Williams (Jr.); Nick Brossette (So.); Lanard Fournette (RS-Fr.). Fullback: John David Moore (Jr.); Bry'Kiethon Mouton (So.); David Ducre (So).
Five Issues to Watch
Fournette for Heisman?: After highlight-reel runs and big numbers made him an early Heisman Trophy favorite last year, Fournette's candidacy lost steam down the stretch after Alabama held him to just 31 yards in LSU's first lost and the Tigers subsequently slumped to the finish. This year, he is one of two running back candidates, along with Stanford's Christian McCaffrey, at the top of most lists. There's no doubting his freakish talent, but can Fournette sustain his dominant play in the Heisman spotlight?
Do Fournette's carries go down?: To overcome Alabama and win a national championship, LSU may need more from its passing game. That could mean fewer carries for Fournette. The speedy Guice and powerful Williams have earned trust, meaning they could get more carries to rest Fournette. If he gets fewer carries, would that be a good thing or a bad thing for LSU? Probably a good thing, considering it means both the backup running backs and passing game are playing well enough to be trusted to carry more of the burden.
How deep are they?: Brossette came to LSU with an impressive résumé, but the Tigers were so deep he only got mop-up duty. Meanwhile, the Tigers redshirted Fournette's younger (and smaller) brother, Lanard. At the very least, Brossette's impressive prep résumé that includes rushing for over 2,000 yards three times and over 1,000 yards twice in a five-year high school career (Louisiana allows some eighth graders to play varsity high school football) says LSU should be at least four deep with good talent.
The battering ram or the receiving threat?: Most of Fournette's best rushing games came before Moore was sidelined for the year with a knee injury after six games. A pure blocking fullback, Moore quickly gained a reputation for being able to bust open huge holes. Mouton took over the starting job and, while not as physical as Moore, showed the ability to catch balls out of the backfield (he was signed to LSU as a tight end). Ducre was a high school tailback who can add to the depth at the position.
Gaps in the future?: The only potential running back in the 2016 recruiting class, Devin White, is starting his career at linebacker instead of running back. That leaves a one-year gap between the 2015 class (Guice, Brossette and Lanard Fournette) and now. LSU has a commitment from three-star 2017 prospect Clyde Edwards-Helaire (from the same high school as Guice), but look for the Tigers to possibly add another to the class.
Read More
Sports betting in Louisiana is officially live in the great state of Louisiana. Whether it is betting on who will win the SEC this year or the next New Orleans Saints football game... if you live in Louisiana, you can now do it from your mobile phone.