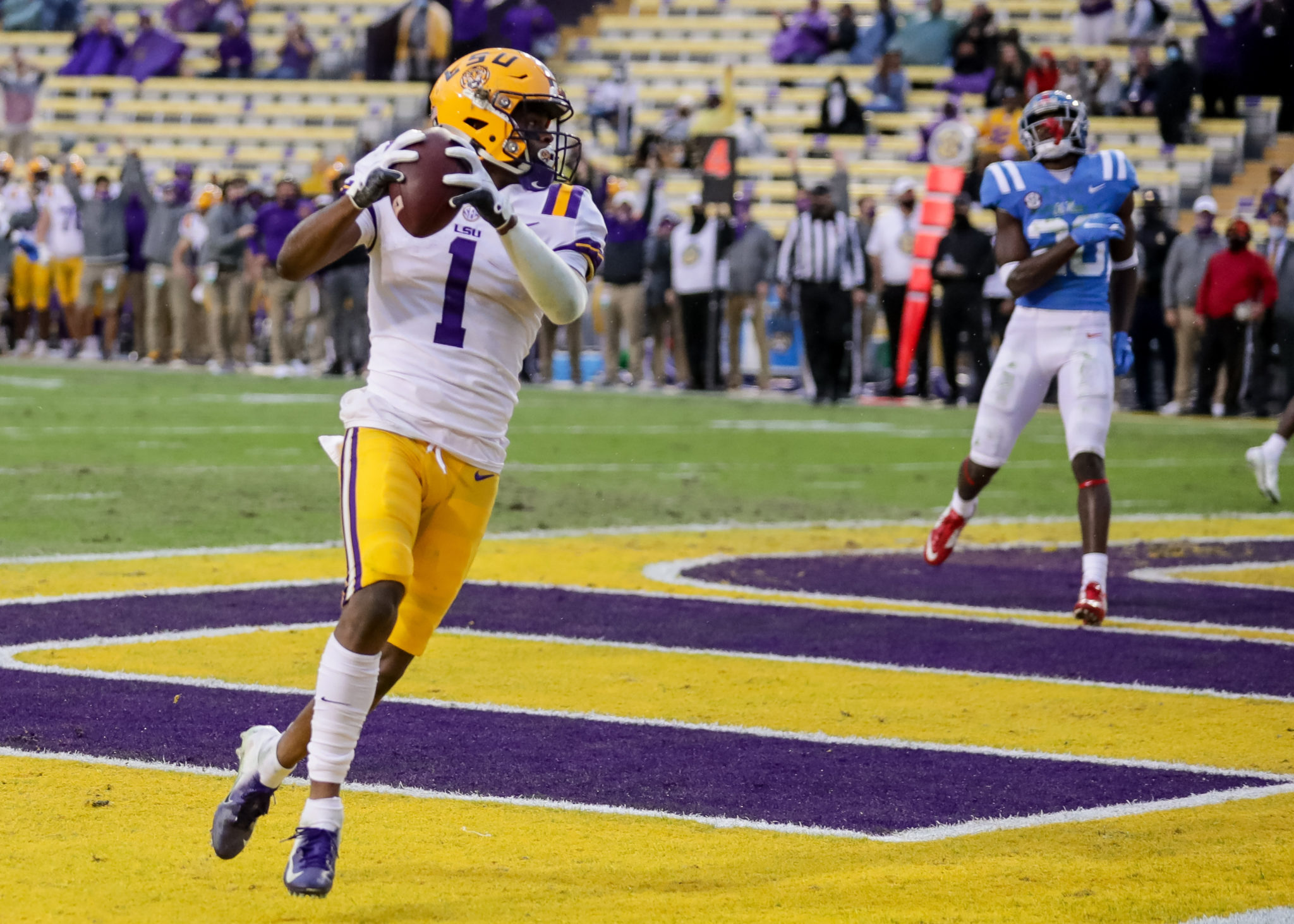 LSU TIGERS
Why LSU's offense will be better in 2022
LSU's offense was erratic in 2021.
There were good times and bad times; more bad than good.
There were absences due to injury and other factors that didn't help.
But mostly the Tigers were just an average offense at best.
They averaged a mere 17 points in losses to Auburn, Kentucky, Ole Miss, Alabama and Arkansas, topping out with 21 against Kentucky and bottoming out with 13 against Arkansas even though the game went into overtime.
But LSU scored enough to upset Texas A&M (27-24) in the regular-season finale and prevailed against Florida in a shootout (49-42) in the last game before Ed Orgeron became a lame-duck head coach.
So it wasn't all bad.
The Tigers had an explosive passing game – at times – as Kayshon Boutte led the nation in touchdown receptions before suffering a season-ending ankle injury midway through the schedule.
The passing game naturally dropped off after that, but Boutte and most of the other key pass-catchers return.
The offensive line was destabilized by a series of absences during the season and that was a major factor in the offense's mediocrity.
New coach Brian Kelly was initially concerned that his line would be even worse than Orgeron's last, but a series of personnel upgrades recently led Kelly to be much more optimistic about that unit.
A better line, which seems a realistic possibility, likely would lead to a better offense. A comparable or worse line would be problematic.
The Tigers are looking for more good than bad, and more consistency, which would lead to a more productive offense.
That challenge has fallen on Kelly, a new offensive coordinator (Mike Denbrock), a new quarterback (Myles Brennan, Jayden Daniels, Garrett Nussmeier or Walker Howard), a presumably healthy Boutte and a bunch of other players taking on more prominent roles as well as a few newcomers.
So there's a lot of change related to the Tigers' offense in 2022.
That change should translate into improvement, but just how much improvement remains to be seen.
Passing offense: Better
A better offensive line will make it easier for whoever the quarterback is to operate comfortably from the pocket compared to what Max Johnson had to work with last season. The key is whether whoever wins the job plays well enough to keep the job and provide continuity throughout the season.
Brennan appears the favorite to start based on experience, leadership and performance, albeit in just 3 starts in 2020. Daniels' dual-threat skills might earn him a regular role as a change-of-pace element.
Boutte figures to be the most explosive player on the offense and he also leads what appears to be the deepest position on the team.
LSU returns its top 3 pass-catchers from last season (Jack Bech, Boutte and Jaray Jenkins) as well as Malik Nabers, Brian Thomas Jr. and Chris Hilton Jr. Kyren Lacy, who arrives as a transfer from Louisiana, and true freshman Landon Ibieta could also be factors.
The Tigers completed barely 59% of their passes last season, which ranked 10th in the SEC. They'll be more efficient and more productive this season.
Before being injured, Boutte was on pace to finish with 18 touchdown catches, which would have easily led the SEC.
The variety of receiving threats will limit how much attention defenses can devote to Boutte and the passing game could be the defining feature of the whole team.
Running game: Better
This is a little trickier than the passing game because the running backs aren't as skilled and deep as the receivers, though it's a group with a lot of potential.
Ty Davis-Price ran for a school-record 287 yards (and 3 touchdowns) in the victory against Florida last season, but overall the Tigers' running game was average at best.
Davis-Price barely managed a 1,000-yard season and no one else could match Corey Kiner's 324 yards.
Davis-Price and Kiner are gone and the top returning rusher is Josh Williams (107 yards).
The return of John Emery Jr. after being ineligible last season, the arrival of Penn State transfer Noah Cain and the presence of veterans Armoni Goodwin, Tre Bradford and Williams provide a variety of options.
If any running back separates himself from the pack, that would be a pleasant surprise. More likely the Tigers will take more of a committee approach than last season and surpass what Davis-Price was able to do almost single-handedly last season.
LSU had the 2nd-worst rushing offense in the SEC, averaging 114.0 yards per game and 3.3 yards per rush. The Tigers' 9 rushing touchdowns tied for 12th.
The bar for improvement in the running game is set pretty low and LSU will clear it fairly easily.
Kicking game: Worse
Cade York made 15-of-18 field goals last season, then departed for the NFL.
He provided the Tigers with dependability and excellent range, which will be difficult to replace.
LSU has a highly-regarded freshman in Nathan Dibert, the No. 6 kicker in the 2022 recruiting class, poised to take York's place.
Dibert has the potential to match York's accuracy and range, but expecting that in his first season might be expecting too much too soon.
The Tigers' return game has plenty of room for improvement though. Last season, LSU's longest punt return was 24 yards and its longest kickoff return was 28 yards.
The Tigers have plenty of candidates to replace Trey Palmer as the primary return specialist. It will be up to Kelly and new special teams coordinator Brian Polian to identify the best options and create better return opportunities than the Tigers enjoyed last season.
Overall: Better
LSU will be more consistent on offense in 2022 than it was in 2021. The Tigers mostly will be very good on offense and even in the games in which they're not as good, they still will be better than they were in their not-as-good games last season.
The Tigers averaged just 26.5 points per game last season, which was 3rd-worst in the SEC.
They'll score much more than that this season.
Read More
Louisiana sports betting is officially live in much of the state. Whether it is betting on SEC football or LSU football games or the Heisman race each year, if you live in Louisiana, you can now do it from your mobile phone.