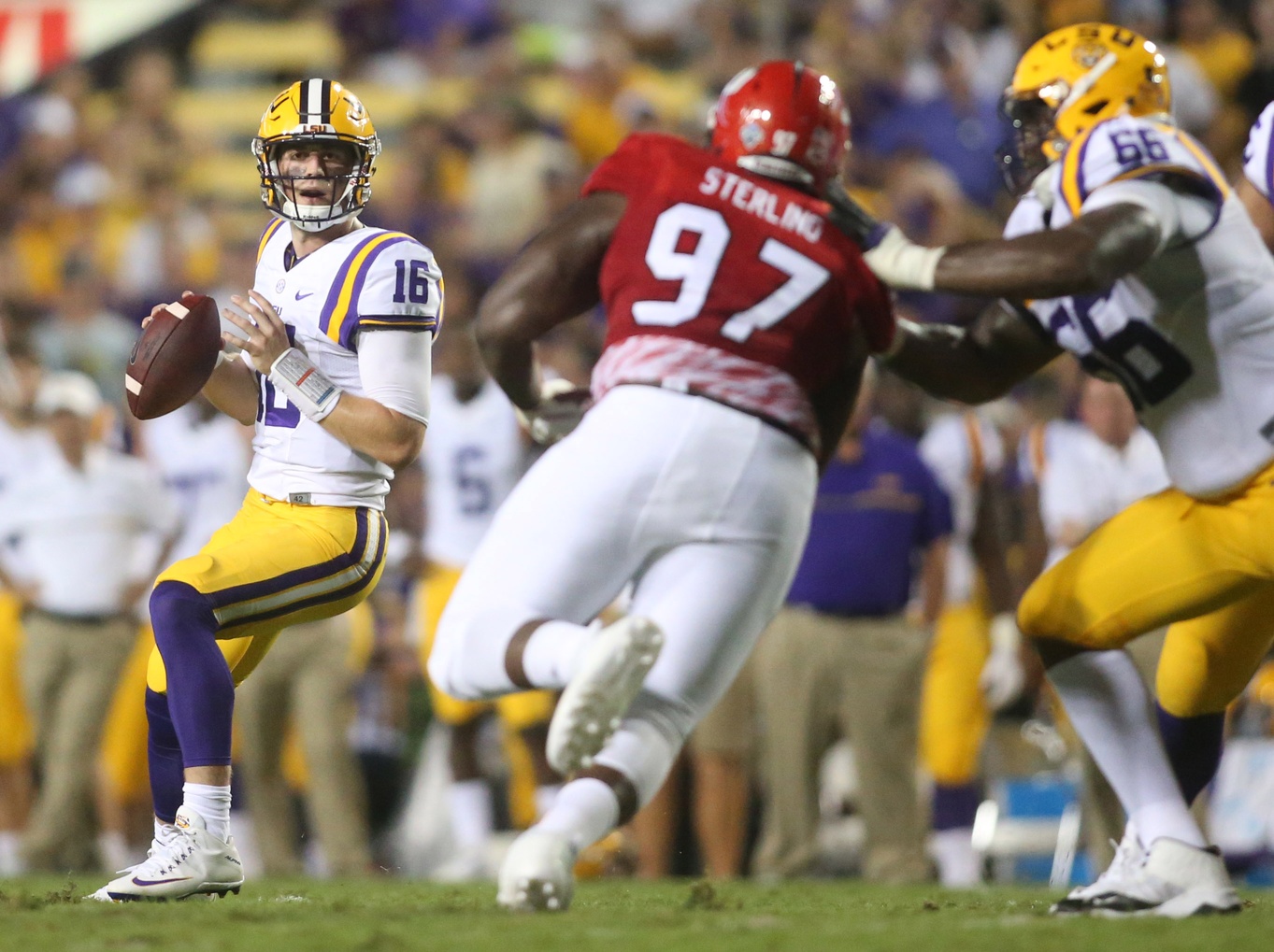 LSU TIGERS
LSU interim coach Ed Orgeron: 'We are going to change our style of play'
BATON ROUGE, La. — It didn't take long for Ed Orgeron to be asked the question.
In fact, in the press conference where he was introduced as LSU's interim head coach replacing the fired Les Miles, it was the first question asked.
How, if at all, would the new coach change an offense that drew criticism for being way too conservative under Miles?
The answer — if it proves true — should make LSU fans smile a bit.
"We are going to spread the ball out a little more, do some different things," Orgeron said. "We are going to change our style of play."
That would be a welcome change at LSU, where the Tigers' offense has routinely been near the bottom of the league in passing yards since after the 2007 national championship team had Matt Flynn at quarterback. This year, the Tigers are last in the SEC, throwing for just 147.8 yards per game and are 12th in the league in total offense.
As a result, an LSU team that came into the year expecting to compete for a national championship is off to a 2-2 start with losses in two close, low-scoring games. That led to the firing of Miles and offensive coordinator Cam Cameron the day after the Tigers' 18-13 loss to Auburn.
So change almost has to happen. But the devil is in the details.
How, exactly, Orgeron plans on changing things in a short turnaround — Orgeron was promoted from defensive line coach and recruiting coordinator on Sunday, and the Tigers have a home game on Saturday against Missouri — is a bit more unclear.
The brain trust to make the change will include new offensive coordinator and quarterbacks coach Steve Ensminger, who was promoted from tight ends coach, and offensive line coach Jeff Grimes, who was named the running game coordinator.
Administrative assistant Steve Kragthorpe, LSU's former offensive coordinator, will also help design the offense from a consulting role, Orgeron said. Kragthorpe had to step down as OC and, later, as quarterbacks coach after he was diagnosed with Parkinson's Disease.
Orgeron said he would not return to on-the-field coaching but would consult with the staff in meetings and the film room.
What will they try to do? Orgeron said he didn't want to "give away a scouting report," but he pointed to his past at Ole Miss and, particularly, his 2013 stint as interim head coach at Southern California, when his team went 6-2 down the stretch.
That team had offensive balance LSU currently lacks. Quarterback Cody Kessler threw for 2,968 yards for a team that finished 10-4. He had a couple of future NFL targets to throw to in Marqise Lee and Nelson Agholor. The Trojans did not have a dominant back, but the tandem of Javorius Allen and Tre Madden combined for 1,488 rushing yards and both averaged more than 5 yards per carry.
That's in stark contrast to LSU, where it's been Leonard Fournette or bust in the last couple of seasons.
"Obviously, we know people are going to load the box on Leonard and Derrius Guice, and we want to get the ball out in playmakers' hands," he said.
He hinted at short passes, using the tight ends and making sure all the skill people get touches.
Quarterback Danny Etling said LSU doesn't have to learn new plays to achieve the balance Orgeron is looking for. There was always the ability to run more stuff in former offensive coordinator Cam Cameron's playbook.
"It's a pretty deep playbook," he said. "You would just have to change what you emphasize."
The emphasis under Miles was power football, including a lot of power plays that challenged opponents with the Tigers' big offensive line and with the talents of Fournette. Much of the passing game came off play-actions from the power run game.
"There's a lot of things we've done well on offense running the football," Orgeron said. "But we are going to have a different passing game, be more creative, find ways to get the quarterback to get the ball down the field throwing it."
Ball distribution was something that had improved some lately since LSU went to Etling as the starting quarterback in Week 2. But even with the ball being spread out more, the Tigers struggled to move the ball in the air in last week's 18-13 loss to Auburn. Etling threw for just 118 yards and had just one "explosive" pass.
It wasn't much different from the results LSU had been getting from former starter Brandon Harris, who was benched in the second quarter of LSU's second game. Orgeron would not commit to Etling remaining the starter, nor would he say that there is a competition between the two.
Whoever starts, Orgeron said he would spend less time at practice and more time in the film room. Practices will be shorter, he said, and time in meetings and film room will be increased.
Etling, who was recruited to LSU as a transfer from Purdue by Cameron, said he welcomes whatever changes Orgeron might bring.
"As long as it scores points," he said.
Read More
Sports betting in Louisiana is live and running. Whether it is betting on SEC football or LSU football games or the Heisman race each year, if you live in Louisiana, you can now do it from your mobile phone.