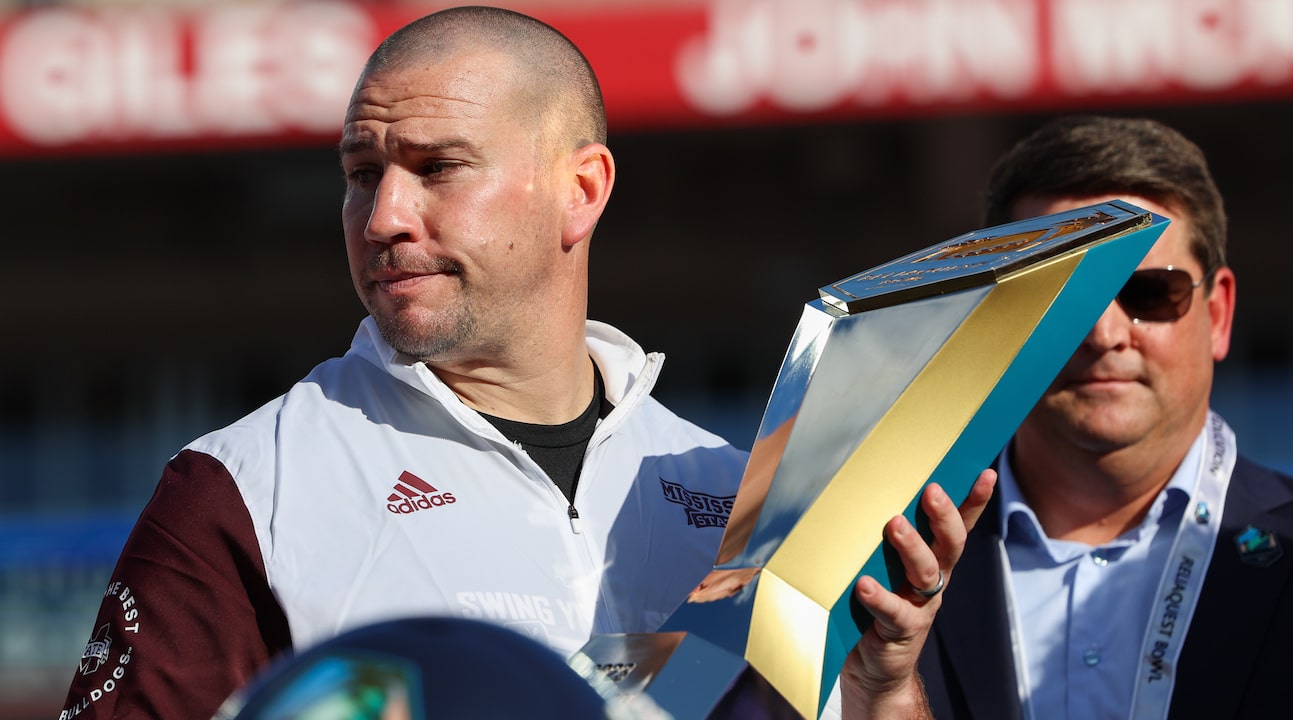 MISS STATE
10 burning questions as Mississippi State opens camp
The Zach Arnett era at Mississippi State begins in earnest.
Arnett was promoted from defensive coordinator after head coach Mike Leach died suddenly last December, and guided the still-stunned Bulldogs to a ReliaQuest Bowl victory over Illinois in his debut as Leach's successor.
Leach's fingerprints are still on this program and his spirit still lingers in Starkville. But after an off-season to get ready for the post-Leach era, it's now Arnett's program and team.
He has a lot to work with to try to continue the building that Leach did for 3 seasons, but he's also putting his own imprint on the program.
Here are 10 burning questions as Mississippi State opens camp:
1. Can the Bulldogs take advantage of a stable roster?
Teams all around the SEC and the country have absorbed numerous losses to the transfer portal and in many cases tried to use the same portal to supply replacements, leading to continuity challenges.
State, despite the coaching change, had minimal attrition from last year's team and didn't need a whole bunch of newcomers from other programs.
Will the stable roster of a team coming off a 9-4 (4-4 SEC) season help State get off to a fast start against a schedule featuring visits from Arizona, LSU and Alabama as well as a trip to South Carolina in September?
2. How will the transition on defense go?
Linebackers coach Matt Brock did a fine job in the bowl game after taking over play-calling duties from Arnett.
Now he's the coordinator and retains the play-calling responsibilities, though Arnett certainly will still be involved in the defensive preparation.
Arnett said he and Brock, with whom he has worked for 3 seasons since Leach brought him with him from Washington State, have "viewpoints on defense (that) are almost identical."
But it remains to be seen how the 34-year-old Brock performs for a full season as a coordinator in the SEC.
3. Who can help Nathaniel Watson and Jett Johnson?
The glass-is-half-full angle is that Brock is blessed to have 2 experienced linebackers who combined for 230 tackles.
The half-empty angle is that leaning that heavily on 2 guys creates the possibility of breakdowns – one way or another.
Better balance among the tacklers likely would mean more consistent defensive play.
4. How will Marcus Banks adjust to his move inside?
Banks was solid at cornerback last season, but he will be playing over the slot this season.
It's a key move in a secondary that has to adjust to the loss to the NFL of Emmanuel Forbes.
5. Can Lideatrick Griffin do even more?
Griffin was one of the top return specialists in college football last season and emerged as a productive pass receiver as well.
Opponents will undoubtedly kick away from him on special teams, and defenses will keep a closer eye on him as well.
He's one of the most dynamic players in the SEC, and the Bulldogs will get the ball in his hands any way they can.
6. Will better balance mean a better offense?
State won't be running Leach's famed Air Raid Offense, though new coordinator Kevin Barbay won't abandon Leach's approach to the passing game.
The former Central Michigan coordinator comes over after 1 season at Appalachian State, and he'll run a more conventional passing attack and also feature the run game more, leading to more play-action and more throws down the field.
The idea is to be more conventional, but still creative and highly productive.
7. How quickly will the offensive line adjust?
The Bulldogs return a lot of experience on the line, and that maturity should come in handy.
The group should be effective, but the changes in the scheme will require adjustments and perhaps even position changes. All should be fine, but the line could be a work in progress throughout August.
8. Can 2 quarterbacks be better than 1?
Will Rogers is definitely State's starting quarterback and is poised to have another big season in his record-setting career.
But former Vanderbilt starter Mike White, who came through the transfer portal, possesses dual-threat skills that have Arnett and Barbay excited about the situational possibilities of using him as a complement to the pocket-passing Rogers.
Will the tandem make the highly productive offense more prolific, or will the new dynamic create an even more complicated adjustment for Rogers?
9. Can Jo'Quavious Marks thrive with a bigger workload?
Marks led the Bulldogs with 582 rushing yards and 9 rushing touchdowns last season, but the running game is going to take on more responsibility.
Dillon Johnson, who formed a strong 1-2 punch with Marks, has moved on to Washington, so Marks will get even more opportunities. Penn State transfer Keyvone Lee and returning backup Simeon Price will also be in the mix, but Marks is the strongest candidate to handle the role of SEC feature back.
10. Is Arnett up to the job?
Arnett was one of the most respected defensive coordinators in the country before Leach lured him from San Diego State to Starkville 3 years ago.
He's a fine coach and was the sensible choice to succeed Leach.
But his head-coaching resume still consists of just 1 game.