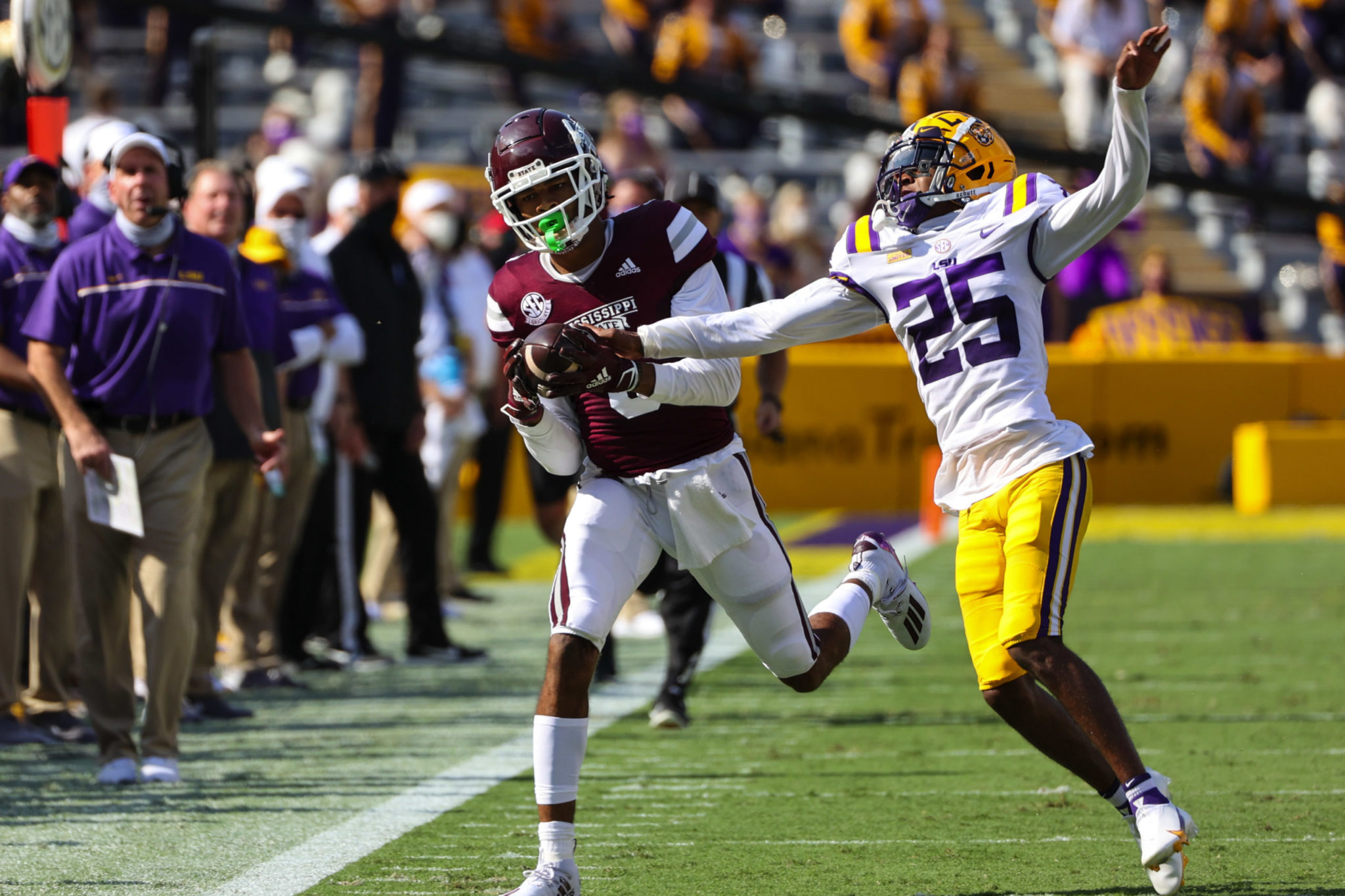 MISS STATE
Does Mississippi State have the receivers to make the Air Raid work? I think we can bury that narrative now
While all the talk during the preseason regarding wide receivers focused on the talented group at Alabama led by Jaylen Waddle and LSU superstar Ja'Marr Chase opting out of the 2020 season, there was another group that went largely ignored at Mississippi State.
That's not the case anymore.
The Bulldogs put on a show Saturday in Baton Rouge as Mike Leach's Air Raid offense had a debut for the ages. And the record books.
Leading the way was Osirus Mitchell. The 6-5 senior from Sarasota, Fla., caught 7 passes for 183 yards and 2 touchdowns, including the clincher, a 29-yard dart from quarterback KJ Costello in the corner of the end zone that hit Mitchell right in stride.
If you have watched Leach's Washington State offenses the past 2 seasons, Mitchell's height, talent and ability to burn defenders bring back memories of Tay Martin. Martin, now at Oklahoma State, stands 6-3 and in 2018, he caught 69 balls for 685 yards and 8 touchdowns. He was a force in the red zone, much like Mitchell will be this season.
It might not be any coincidence that both touchdowns — the other for 43 yards in the 2nd quarter — came on 3rd down. Costello, making his first start in Leach's offense after transferring from Stanford, may have found his go-to receiver on the big downs. On 3rd-and-13 on State's second drive of the season, Costello found Mitchell for a 25-yard gain that led to a field goal.
Yet, as always in a Leach offense, the ball was spread around and kept every receiver happy. Not counting the 2 running backs who combined for 9 catches with Kylin Hill having 8 of those, Costello found 7 different receivers. Mitchell led the Bulldogs in yards, but Austin Williams, another tall receiver at 6-3, had 7 catches for 57 yards and a score.
JaVonta Payton, a 6-1 senior from Nashville, followed with 6 receptions for 122 yards, including gains of 33 and 34 yards on State's first drive in the second half that led to a touchdown and a 20-17 lead.
Coming in, everyone knew sort of what to expect from Leach's offense, but nobody was quite sure Mississippi State had the right players to pull it off. Remember, last season no receiver caught more than 30 balls, no receiver gained more than 430 yards and no receiver had more than 6 TD catches. This season, those numbers might be topped by Week 3.
So, yes, that question was emphatically answered.
Sure, LSU was down its top player in Derek Stingley Jr. and was replacing most of its starters on defense, but you don't go into Baton Rouge and put up 623 yards through the air without having a team that is downright dangerous. This is still LSU, a program that doesn't rebuild but reloads with some of the top talent in the country.
It won't be like this every week. At least we don't think. But Leach's system is so established, so proven, so versatile, it's fair to think there will be many more 400- and 500-yard passing days — even in the vaunted SEC West.
The Bulldogs are still getting used to each other on the field and that in itself is a scary thought. The receivers corps has the height, speed and hands that rivals even those of the Crimson Tide or Ohio State's. This team is just getting started.
It has to be a blast being a receiver — or a certain running back — in this system.