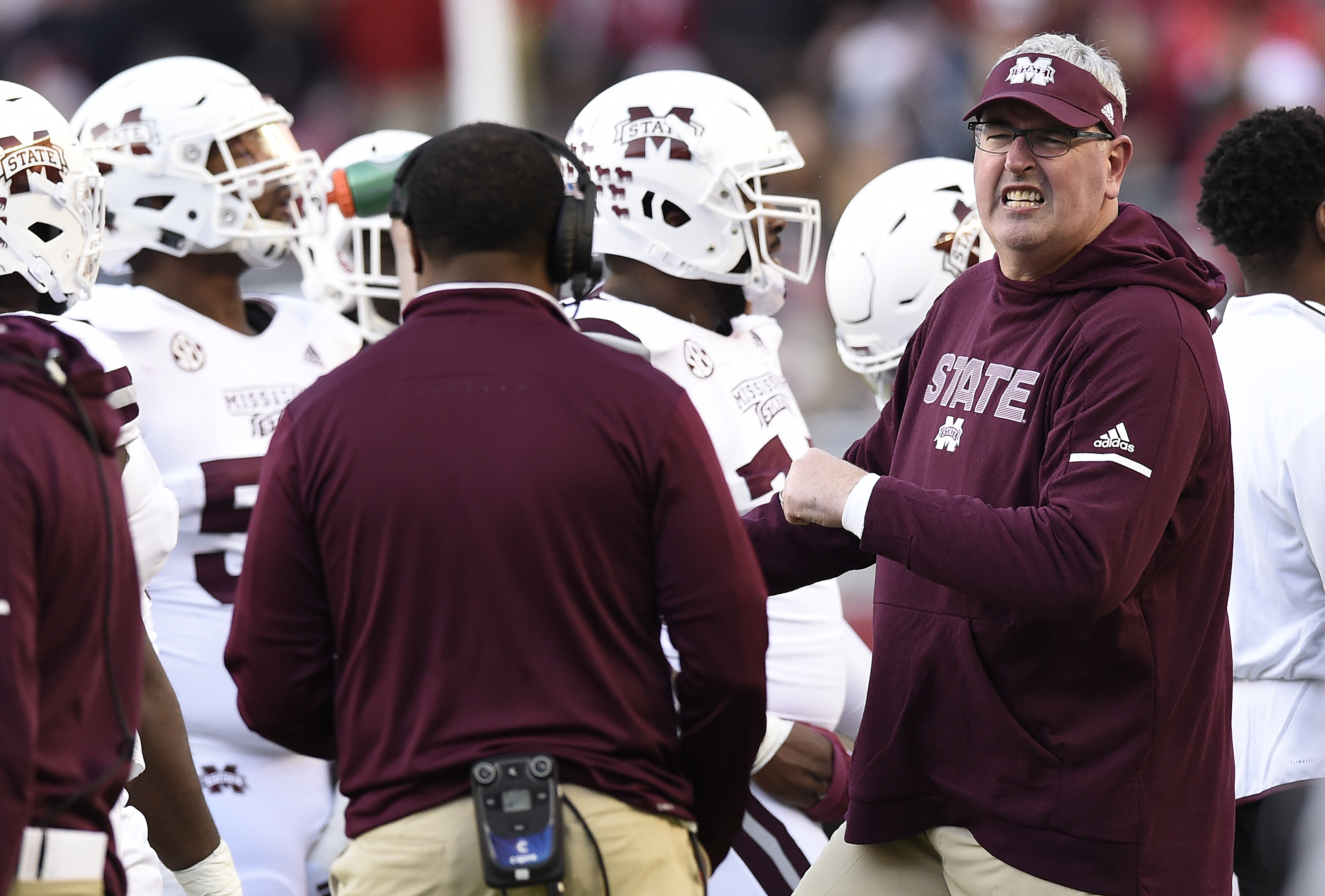 MISS STATE
Mississippi State football: 10 biggest questions (and answers) heading into fall camp
The Joe Moorhead era at Mississippi State enters year 2 with some expectations.
Last year, the Bulldogs finished 8-5, and if this were 2005, it'd be reason to celebrate. But Bulldogs fans grew accustomed to 8-win seasons under Dan Mullen — and now Moorhead — so that total has become something of a standard.
This year, Moorhead will try to improve upon that 8-win season, and do so while replacing a plethora of production from last year's squad. Not only did they lose 3 first-round draft picks and 7 starters off arguably the best defense in the country, but they're replacing a 3-year starter at QB and 2 of their best offensive linemen.
Needless to say, questions abound as the Bulldogs enter fall camp. Here's a stab at answering some of those questions.
1. Who is the next star to emerge on defensive line?
Senior DE Chauncey Rivers. The former 4-star prospect who originally signed with Georgia (before winding up at EMCC) was rock solid as a primary reserve last year, totaling 24 tackles, 7.5 TFLs and 3 sacks. With all 4 starters up front needing to be replaced, now is the time for Rivers to step up into a leadership and playmaking role for a defensive line looking to replace a lot of lost production.
2. Are the receivers improved?
Goodness, you have to hope so. With virtually everyone returning from the group that underperformed last year, you have to believe that the group will show improvement. Size, speed and athleticism haven't been the problem — what they struggled with was consistently getting separation and catching the ball, particularly in traffic. As obvious as the problems were last year, it's hard to imagine Moorhead failing to remedy the issue through the offseason.
3. Which newcomers will emerge?
I'd be surprised if 2 of their top JUCO signees – S Fred Peters and OG LaQuinston Sharp – weren't heavily involved in the rotation this year, and there's a chance they outright win starting job during fall camp. They are expected to help replace Deion Calhoun and Johnathan Abram. As for the high school signees, you have to believe OT Charles Cross and Nate Pickering will see time as the season progresses.
4. How much does the defense drop off?
Let's be real, there's going to be a dip. They're replacing all 4 starters up front and 4 major contributors in their secondary. These weren't just ordinary players, either. Three were first-round draft picks. Allowing 13.2 points per game again isn't realistic. However, there's more than enough talent to be a Top 25 unit nationally. The defensive line has good depth, the linebacker corps will be one of the best in the conference and the secondary has ballhawking playmakers led by All-American candidate Cam Dantzler. They'll be fine, folks.
5. What will the starting offensive line look like?
This is tough, because I think the only sure thing is Darry Williams at C. I think Tyre Phillips will win the starting job at LT with rock star freshman Charles Cross backing him up. Michael Story gets the nod at LG and Stewart Reese (who was the starting RT last year) win the job at RG. Greg Eiland was out of place at LT last year in terms of protecting the blindside, and should be a better fit in his new home at RT.
6. How many Bulldogs earn postseason honors?
Two, assuming they stay healthy, should be close to locks for postseason honors – LB Erroll Thompson and CB Cam Dantzler. They are some of the best in the country at their respective positions. In the next tier of likelihood, I'd say RB Kylin Hill (I'm envisioning a huge workload this year), Chauncey Rivers, Willie Gay and Jaquarius Landrews.
7. Who wins the starting QB job?
I mean, it's gotta be Tommy Stevens, right? He transferred from Penn State because they wouldn't guarantee him the starting job for his senior season, and Moorhead wasted no time going hard after him, which leads me to believe he gave him an indication that he'd be the frontrunner. Stevens has shown the ability to run the ball, so he can handle that part of the playbook, but with just 41 career pass attempts, we still need to see what he looks like throwing the ball. Moorhead watched him every day in practice for 2 years and wanted him in Starkville. I'm assuming he likes what he's seen.
8. So, will passing game be improved?
Yes. Quite simply, it has to be. Last year's passing attack was remarkably frustrating to watch, and it was the only reason the team didn't win 10 (or more) games. I think there should be cautious optimism with Tommy Stevens leading the offense and I'm banking on the receivers showing improvement with their ability to separate and consistently catch the ball. It's going to be huge for Stevens (again, assuming he wins the job, of course) to quickly develop his timing and rapport with the receivers for the passing attack to become effective.
9. Do the Bulldogs go bowling for 10th consecutive year?
Yes. I find it very hard to believe this team would drop to 5 or fewer wins this year. They're replacing a lot of high-end talent, but this should still be a very good team that will be hard to beat. I think the defense takes a slight step back but the offense shows improvement, leading to a similar record as last year. I also expect Moorhead to show some improvement with his game plans after having gotten a taste of an SEC schedule.
10. And the final record will be …?
8-4 (4-4). Once again, they have a pretty manageable nonconference schedule that I think they should sweep, and they replace Florida with Tennessee for the division crossover game. I think they'll go 4-0 in nonconference and win conference games against Kentucky, Tennessee, Arkansas and Ole Miss.