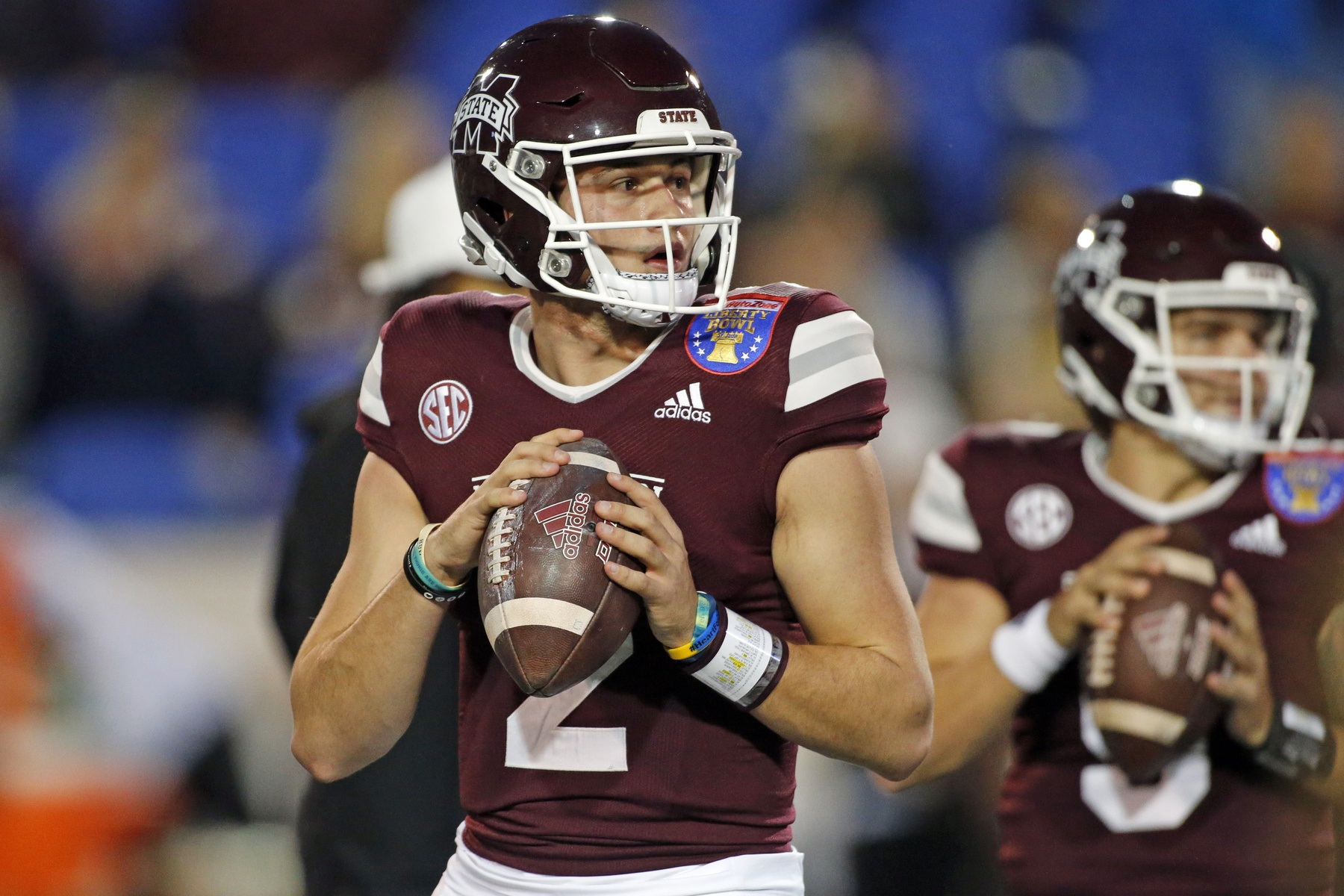 MISS STATE
Mississippi State football: The 10 most critical questions entering fall camp
Mississippi State returns 16 starters from last year's team.
That's more experience than a lot of teams have.
But that doesn't mean the Bulldogs have any fewer questions than most teams.
They still have a lot of stuff to figure out as the 2022 season approaches.
Here are the 10 most critical questions facing Mississippi State entering fall camp:
1. Is Will Rogers going to have to break more records?
Rogers couldn't have done much more than he did last season.
He broke Dak Prescott's single-season school records for passing yards (4,739) and touchdown passes (36).
But Rogers might have to do even more if the Bulldogs are going to improve on their 7-6 record in 2021.
He can't throw a lot more passes. After all, he threw 62 against LSU and 67 against Memphis on his way to 683 throws last season.
But he might have to find a way to be more productive if State is going to be more successful.
2. Do the Bulldogs have a go-to wide receiver?
It's pretty certain that no one will match the school-record production of last season's go-to receiver (Makai Polk) – 105 receptions and 1,046 receiving yards. (He also led the team with 9 touchdowns.)
The top candidate to step into Polk's role would have been Malik Heath, but he transferred to Ole Miss.
So who's next?
State has a bunch of experienced receivers and head coach Mike Leach will make sure that there are plenty of Rogers passes to go around.
But someone has to prove he can be the primary target.
3. Will there be a modicum of a running game?
Rogers and the passing game will be more effective if it has more of a complement from the running game.
The defense, which was 9th in the SEC in scoring (25.9), will have a better chance of improving that stat if the offense is more balanced and can hold the ball longer.
But there's no reason to expect that.
State was last in the SEC last season in rushing yards per game (63.2), total rushing yards (821) and yards per rush (3.0) – and Leach isn't likely to run the ball significantly more frequently than the SEC-low (by far) of 270 rushes last season.
The virtual absence of a running game isn't going to be helpful.
4. Can the tackles prevent a drop-off on the offensive line?
Both starting tackles are gone from last season, including the No. 9 pick in the NFL Draft (Charles Cross).
That alone created a big question about the offensive line. Then a few minor injuries led to some shuffling along the line that slowed the transition during spring practice.
So it's unclear when a starting 5 will come into focus and whether that group can get past its growing pains before the SEC schedule begins Sept. 17 at LSU.
5. Can the Bulldogs maximize scoring opportunities?
They didn't score all that much last season.
State was 9th in the SEC (29.1 points per game) even with Rogers and Polk having historic seasons.
It's going to be a challenge for them to score more points if they don't do a better job of translating yards (mostly of the passing variety) into points.
6. Who are the leaders in the secondary?
The Bulldogs lost only 3 starters from last season's defense, but 2 were in the secondary – safety Fred Peters and cornerback Martin Emerson.
State has experienced players returning, but it remains to be seen who will fill the leadership void created by the departure of Peters and Emerson.
The Bulldogs made just 11 interceptions last season even with Peters and Emerson.
7. Is there enough quality depth at linebacker?
The starting group looks solid with Tyrus Wheat, Jett Johnson and Nathaniel Watson, but the loss of Aaron Brule to Michigan State leaves mostly unproven players as the backups.
State is optimistic that young players will prove capable of handling the backup roles, but it remains to be seen whether they actually do.
8. Will the kicking game be good enough?
It should be better than it was last season, but it could be better than last season and still be the worst in the SEC.
The Bulldogs were the only SEC team to make less than 70% of its field-goal attempts last season (56%, 14-of-25).
Leach has said he expects the kicking to be much improved, but it's still undecided which of 2 transfers – Massimo Biscardi (Coastal Carolina) and Ben Raybon (Northern Colorado) – will be the kicker or whether they will share the job.
9. Can State survive its schedule?
The Bulldogs' schedule is rated the toughest in the country by 247Sports. State visits Alabama and hosts Georgia during a 3-game stretch during the second half of the season.
Last season's team faded by finishing 2-3 after a 5-3 start.
It's going to take depth and determination to withstand this year's schedule.
10. Will they lay another egg in the Egg Bowl?
And as usual, the last game is a special one.
Leach is 0-2 against Lane Kiffin in the Egg Bowl.
State lost to Ole Miss 31-21 last season and 31-24 in 2020. Ole Miss hasn't won 3 consecutive Egg Bowls since 2002-2004.
If the Bulldogs can end their losing streak in the Egg Bowl in Oxford they will have a happy Thanksgiving.
That also would make it easier to swallow any questions that get answered negatively.