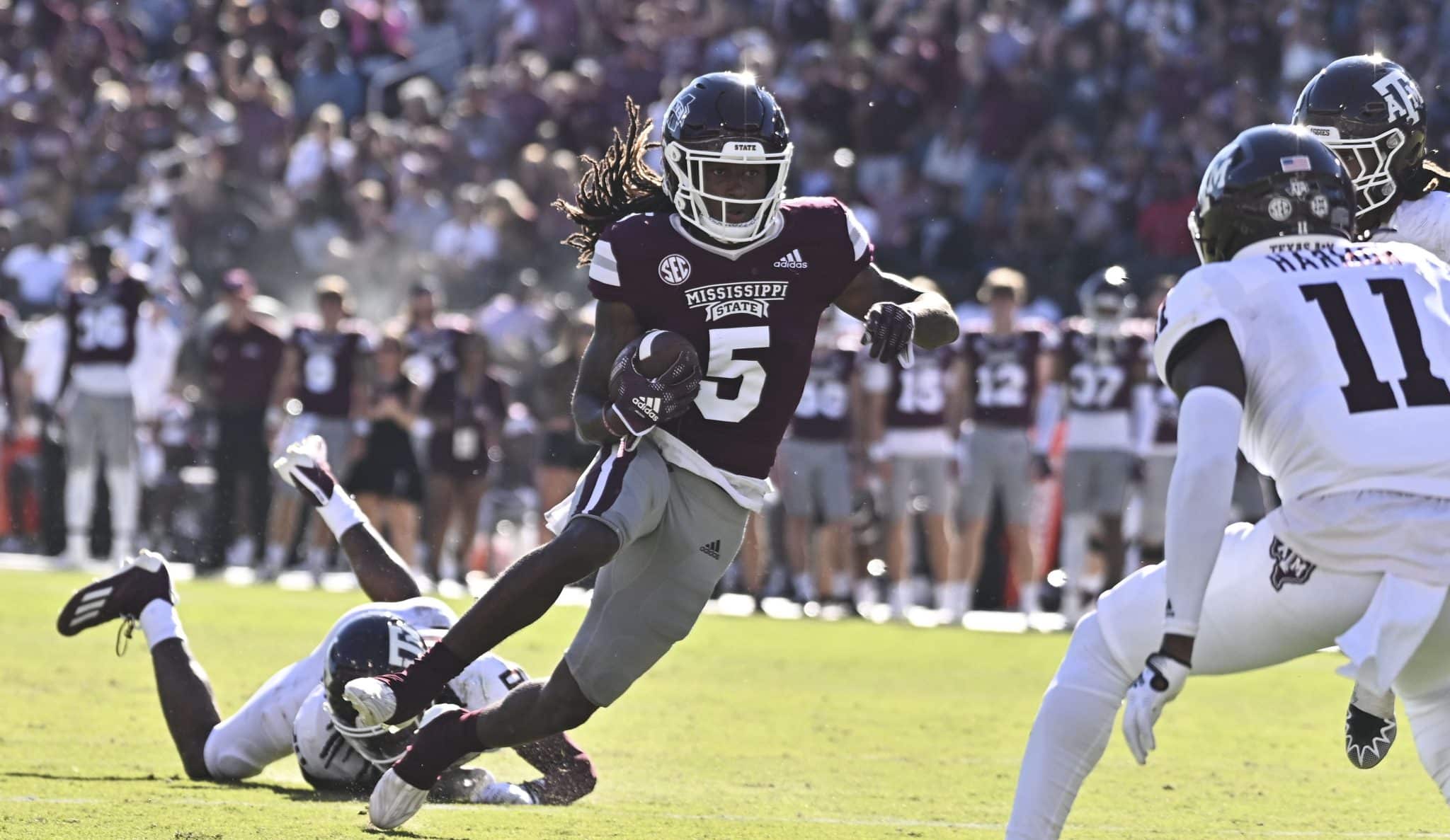 MISS STATE
Mississippi State needs equalizers to have an impact this week
One set of Bulldogs isn't like the other set of Bulldogs.
The Georgia Bulldogs are the defending national champions. They are No. 1 in the CFP rankings. They are 9-0 overall and 5-0 in the SEC. All but 1 of their victories have come by 14 or more points. They can clinch the SEC East by beating the other bunch of the Bulldogs on Saturday night in Starkville.
The other Bulldogs aren't ranked, but they are bowl eligible and poised to play in a bowl game for a school-record 13th consecutive season. They are 6-3 and 3-3 and as close to the bottom of the SEC West as they are to the top of it. They are 16-point underdogs to the first set of Bulldogs.
On paper, this game is a mismatch — just as all but 1 Georgia game has been on the field, with the exception being a head-scratching, 4-point victory at Missouri.
Georgia opened the season against the team that is currently No. 6 in the CFP rankings (Oregon) and won 49-3. A week ago, it was No. 3 in the CFP rankings when it played the team that was No. 1 (Tennessee) and rolled to a 27-13 victory to leap to No. 1 in this week's rankings.
The 1st set of Bulldogs has a whole bunch more elite players than the 2nd set of Bulldogs has.
But State has a few Bulldogs that are capable of being equalizers.
They have the top kickoff returner in the country in Lideatrick Griffin, who's averaging 33.2 yards per return. His career average of 33.8 is tops among active FBS players and would surpass the school's career record by 7.1 yards (minimum 30 attempts).
Last week in a 39-33 victory against Auburn, Griffin returned a kickoff 92 yards for a touchdown. It was his 2nd career kickoff return for a touchdown, matching a school record shared by Leon Berry (2009-10) and Kevin Prentiss (1997-98),
Griffin finished the game with 144 yards on 3 kickoff returns. That was his 5th career game with 100-plus kick return yards, tied for most by a State player since 1979.
He's capable of narrowing the gap between the 2 sets of Bulldogs — if Georgia kicks to him and he's able to field the ball in position to make a return.
Of course, another return for a touchdown would be a monumental play, but any returns that meet or exceed his average distance would be a nice boost to State's field position in a game in which it wants to reduce the number of possessions for the other Bulldogs and expand the distance they have to travel in order to score points.
Another equalizer is cornerback Emmanuel Forbes.
Forbes has 4 interceptions in the past 4 games — and he can do with interceptions what Griffin can do with kickoffs.
He has returned half of those interceptions for touchdowns. That gives him 5 interception returns for touchdowns in his career — the most ever by a State player, the most among active FBS players and tied for the most in SEC history (Tennessee's Jackie Walker, 1969-71).
His first pick-6 this season came Oct. 1 against Texas A&M in his 2nd career multi-interception game. His most recent pick-6 came Oct. 15 at Kentucky.
Forbes leads the nation in interceptions (5) this season and his 13 career interceptions make him the active leader in the SEC and tied for the lead among active FBS players.
If Forbes can continue his pilfering ways on Saturday it will enhance the possibility of an upset.
Any interception that denies Stetson Bennett a scoring opportunity is important. Any interception that might also create a scoring opportunity for Will Rogers is more important. Any interception that gets added to Forbes' list of pick-6s is even more important still.
Like Griffin, Forbes has the big-play ability that the home Bulldogs are going to need to utilize to upset the visiting Bulldogs.
State would love for other equalizers to emerge Saturday.
It has a bunch of candidates among the wide receivers to catch passes from Rogers and turn them into big plays.
Rufus Harvey (38 catches), Caleb Ducking (37), Rara Thomas (36) and Griffin (25) are the wide receivers that have connected most frequently with Rogers this season — and running backs Jo'quavious Marks and Dillon Johnson have 36 catches each.
Ducking has 8 touchdown catches and Thomas has 5 to lead the way among the 8 wide receivers that have scoring receptions.
Rogers has done a fine job of distributing the ball among everyone running routes.
But head coach Mike Leach said this week that he wants to see "one guy take the lead" as a clear-cut No. 1 receiver and thereby "set an example" for others to follow.
This would be a good week for the receivers to emerge as equalizers.
Georgia has allowed the fewest passing touchdowns in the SEC (5) and the fewest yards per pass (5.7), the 2nd-fewest yards per game (179.1) and the 3rd-lowest completion percentage (55.5).
State is running the ball somewhat better this season and it has done a nice job with time of possession, which could be helpful in this game.
But ultimately, it's going to take touchdown-producing plays by individuals if the underdog Dogs are going to be the top dog on Saturday.