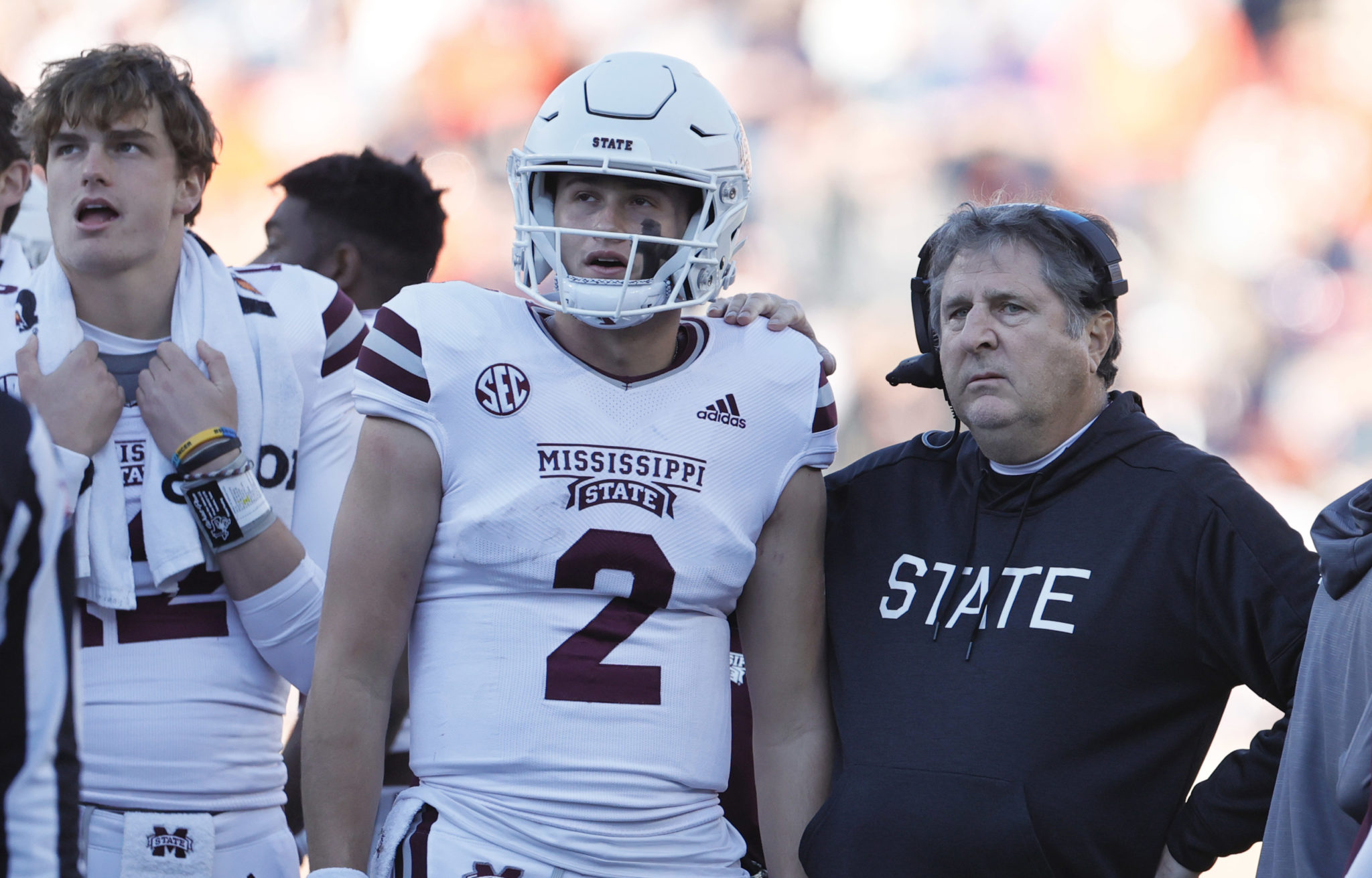 MISS STATE
Mississippi State's offense: Better or worse in 2022?
We know one thing for sure about the Mississippi State offense – it will feature lots and lots of passing.
Head coach Mike Leach has always featured the pass more than just about any other coach in the country.
In 2021, the Bulldogs threw the ball 704 times. That led the country and was the most in the SEC by a large margin.
Alabama was next – 133 fewer than State. Arkansas threw the fewest passes in the conference – 314, which was less than half of State's total.
Throwing that many passes doesn't leave a whole bunch of opportunities to run the ball and the Bulldogs predictably were last in the SEC in rushing last season.
As often as State threw the ball last season, it didn't have a lot to show for it in the categories that matter most. The Bulldogs tied for 9th in the SEC in scoring (29.1 points per game) and finished a pedestrian 7-6.
After 20 seasons as a college head coach, Leach doesn't figure to suddenly start running the ball a heck of a lot more – and he can't throw it a heck of a lot more than he already does – so if State is going to be better on offense in 2022 it's going to have to throw it better.
The good news is experienced and record-setting quarterback Will Rogers is back. So too are several talented receivers.
But gone is the best receiver (Makai Polk) another starting receiver (Malik Heath to — gasp! — Ole Miss) as well as starting tackles Charles Cross and Scott Lashley, who were largely responsible for giving Rogers time to throw all those passes.
What does it all mean? Let's examine whether the Bulldogs' offense will be better or worse in 2022.
Passing offense: Worse
What can Rogers do for an encore?
In 2021, he broke Dak Prescott's school records for passing yards in a season (4,739) and passing touchdowns (36). This season, he'll take aim at Prescott's career records of 9,376 yards and 70 TD passes. Rogers already has 6,715 yards and 47 TDs.
The evaluation of whether Rogers leads a more successful offense in 2022 will have less to do with the total number of passes, completions or yards than it will have to do with the number of points scored and games won.
It's a safe assumption that no individual receiver will have as big an impact in 2022 as Polk had in 2021. He set school records of 105 receptions and 1,046 receiving yards as well as catching a team-leading 9 touchdown catches last season.
But a more even distribution of the barrage of passes from Rogers could lead to a more efficient and effective passing game.
In order for the passing game to be more efficient and effective the line will have to provide Rogers with adequate time to operate more efficiently and effectively.
State allowed 34 sacks last season and the departure of both starting tackles could lead to that number increasing.
The precise roles for the receivers are a work in progress, but the Bulldogs have several talented candidates for significant opportunities.
Austin Williams brings consistency to the group and Jaden Walley brings an explosive element.
Leach is looking for a few players to emerge from a group consisting of returnees Lideatrick Griffin, Caleb Ducking, Rufus Harvey, Rara Thomas, Antonio Harmon and Jamire Calvin as well as transfers Justin Robinson from Georgia and Jordan Mosley from Northwestern.
Rogers will throw and complete a lot passes, but he won't be able to orchestrate a passing game quite as productive as the one last season.
Running game: Better
The Bulldogs aren't going to run the ball much.
They'll probably finish last in the SEC in all significant rushing categories, but that doesn't mean the run game won't be improved.
They have experience and depth at running back and will be more effective at running the football.
State ran the ball a mere 270 times – barely 20 attempts per game – last season. For comparison, the team with the 2nd-fewest attempts (Texas A&M) ran the ball 148 more times.
However, Leach adjusted a bit in 2021, averaging 6+ attempts more per game vs. SEC teams than nonconference opponents. He also averaged 6 more rushes vs. the SEC in 2021 than he did in 2020. The high-water mark was 35 rushes in a victory over Kentucky.
The Bulldogs will run the ball a little more often, produce a few more yards and slightly improve the SEC-worst average of 3.0 yards per rush.
They have experience ball carriers with Jo'quavious Marks and Dillon Johnson and Ke'Travion Hargrove has an opportunity to add big-play ability to the mix.
But they won't run it often enough to change the offensive production significantly.
Kicking game: Better
The kicking game better be better. Because it was pretty bad last season.
The Bulldogs made just 56% of their field-goal attempts last (14-of-25). No other SEC team made less than 70%.
Leach recognized the seriousness of the problem and brought in 2 new kickers to compete for the opportunity to fix things.
He wound up with 2 transfers – Massimo Biscardi (Coastal Carolina) and Ben Raybon (Northern Colorado).
In spring practice, Biscardi showed more consistency and Raybon showed a stronger leg. It remains to be seen which will earn the job or if Leach will use them as a tandem.
The kickoff return game should be good again, led by Griffin, who averaged 32.8 yards on a team-high 14 returns, which included a 100-yard return for a touchdown against Louisiana Tech. State averaged 25.5 yards on 30 totals returns, though that averaged was boosted 2.5 yards simply by Griffin's touchdown.
The Bulldogs should improve on their average of 6.6 yards on 23 punt returns last season.
Overall: Worse
State will be a lot like it was last season – lopsided in passes versus rushes.
At times the passing game will hum and produce lots of completions, yards and points. At times it will produce lots of incompletions and not enough yards or points.
The running game will mostly be little more than an afterthought.
Ultimately the passing game will be slightly worse and the running game will be slightly better. The special teams will also be slightly better.
But given the inordinate emphasis that Leach places on the passing game, the drop-off there – however slight – will lead to an overall drop-off.
In the end the Bulldogs' offense will be worse in 2022 than it was in 2021.