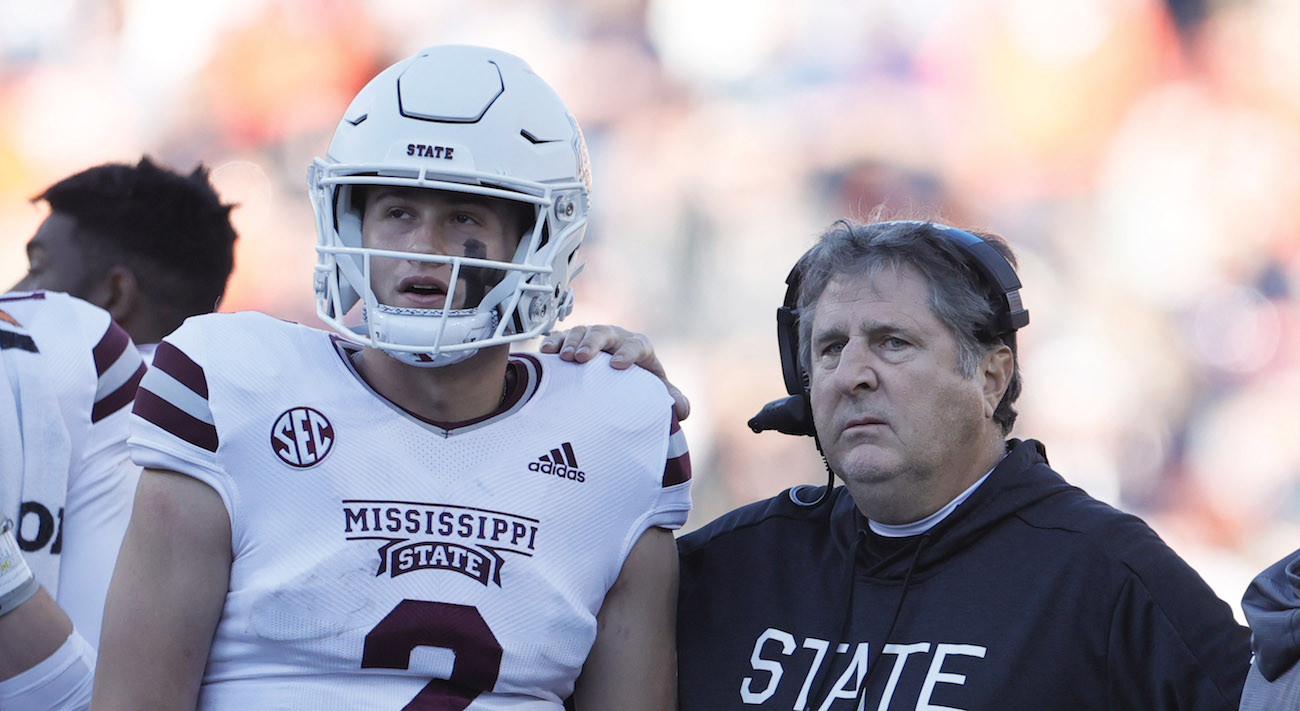 MISS STATE
Skeptic's guide to Mississippi State's 2022 season
Mississippi State hired Mike Leach to establish an above-average program.
He arrived in Starkville 2 years ago after winning 65% of his games as head coach at Texas Tech (10 seasons) and Washington State (8 seasons).
But his first 2 Bulldogs teams had a combined record of 11-13 after State finished 7-6 last season.
ESPN's FPI projects State's win total for 2022 at 6.4. Our friends at FanDuel put the Bulldogs' win projection at 6.5 wins.
That would represent a step back from last season and continued mediocrity.
Both of those descriptions seem appropriate for Leach's 3rd team.
Here's a skeptic's guide explaining why Mississippi State will fall short of expectations in 2022.
Bad trade with rotating East partner
Let's start with the low-hanging fruit.
Anybody in the SEC West is going to have 1 of the tougher schedules in the country. But there's more to this schedule than that.
The eye-opener is the trade-off that places defending CFP champion Georgia on the schedule in place of Vanderbilt compared to last season.
But there's more.
The schedule, which features nonconference games against Memphis, Arizona, Bowling Green and East Tennessee State, has been ranked the most challenging in the country by 247sports.
Odds are that the Georgia/Vanderbilt swap will mean the Bulldogs will have to win 1 more game against the rest of the schedule just to match last year's record.
It's not going to happen.
Not enough scoring
That might seem like a strange concern for a team coached by Leach, who built his reputation with high-scoring offenses at Texas Tech.
But that was then and this is now.
The Bulldogs averaged 29.1 points per game last season, which tied for 9th in the SEC.
They'll have to at least match that number if they're going to match the number of wins they had last season.
But there are too many shortcomings for that the happen.
Rebuilt offensive line
The interior of the line might be OK, but both tackles are new and the departure of left tackle Charles Cross (the No. 9 pick in the NFL Draft) was particularly damaging.
The line won't be able to lead the way for a significantly improved running game (more on that in a minute) nor will it be able to help Will Rogers shatter the record-setting numbers he put up last year.
No No. 1 playmaker at wide receiver
The Bulldogs have a whole lot of wide receivers capable of contributing and Leach will make sure there are plenty of opportunities to go around.
But there's no standout go-to wide receiver that Leach and Rogers can consistently rely on when it's 3rd down and the offense desperately needs to extend the drive, or when the offense is in the red zone and desperately needs a touchdown in tight quarters, or when the offense needs an explosive completion.
All of those 3- and 4- and 5-yard crossing routes aren't going to add up to enough yards – or points.
No No. 1 playmaker in the secondary
Those 7-on-7 drills at practice are going to be pretty evenly matched.
The defensive backs, like the wide receivers, include enough capable players. But, like the receivers, they don't feature any consistent big-time playmaker.
State had 11 interceptions last season — tied for 7th in the SEC — and none was returned for a touchdown.
One reason the Bulldogs will win fewer games than they did last season is they won't get enough interceptions that turn away an opponent from the red zone with no points – or give the offense enough scoring opportunities that don't require Rogers completing a dozen or so passes.
The absence of a running game
Yeah, it's Leach and the running game is more of a nuisance than an integral part of a balanced offense.
But things won't get better if State doesn't have something at least vaguely resembling a viable running game.
It won't.
If the running game was totally worthless, Leach would always throw the ball. But even he runs it periodically – 270 times last season. That's 148 fewer rushes than the second-most pass-happy team in the SEC (Texas A&M).
Not surprisingly, that lack of commitment to the run – and the accompanying after-thought that the run game is in practice – produced the smallest yards-per-carry average in the conference last season (3.0).
Even Leach's passing attack, even with Rogers as the triggerman, can't overcome the absence of a viable running game to score enough points to lift the program out of mediocrity.