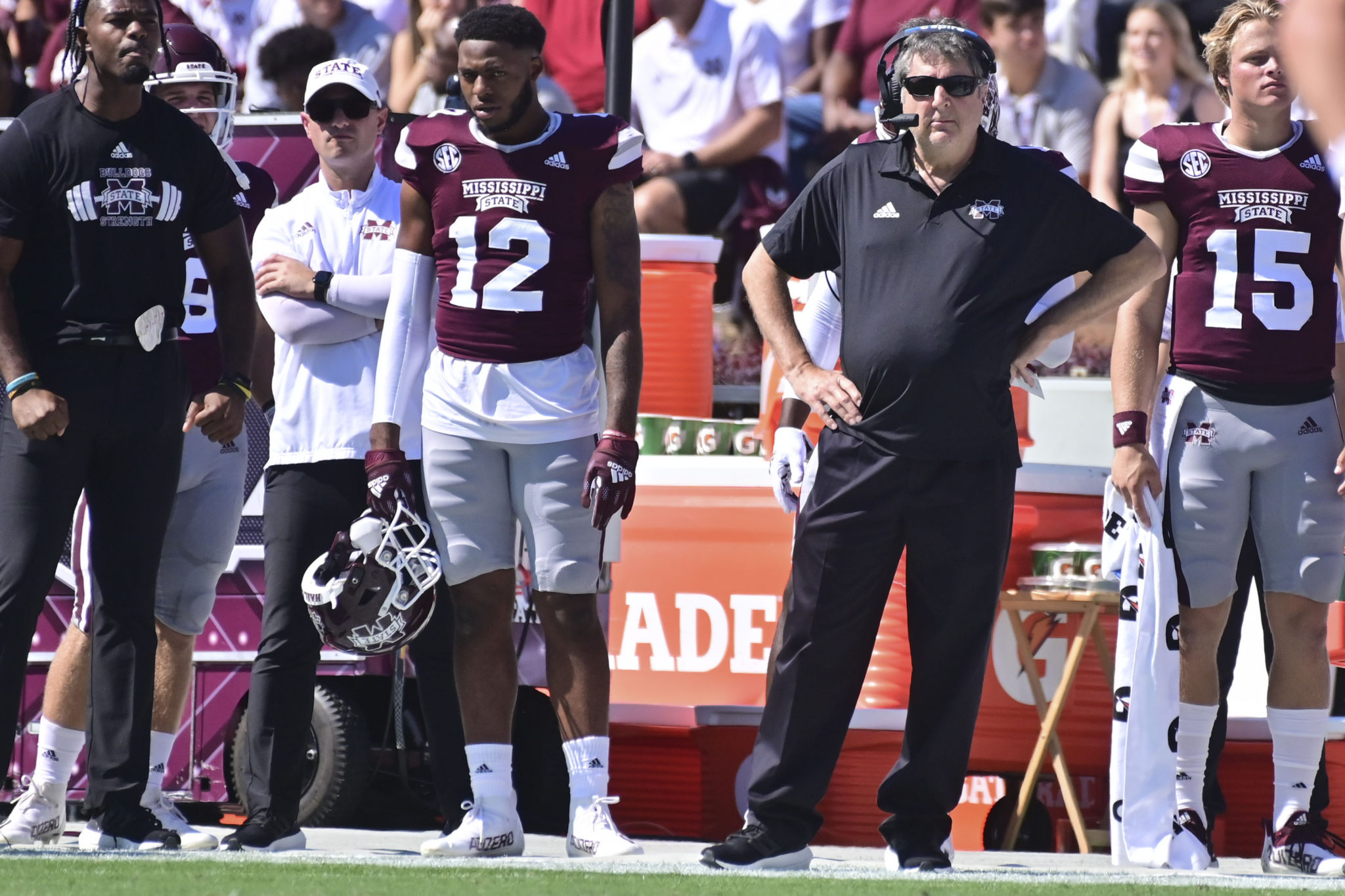 MISS STATE
Why don't top WR recruits want to play in Mike Leach's Air Raid system?
Ten years ago, Gabe Marks announced that he was committed to Washington State. The 4-star receiver out of Los Angeles was the 2nd-highest-rated recruit in Washington State history. Marks was sold on new Washington State coach Mike Leach, who had just accepted the job 6 weeks earlier.
Marks did exactly what he set out to do in Leach's Air Raid offense. He broke the Washington State school records for receptions (316), receiving yards (3,453) and receiving touchdowns (37). Even better, Marks broke the Pac-12 record for career receptions. He got an invite to the NFL Combine, but the 2017 NFL Draft came and went without Marks hearing his name called. During Day 3 of the event, the free-speaking receiver fired off a tweet.
"Round 6. On it goes," and then, "Production doesn't matter."
Whether Marks liked it or not — he clearly didn't — what that day showed was perhaps a microcosm of a bigger issue with Leach's offense. Sure, he cranks out top-5 passing offenses more often than average adults go to the dentist. But with recruiting and the NFL Draft, it hasn't translated. At all.
Why hasn't Leach been able to recruit elite receivers with an offense that throws the ball 50 times per game?
The easy answer is the system. Nobody in the NFL runs an offense like Leach's. Some would argue that numbers for his receivers and quarterbacks might as well have an asterisk attached to them because running the ball is basically an afterthought.
Leach just finished his 20th year as an FBS head coach. In that time, he had just 6 receivers drafted. That's as many as Alabama has since 2017. But unlike Alabama, which had 5 receivers come off the board in Round 1 in that stretch, Leach's only 1st-round receiver was Michael Crabtree. In fact, Crabtree was the only Leach receiver to come off the board in the first 3 rounds.
2004 — Carlos Francis (Texas Tech), 4th round
2007 — Joel Filani (Texas Tech), 6th round
2009 — Michael Crabtree (Texas Tech), 1st round
2013 — Marquess Wilson (Washington State), 7th round
2015 — Vince Mayle (Washington State), 4th round
2020 — Dezmon Patton (Washington State), 6th round
Of Leach's 6 drafted receivers, 3 didn't catch a pass in the NFL. In terms of career NFL production, Crabtree accounted for 92% of the catches, 90% of the receiving yards and 93% of the receiving touchdowns. And while Crabtree had a nice 10-year career, he retired without a Pro Bowl invite. Patton is the lone active player in that group, and he had 2 catches for 21 yards with the Colts last year.
Wilson counts even though he actually quit the team at Washington State in 2012 during Leach's first season.
As it stands, Wilson and Crabtree are the only Leach receivers who got drafted and caught at least 3 NFL passes. For real. To be clear, that doesn't include someone like Wes Welker, who was undrafted out of Texas Tech in 2004 and had an NFL career that included 2 All-Pro nods, 903 catches and 9,924 receiving yards.
That's sort of the point, though. Leach is willing to recruit the Welkers of the world who don't have those perceived NFL traits. Part of that could be circumstance coaching at less historic Power 5 programs, and part of it could just be personal preference. Leach doesn't sell his offense as a path to the NFL because it isn't. Even with quarterbacks, Leach didn't sell East Carolina transfer Gardner Minshew on becoming an NFL quarterback. It was "hey, want to come lead the nation in passing?"
The recruiting numbers reflect Leach's college-specific approach, too. In 20 years as a Power 5 head coach, he signed 8 4-star receivers. None of them were top-20 receivers in their respective classes and none of them were among the top 150 recruits in the country. Crabtree is the only 4-star receiver that Leach signed who went on to get drafted:
Michael Crabtree, class of 2006

No. 26 WR, No. 198 overall

Eric Ward, class of 2009

No. 31 WR, No. 235 overall

Gabe Marks, class of 2012

No. 22 WR, No. 163 overall

Jamire Calvin, class of 2017

No. 45 WR, No. 317 overall

Rodrick Fisher, class of 2018

No. 58 WR, No. 338 overall

Theodore Knox, class of 2021

No. 39 WR, No. 255 overall

Antonio Harmon, class of 2021

No. 47 WR, No. 299 overall

Marquez Dortch, class of 2022

No. 37 WR, No. 242 overall
(Someone like Malik Heath wouldn't count because he technically enrolled 2 days before Leach was hired at MSU … and Heath also just transferred to Ole Miss.)
If you didn't know any better, you might think that Leach ran a triple-option offense like Georgia Tech did with Paul Johnson. He doesn't, though. Leach runs the most high-powered passing attack in the sport. Targets will never be lacking.
But maybe it comes back to the point that Marks brought up. "Production doesn't matter." Maybe that phrasing needs tweaking. You can have production at a ton of places in this pass-happy era of football without necessarily playing in such a unique offense where tight ends are non-existent and run plays are essentially swing passes in the flat.
The question now is whether Leach's new surroundings will change the recruiting and NFL success with receivers. It's worth noting that 3 of those 8 receivers who signed as 4-star recruits came at MSU. And Leach did just help Makai Polk go from a lightly used receiver at California to a prolific, 1,000-yard receiver in 1 season with the Bulldogs.
Miss. State wide receiver Makai Polk is a name to watch as workouts get underway tonight. I'm told multiple teams have a Day 2 grade on him.

— Matt Miller (@nfldraftscout) March 3, 2022
If Leach is going to compete long-term in the SEC, one would think that he's going to need more NFL prospects like Polk. Crabtree was the outlier of Leach receivers. Something tells me he's no longer walking into living rooms and making his pitch about a guy who set the sport ablaze 14 years ago. Today's recruits aren't old enough to remember that.
Perhaps this is a new age of the Leach offense. Maybe it would take someone like Polk becoming a legitimate NFL contributor for that narrative to change.
Whatever the case, the narrative exists until further notice. On it goes.