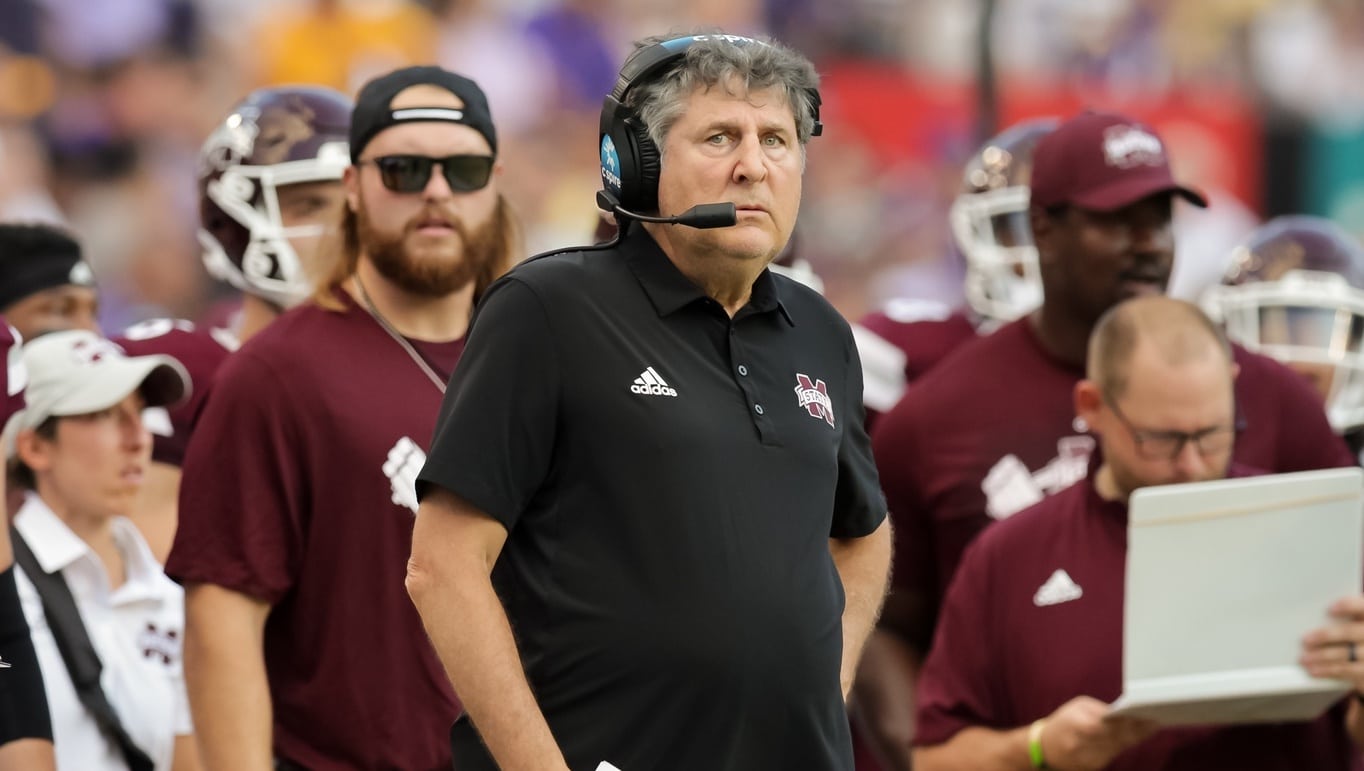 MISS STATE
With Zach Arnett in place, here's how MSU can honor Mike Leach and maintain the Air Raid
For the first time since 2006, an FBS program had to replace its head coach following his death. MSU was in that spot after Mike Leach died of a heart attack Monday night at the age of 61. In an obvious and smart move, defensive coordinator and top assistant Zach Arnett was named MSU's new full-time coach just days later.
The bigger question, however, remains: Who will become MSU's new offensive play-caller?
What if I told you there could be a plan to replace Leach as an offensive play-caller that honors him and provides ideal continuity?
That exists. It's simple, really.
Go give TCU offensive coordinator and Air Raid disciple Garrett Riley $2.5 million to run the offense.
I know what you're thinking. That's the Broyles Award winner. As in, the guy who was just named the top assistant in college football. Why would he pick MSU as his next destination instead of getting a Power 5 head coaching job? Isn't that a lateral move?
I'm glad you asked. Last I checked, all of those Power 5 head coaching vacancies have been filled. Unless another one opens up, that won't be in the cards for Lincoln Riley's younger brother in 2023. At the Group of 5 level, Navy and Kent State are the only vacancies as of this writing. Call me crazy, but I can't imagine a service academy hiring a coach with an Air Raid background, and unless Riley has a secret love for #MACtion, well, Kent State wouldn't really make sense, either.
But why would he leave TCU? Doesn't he have a great thing going with Playoff-bound TCU and Heisman Trophy runner-up Max Duggan?
He does. He's Sonny Dykes' right-hand man. That's also why MSU has the better sell. At TCU, Riley will never have full autonomy of the offense. It's still shared duties with Dykes, who is is obviously one of the most notable Leach disciples dating to their days together at both Kentucky and Texas Tech.
We've seen coordinators leave ideal Power 5 situations to get full autonomy. Leach himself left Hal Mumme's offense at Kentucky to go run his own show for the defensive-minded Bob Stoops at Oklahoma. Jeff Lebby did that when he left calling plays in Lane Kiffin's offense at Ole Miss to take the same position at Oklahoma, where defensive-minded Brent Venables was running the show. The 33-year-old Riley could make a similar move that could come with a significant bump in pay.
According to Football Scoop, Riley turned down a 3-year, $6 million offer to become A&M's new offensive coordinator. Remember, though, that was to work under Jimbo Fisher, AKA the guy who finally decided to give up play-calling duties. Or at least that was the assumption when he fired Darrell Dickey after a 5-win season.
MSU's sell is different. And dare I say, it would actually make sense to go above that A&M offer of $2 million. How could that happen, you ask? Well, Leach made $5.5 million annually. Even if you more than doubled Arnett's salary to $3 million annually — he reportedly earned $1.3 million on the 3-year extension he signed over the summer — you could pay Riley $2.5 million and your top 2 assistants would equal what Leach's contract was. And again, that's still saving money because it'd be the contract for 2 coaches instead of 1.
There could be some serious appeal if Riley wanted to take over the legacy of his late former coach. Riley was part of Leach's QB room at Texas Tech in 2008-09. It would be about as seamless a transition as one could ask for, given the circumstances.
If Riley was totally off the table for MSU, there's another Air Raid candidate that the great Cole Cubelic pointed out — Samford coach Chris Hatcher. Another former Leach disciple, Hatcher literally taught Tim Couch the Air Raid offense on Hooters napkins. Hatcher led that stunning 52-point effort at Florida last year, and he's fresh off an 11-win season in Year 8 at Samford. The 49-year-old coach spent his entire career in the Southeast and of course, he played quarterback at Valdosta State in the early 90s for Leach and Mumme.
Or what about one of the most prolific college quarterbacks and Leach disciples in existence, Graham Harrell? Even as the offensive coordinator and quarterbacks coach, he won't have full autonomy as long as he's at West Virginia working with fellow Air Raid disciple Neal Brown. How fitting it would be for Harrell, who provided the single best moment of Leach's career as a head coach with the game-winning pass to Michael Crabtree to lead Texas Tech to a stunning upset of No. 1 Texas in 2008, to take the reins.
Therein lies the beauty of Leach's legacy. His scheme wasn't a gimmick. It has disciples from coast to coast. There are plenty of different routes Arnett can take to fill Leach's spot as offensive play-caller while both honoring him and building on his foundation in Starkville.
Nobody will ever be able to truly replace what Leach meant to the sport in the 21st century. There might not be 5 people with a greater impact on college football than the one Leach had in the past 2 decades. It's a shame that his last football chapter was cut so short.
Here's hoping we see Leach's fingerprints all over MSU's offense for years to come.