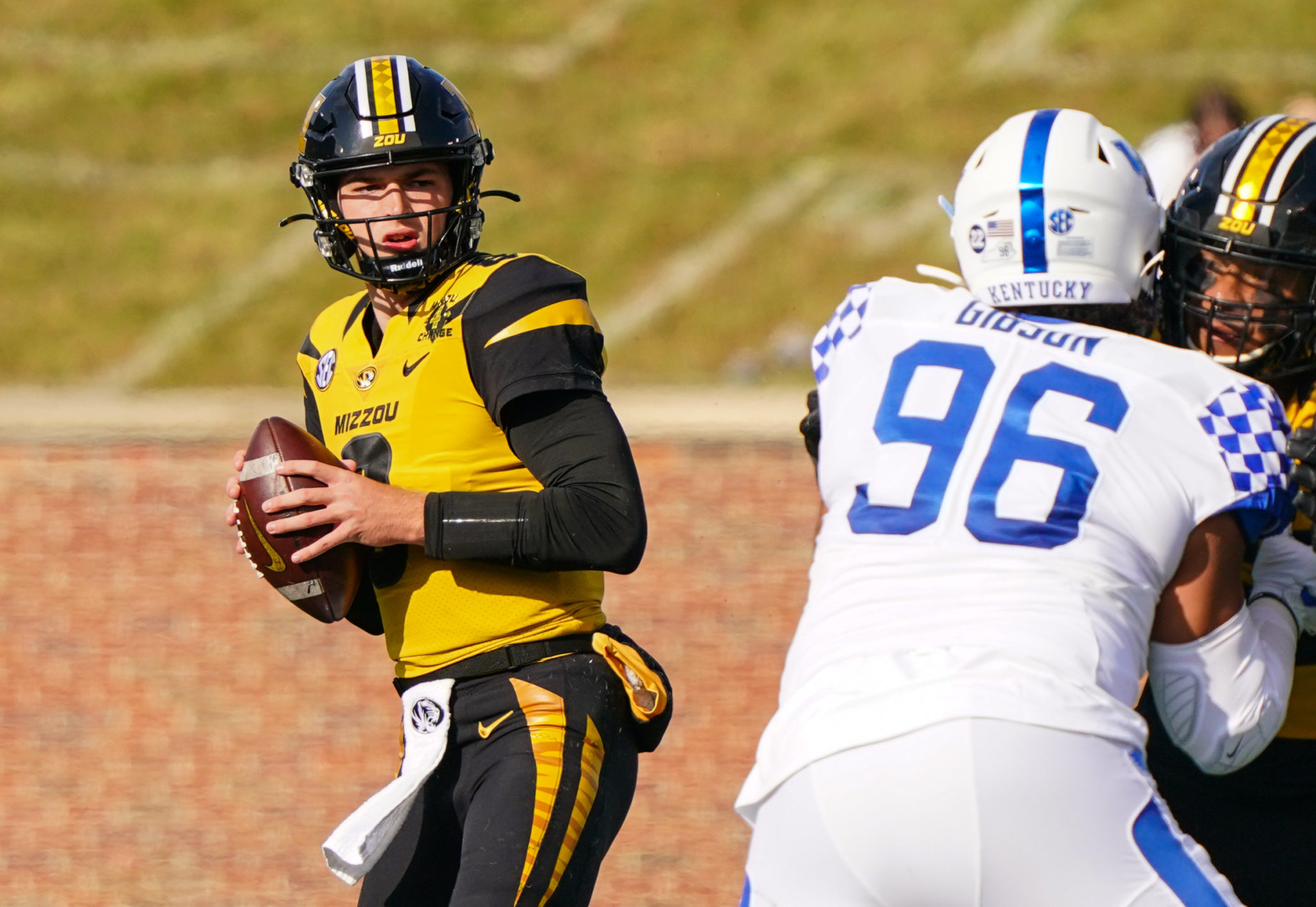 MIZZOU
10 biggest questions I have as Mizzou opens fall camp
The Missouri Tigers are getting set for Year 2 under coach Eli Drinkwitz. While many familiar faces return on offense, the defense has a new coordinator, a revamped secondary and some unfamiliar faces in the linebacker corps.
The Tigers will hold their first practice of fall camp on Aug. 6, and there are a number of questions that still need to be answered before Week 1's matchup against Central Michigan.
Unlike last year, Mizzou had a full spring session this year. That helped provide insight into what sort of things we can expect from the Tigers.
But more questions remain as fall camp begins. So, let's break down the 10 biggest questions I still have as Mizzou opens fall camp:
1. Can Connor Bazelak put the ball in the end zone more?
Bazelak and Auburn RB Tank Bigsby split the SEC Freshman of the Year award in 2020. Even though Bazelak's numbers didn't jump off the page (7 touchdowns, 6 interceptions, 2 rushing scores, 2,366 yards, 7.3 yards per attempt), he consistently put the Tigers' offense in advantageous positions.
He did rank 4th in the SEC in yards per game, though, throwing for 236.6 per contest. That was behind only Kyle Trask, Mac Jones and Matt Corral.
Simply put, the Tigers didn't generate enough scoring opportunities. And, when they did, RB Larry Rountree III was the guy to punch the ball into the end zone. Rountree had 14 rushing touchdowns in 2020.
But now, Rountree is gone, so Bazelak is going to have to step up and get the Tigers to pay dirt through the air more often. We'll discuss the running game in a second, but Bazelak has plenty of weapons to throw to.
Keke Chism, Tauskie Dove, Niko Hea, Barrett Banister and others are coming back. They should all take a step forward after having a full season and a full spring session in Drinkwitz's offense.
Then, there's the new guy, Ohio State transfer Mookie Cooper. Speaking of him …
2. What will the Tigers get from Mookie Cooper?
Buzz is high surrounding the former Buckeye, and for good reason. Cooper is a shifty, speedy guy who should be used in a variety of unique ways by Drinkwitz.
His speed is his best asset, allowing him to get open almost at will. Check him out here during this drill. His head-fake and route-running are superb:
Who are the most important players on Mizzou's roster heading into 2021?

Ohio State WR transfer and former #Rivals100 recruit Mookie Cooper checks in at No. 2 on the list: https://t.co/uU7J4X2NxO pic.twitter.com/JGXvwVxaGm

— Rivals (@Rivals) July 28, 2021
If the quarterback had actually hit Cooper in stride on any of those 3 plays, they would have been touchdowns in real games.
Here he is making a big play during an open practice this spring:
Watch: #Mizzou WR Mookie Cooper (@mcgetbusy1) looked as good as advertised during today's open practice. He won't have any problem getting open! pic.twitter.com/nOOSnMtFPD

— Andrew Kauffman (@AndrewABC17) March 6, 2021
I predict Cooper will be used as a Jalen Knox-type of receiver. But I anticipate Drinkwitz will make sure to get the ball in Cooper's hands in a variety of different ways early and often in each game.
3. What will Steve Wilks' defense look like?
The Tigers hired Steve Wilks to take over for Ryan Walters as the team's defensive coordinator. Wilks has plenty of NFL experience. In 2017, he was the Carolina Panthers' defensive coordinator. In 2018, he was the Arizona Cardinals' head coach. In 2019, he was the Cleveland Browns' defensive coordinator.
He runs a base 4-3 scheme. But don't expect him to have his base personnel out there very often. Per this article from BrownsWire, Wilks had 5 defensive backs on the field during 84% of the defensive snaps in his 1 season as Arizona's head coach.
That's an interesting wrinkle, particularly since the Tigers' rebuilt secondary has … wait for it … 3 very good cornerbacks and a pair of intriguing options at safety. That adds up to 5 defensive backs, per my math.
So, how creative will he get? He has the top-end talent on defense to work with. So, even though the Tigers don't have that much depth on that side of the ball, they do have the talent to compete when healthy.
How much will he move star edge rusher Trajan Jeffcoat around? Who will start at linebacker? These are questions that should be answered by the end of fall camp. Let's dive into that rebuilt secondary now …
4. Who will be the best player in the revamped secondary?
The Tigers will have a very Tulsa flavor in the defensive backfield this fall. Drinkwitz hired Aaron Fletcher from Tulsa this offseason to coach the Mizzou secondary, and the move is already paying dividends.
The secondary looked like it was going to be a major weakness this fall. Now, it could be a strength.
Ennis Rakestraw Jr. and Martez Manuel are the 2 impact players returning in the defensive backfield. They'll be joined by a pair of Tulsa transfers — Allie Green IV and Akayleb Evans. Both of those guys could develop into key pieces of the Missouri defense.
Rakestraw (6) and Manuel (5) combined for 11 pass breakups last season. Evans (3) and Green (1) combined for 4. Green had the only interception among that foursome.
Someone is going to have to step up and be a leader of this unit this fall. Who will it be?
5. Is Tyler Badie ready to be a feature back?
During his 3 seasons at Mizzou, Badie has been a nice change-of-pace back alongside workhorse Larry Rountree III. In 2020, he was used less than in the previous 2 seasons, but he was more effective when he did get to touch the ball.
Sophomore Elijah Young could end up winning the backup running back job, but Badie will likely get a bulk of the touches out of the backfield in 2021. So, is he up for the challenge?
Running Badie behind the left side of the offensive line worked really well last season, particularly in the thrilling win over Arkansas. Badie can make guys miss:
Tyler Badie rips off a 46 yard TD run to get Mizzou (-2.5) within a score trailing 40-33
pic.twitter.com/R5sfeeCMM9

— Bet The Pigskin (@betthepigskin) December 5, 2020
And he has the speed to leave defenders behind in the open field:
Tyler Badie gets his second TD of the day as Mizzou (-2.5) scores 21 unanswered to take a 47-40 lead over Arkansas
pic.twitter.com/KBCpWBINIL

— Bet The Pigskin (@betthepigskin) December 5, 2020
There are questions as to whether he can handle a full workload or not, but there's no denying that Badie is electric as both a runner and a receiver. We'll see how Drinkwitz works out the backfield rotation this fall, but expect Badie to be the featured guy.
6. Can Kobie Whiteside return to his 2019 form?
In 2019, Whiteside had 28 tackles and 7.5 sacks from his interior defensive line position. In 2020, he was severely hampered by injuries, recording only 12 tackles and 0 sacks in very limited action.
When he's at his best, he can wreak havoc in the middle of the offensive line. On this play, he pushes the West Virginia center back into the quarterback to pick up the sack:
Kobie Whiteside destroyed this play & picks up the sack. #MizzouVines pic.twitter.com/TCZHKxszki

— Joe (@JDec89) September 7, 2019
That's what he brings to the table from the inside of the defensive line. Trajan Jeffcoat was a first-team All-SEC selection as an edge rusher in 2020, so we know the Tigers will be able to generate a pass rush from the outside.
This fall, it'll be up to Whiteside and fellow defensive tackle Akial Byers to hold up their end of the bargain on the inside of the defensive line.
7. Who will replace Nick Bolton's production?
Bolton led the Tigers with 95 tackles and 8 tackles for a loss in 2020. He was the heart and soul of the defense and ended up going to the Kansas City Chiefs in the second round of the 2021 NFL Draft.
Obviously, that leaves a big hole in the middle of Mizzou's defense. So, who will fill it this fall? Well, there are a couple of options.
Last season, Devin Nicholson was the team's second-leading tackler, racking up 69 (including 3 for a loss). He also had this victory-sealing interception in Mizzou's win over South Carolina:
TURNOVER ROBE TIME: #Mizzou LB Devin Nicholson comes up with the game-clinching interception as the Tigers win their second straight Mayor's Cup. pic.twitter.com/iFApjg4FvL

— Andrew Kauffman (@AndrewABC17) November 22, 2020
He's my bet to take over as the team's defensive leader. However, the Tigers also brought in Blaze Alldredge, a graduate transfer from Rice. Alldredge was the Owls' leading tackler each of the past 2 seasons.
His 2020 numbers were eye-popping — 102 tackles and a whopping 21.5 tackles for a loss. He figures to slot into one of the starting linebacker spots. Then, there's Chad Bailey. He had 11 tackles last year.
As mentioned, Wilks doesn't run his base 4-3 defense very often. So, the Tigers might only have 2 linebackers on the field for most of their snaps. Then, a hard-hitting safety like Martez Manuel can slide into the box on likely running downs to help bolster the linebacker corps. Outside of that, Alldredge, Nicholson and Bailey should all get plenty of work.
8. Can Harrison Mevis become one of the SEC's best kickers?
The freshman kicker was darn near perfect in 2020, making all 28 of his extra-point attempts and going 17-for-20 on his field-goal tries. He finished the year on a high note, making all 5 of his field goals in a 50-48 win over Arkansas. This 32-yarder won the game as time expired:
https://twitter.com/SECNetwork/status/1335328484315590661
He accounted for 20 points in that game — the most in a single game by a kicker in Mizzou history.
What can he do for an encore? Hopefully, he'll get a lot more work (particularly when it comes to extra points) this fall. If he can improve on an incredible freshman season, he has a chance to become one of the best kickers in Mizzou history in only his second year with the program.
9. Who will handle the return game?
Kickoff and punt returns aren't as big a part of football as they have been in years past. Still, getting a couple of big plays from the return game each season can help swing some tight games, so it's worth having guys you can trust returning kicks.
In 2020, the Tigers finished 12th in the SEC with 16.3 yards per kickoff return. They finished 13th with 4.1 yards per punt return. That's not going to cut it this fall.
Tyler Badie has handled kickoff returns in years past. But since he's going to be the featured running back, it might not make sense to have him back deep on kickoffs. Meanwhile, the punt returner position was a rotating door in 2020.
Newcomer Mookie Cooper could potentially fill both roles this fall. However, it'll be interesting to see which direction Drinkwitz wants to go during fall camp. It stands to reason that he'll give several different guys a chance to show what they can do.
10. Can the Tigers avoid bad losses?
Mizzou pulled off a couple of big wins in 2020, taking down reigning national champion LSU and beating Kentucky and South Carolina. But the Tigers also lost in blowout fashion to underwhelming Tennessee and Mississippi State squads.
In 2019, the Tigers opened the year with an inexplicable loss at Wyoming. They also lost at Vanderbilt. In 2018, they lost a brutal 15-14 home game against Kentucky. In 2017, they fell at home to Purdue. In 2016, the Tigers lost their homecoming game against Middle Tennessee.
Looking ahead to 2021, I'm circling 2 early-season games as ones to watch. A Week 2 matchup at Kentucky is arguably the most important game of the year for Mizzou. And, a Week 4 trip to take on Boston College could be tricky.
If the Tigers are truly a new team under Drinkwitz, they'll win both games. We'll see if they can get the job done and set the tone early.