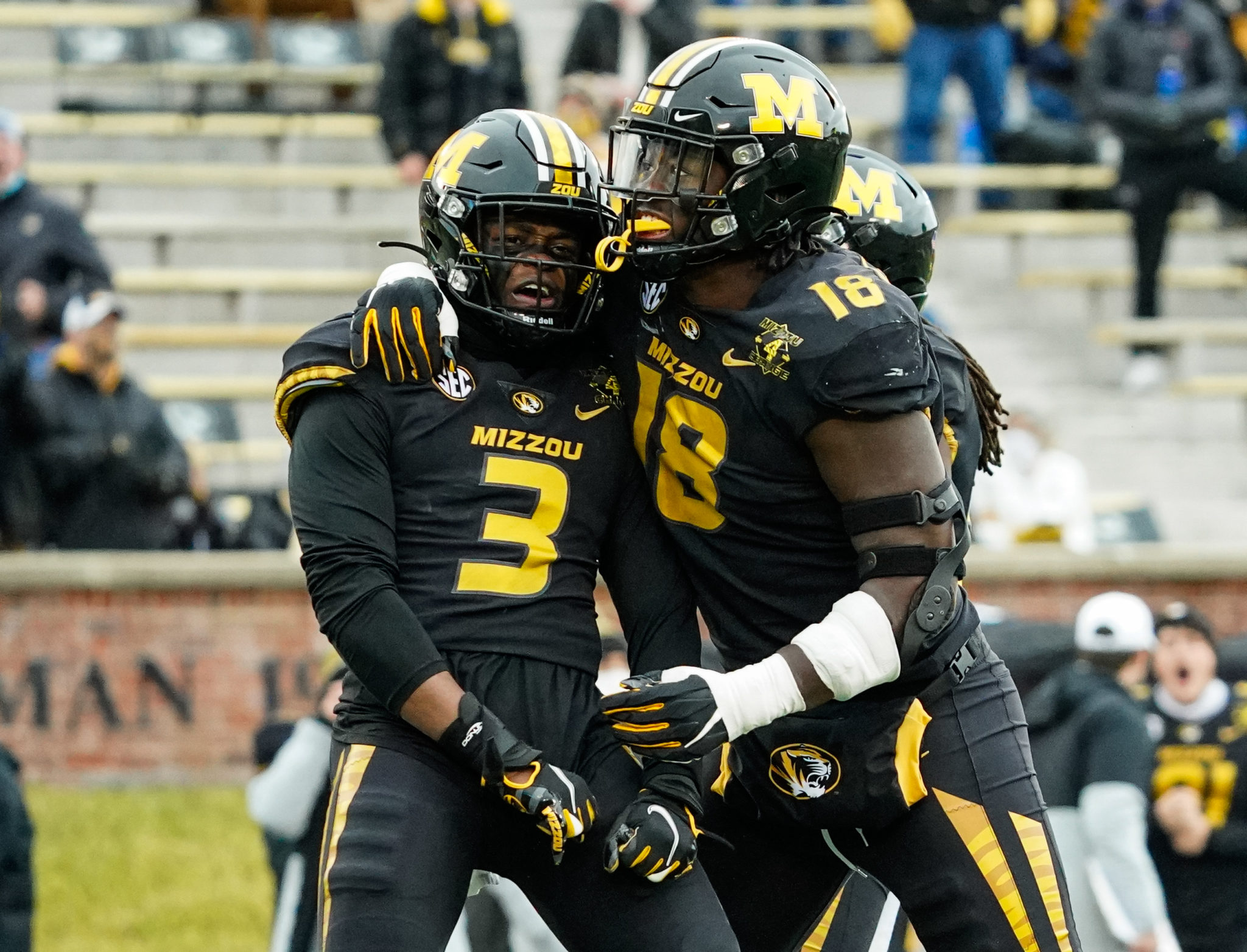 MIZZOU
5 candidates to be the face of Mizzou football in 2022
Missouri is a team in transition ahead of the 2022 season. Gone are 2021 starting QB Connor Bazelak (transfer to Indiana) and star RB Tyler Badie (2022 NFL Draft). Gone are defensive standouts like LB Blaze Alldredge and CB Akayleb Evans. Gone is DC Steve Wilks after only 1 season in Columbia.
But, coach Eli Drinkwitz brought in the best recruiting class in Mizzou history, headlined by a 5-star wide receiver out of East St. Louis (more on him later). Meanwhile, there are still some talented players returning to the Tigers' roster.
So, which players are set to become the faces of the Mizzou program in 2022? Here are our 5 picks as the Tigers go through the spring practice schedule:
Luther Burden
Tiger fans are thrilled to have 5-star 2022 WR Luther Burden heading to Columbia this season. The hype is real surrounding the guy who ranked as the No. 3 overall recruit in the 2022 class, per the 247Sports composite rankings.
It took Burden no time at all to make his impact on the Under Armour Next All-America Game this year, as he took his first touch 65 yards to the house:
LUTHER BURDEN. WOW.

65-YARD TD ON THE FIRST PLAY OF THE GAME❗️ pic.twitter.com/tMrOx9iikY

— ESPN (@espn) January 2, 2022
He's talented enough to contribute for Mizzou starting in Week 1, both as a receiver and a kickoff/punt returner. And, he'll definitely be a fan favorite. He should be a fixture for the Tigers over the next 3 seasons.
Trajan Jeffcoat
The talented Mizzou defensive lineman was a first-team All-SEC selection in 2020. He took a bit of a step back in 2021, but that motivated him to announce he was returning to school for this upcoming season. Last year, he recorded 34 tackles (10 for a loss), 3.5 sacks, 1 pass breakup, 1 forced fumble and 1 fumble recovered for a touchdown.
So, the talent is still there. Now, it's time for Jeffcoat to prove he is worth an early round pick in the 2023 NFL Draft. Mizzou brought in some reinforcements elsewhere along the offensive line, including Tyrone Hopper from North Carolina, Jayden Jernigan from Oklahoma State and Ian Mathews from Auburn.
With more depth along the defensive line, opposing offensive linemen won't be able to focus so much attention on Jeffcoat this fall. That should free him up to do big things.
Martez Manuel
Blaze Alldredge led Mizzou's defense with 89 tackles in 2021. But, Manuel was right there behind him, recording 77 tackles to finish second on the defense. Eight of those tackles went for a loss and 4.5 were sacks. Manuel also had an interception, 3 pass breakups and a forced fumble.
He was a team captain last year, and there's no reason to think that will change this year. He's a leader on defense, and new DC Blake Baker will rely heavily on Manuel to head up the revamped secondary.
Nathaniel Peat
Peat attended Rock Bridge High School in Columbia before heading off to Stanford for the past 3 years. In 2021, he led the Cardinal with 404 rushing yards and finished second with 3 rushing TDs. He did a lot of his damage in a September win over USC:
Nathaniel Peat : 6 carries for 119 yards & a TD pic.twitter.com/7LMqy7kDUs

— Lee Harvey (@AyeThatsLee) September 12, 2021
He'll be asked to take a leading role in replacing Tyler Badie's production this fall. That won't be easy, and multiple Mizzou backs will have to step up, but Peat has the talent to become the Tigers' next great feature running back. And, being a hometown guy, fans will likely rally around him.
Whoever wins the QB battle
This one is a bit of a cop out, sure, but it's accurate. If Brady Cook, Tyler Macon or incoming freshman Sam Horn win the job, the team will rally around them this fall. But, I'm not sure any of those 3 guys will be the Week 1 starter for the Tigers.
There are plenty of rumors swirling about Arizona State transfer QB Jayden Daniels in connection to the Tigers. Landing him would make the Mizzou QB battle this spring even more intense. There's no guarantee Daniels would win the starting job if he does transfer to Columbia, though. He's sometimes erratic with the ball and had an up-and-down 3 years in Tempe.
But, whoever wins the job, expect them to be more of a feature in Mizzou's offense this year. Yes, I think Peat will be a breakout star for the Tigers, but expecting him to put up anything close to Badie's historic numbers from 2021 would be a mistake. Thus, more relying on the quarterback to make big plays, both with his arm and his feet.