MIZZOU
Connor McGovern can bench, squat, clean and jerk ... but can he play?
The Scouting Combine is oftentimes called the Underwear Olympics — not fondly, of course — by critics.
Instead of helmets and shoulder pads, most of the draft prospects wear head-to-toe spandex in an effort to be as aerodynamic as possible when going through the lifting, running and jumping drills in Indianapolis.
Stripped to its bare essentials, the game of football is mostly about blocking and tackling. But neither blocking nor tackling is on display at Lucas Oil Stadium. Instead of finding the best blockers and tacklers, scouts are on the lookout for Pterodactyl-ish wing spans and cheetah-like 40 times.
RELATED: Connor McGovern feats of strength
For some reason, the evaluation process for offensive linemen ahead of draft weekend is almost identical to that of receivers. From the bench press to the 40-yard dash to the various jumps and shuttle runs, the 300-pounders in the trenches are held to the same standard as the 200-pounders out wide. When was the last time a lineman needed a deer-esque vertical, aside from celebrating a long touchdown run in the end zone?
It's part of the arrogance of the NFL: Just be an athlete. We can coach you up on how to actually play.
Missouri offensive lineman Connor McGovern is indeed an athlete. A wrestler, weightlifter and football player rolled into one, the 6-foot-4, 306-pounder had one of the more colorful backgrounds at the combine.
McGovern played just about everywhere along the line for the Tigers, finishing up his career somewhat out of his element at left tackle. Although talent evaluators are most impressed with his tape at guard, some would like to see him continue at tackle because his strength/athleticism combo is rare for the position.
As far as his legendary strength is concerned, we're talking the superhuman variety. The son of a serious weightlifter, McGovern broke a Mizzou team record when he squatted 690 pounds — six times, as a matter of fact. He's also put up more than 500 pounds on the bench press. One day, he attempted a Herculean 515 pounds and tore a pectoral muscle as a result. Despite the injury, he didn't miss a single game that fall.
You be the judge as @MizzouAthletics @McGovenator60 takes on CrossFit all-star @brookewellss in a hang clean battle.https://t.co/ik1o3DOAXW

— FOX Sports: PROcast (@PROcast) March 16, 2016
However, his blocking skills remain a work in progress. That's why his draft grade is all over the place.
The experts at NFLDraftScout.com currently see McGovern as a third- or fourth-round choice. His "strength is his strength" for obvious reasons. But he's not a "natural bender" when taking on speedy pass rushers.
superhero strong
Originally a three-star prospect from Fargo (N.D.) Shanley High School, McGovern has always been strong.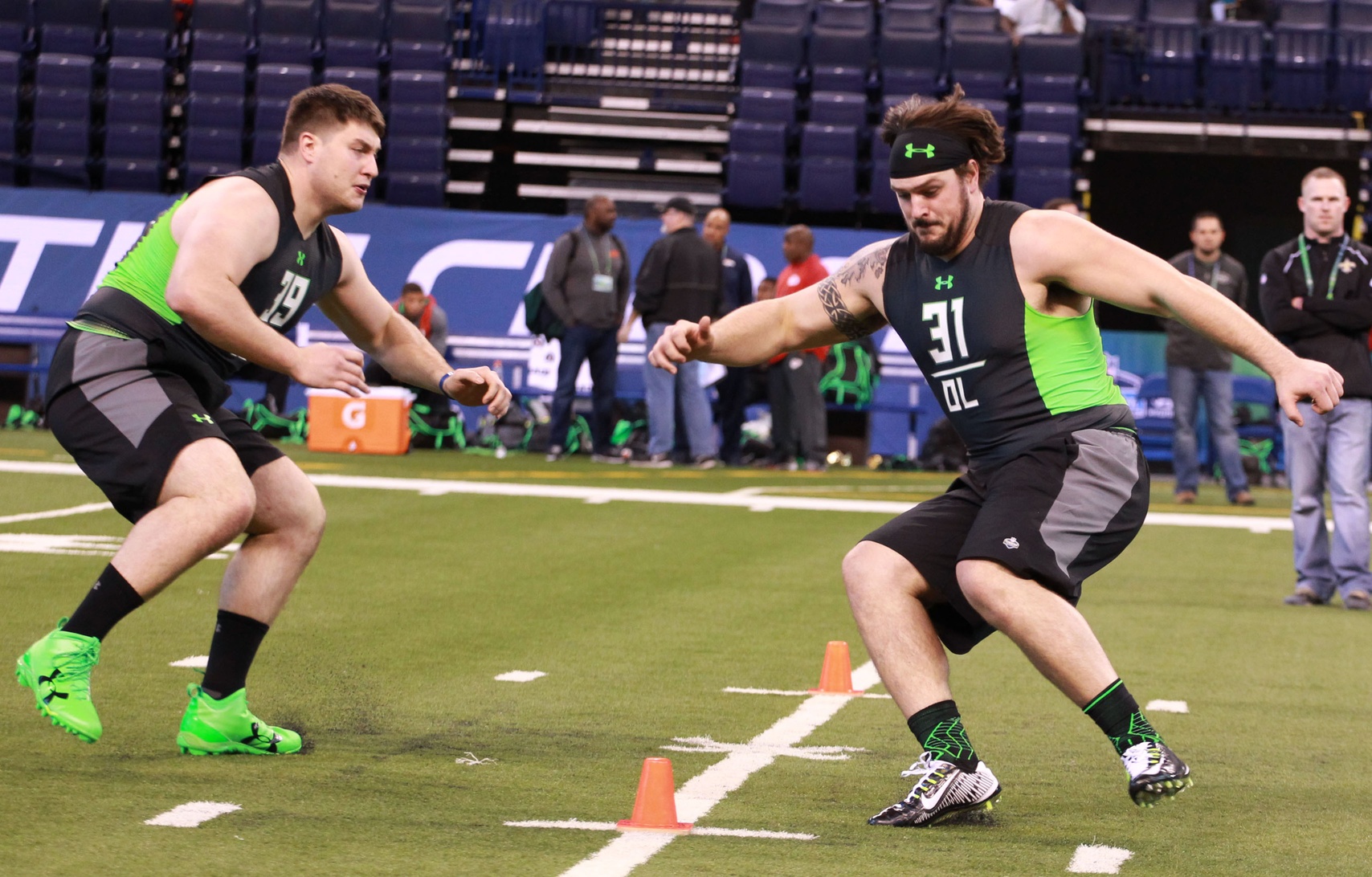 "I got into the weight room when I was in sixth grade," he told Saturday Down South. "I always looked up to He-Man and the Hulk when I was a kid, so I wanted big muscles. I thought big muscles were cool. I got into the weight room. Being big and strong was cool to me and I enjoyed it, but football has always been my love and passion."
On both sides of the pigskin, McGovern racked up a long list of accomplishments at the high school level.
Equally effective beating blocks as he was sustaining them, he was a first-team all-state pick on defense as a junior. However, he found his true calling as a senior, when he was first-team all-state on offense.
The Deacons won back-to-back state titles his junior and senior year with McGovern dominating the line of scrimmage, as coach Steve Laqua eschewed the pass-happy approach of today's game in favor of a more balanced attack. Individually, McGovern was named the Gatorade Player of the Year in North Dakota.
McGovern's prowess as a lineman — and weightlifter — eventually led to a calling from another sport.
"My high school was just getting a wrestling team, and they needed a heavyweight," he said. "I walked in and I was like, 'Hey, I'll wrestle,' because my little brother was wrestling."
But it takes more than muscles on the wrestling mat, just like it takes more than muscles on the gridiron.
"I think that it did help me a lot for football, but I was definitely not that skilled of a wrestler," he said. "I relied on my strength a lot. I pretty much just grabbed guys and was like a Greco-Roman wrestler, just throwing dudes around and that kind of stuff. That definitely did help with my flexibility."
His recruitment was remarkably drama-free. Missouri offered. McGovern committed. He signed. End of story.
like a duck to water
Unlike a lot of high schoolers, McGovern was a force in the weight room the moment he arrived in Columbia.
Because he was also a letter-winner on the weightlifting team back at Shanley, he could do a lot more than bench and squat. More complicated Olympic-style lifts like cleans, snatches and jerks were on his résumé.
Pat Ivey, McGovern's strength and conditioning coach at Missouri, knew he had a potential star in the mix.
"Connor is the type of person that defies all the odds," Ivey said. "His work ethic and mental toughness allow him to dominate anything he chooses to assert himself into. Connor earned and commanded the highest level of trust that can be achieved."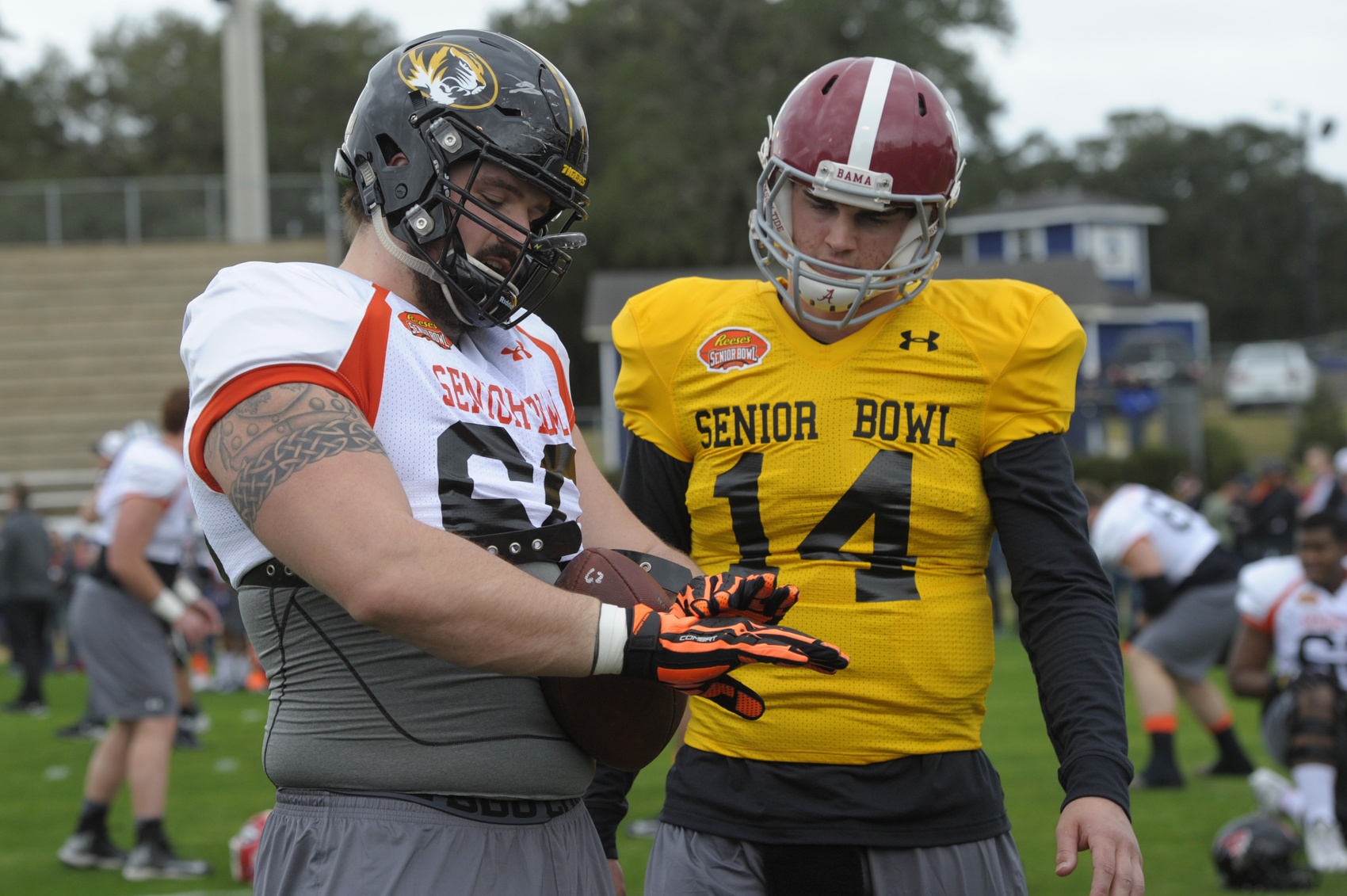 That being said, the Tigers wanted him for what he could do with a blocking sled, not a 45-pound barbell.
"We recruited him because he was a good football player," Ivey said. "He trained himself on the field at practice and in the weight room to become a great football player."
Many young football players don't care for lifting. It's a means to an end. Nothing more, nothing less.
McGovern was one of the few that got into it at an early age. Probably because of his father, he learned to love the gains that came with a commitment to the gym — five more pounds here, one extra rep there.
"I think everyone starts to like the training aspect of it, where in high school it was just hard and not everyone enjoyed it," he said. "A lot of guys just had the natural ability. When they got to college, that natural ability catches up with you."
"I love Connor McGovern because he never stopped trying to be the best he could be," Ivey said.
one more rep
Most fans look forward to the receivers running 40s at the combine. For the linemen, it's the bench press.
Every position group is tasked with bench-pressing 225 pounds as many times as possible. While it's not a perfect measure of physical strength, it's the one employed by the NFL for as long as anyone can remember.
Along with Arizona State's Christian Westerman, McGovern was expected to put up a monster number in Indy.
"When I got there, my goal was 40 reps," he said.
@GimmeSumMorse65 bench marathon after strict and push presses, bent over rows, and pause bench up to 405. 225x210reps pic.twitter.com/zFEtaA3Mcu

— Connor McGovern (@McGovenator60) June 30, 2014
McGovern was credited with 33 reps, one behind Westerman's 34. The all-time mark of 49 proved to be safe.
"I hit 35, but they took two away," said McGovern. "You're on stage. The stage is moving while you're benching. My feet slipped out from under me."
The game of football has evolved. The combine, however, hasn't. Fitness gurus claim the bench is outdated. Olympic lifts are much better indicators of overall strength. They require multiple muscles and movements.
"As an offensive lineman, your punches are extremely important," McGovern said. "You are not pressing anyone off your chest. It's like a three-inch punch, like a jerk would be. You use your legs and you punch it through the ceiling. I think a jerk is more mimicking a punch, and you are not starting any blocks with that punch. You are starting with your leg driving, a hip explosion and that stuff. That's where the clean comes in."
Nevertheless, no agent would allow the combine to morph into Olympic lifting. Too much exposure to injury.
functional strength
McGovern is stronger than, say, Ole Miss defensive tackle Robert Nkemdiche, who did 28 reps on the bench.
That doesn't necessarily mean McGovern can block Nkemdiche. Maybe Nkemdiche has a quicker first step, better lower-body leverage or more violent hands upon contact. Strength is only part of the picture.
To use a baseball analogy, there are some really fast players that have no idea how to steal second base.
"There is a difference between weight-room strength and functional football strength," said Brent Sobelski, an NFL analyst for Bleacher Report that also played, scouted and coached the offensive line. "A player can be a beast in the weight room, but it doesn't necessarily translate to the field. Functional football strength is absolutely crucial to play at the NFL level, though."
Laremy Tunsil of Ole Miss might go No. 1 overall, and it has little to do with the left tackle's 34 reps.
"The great linemen combine their natural tools with consistent repeatable technique," Sobleski said. "But improving one's technique is a constant process. Every lineman should continue to improve in the nuances of the position."
Tunsil is a ready-made left tackle in the pros. McGovern must sell himself as a jack-of-all-trades type.
His most flattering highlights are at the guard position, where he was part of back-to-back Tigers teams that won the SEC East in 2013-14. He may not be a natural tackle, but at least he's played there before.
NFL teams don't have 85 scholarships at their disposal. There may be seven O-linemen active on game day.
"I think the way they see it is that I can play guard and center, and I can excel there," said McGovern. "I can get a team out of a sticky situation at tackle."
decision time
So is McGovern a football player or a weightlifter? After all, a career pumping iron isn't unreasonable.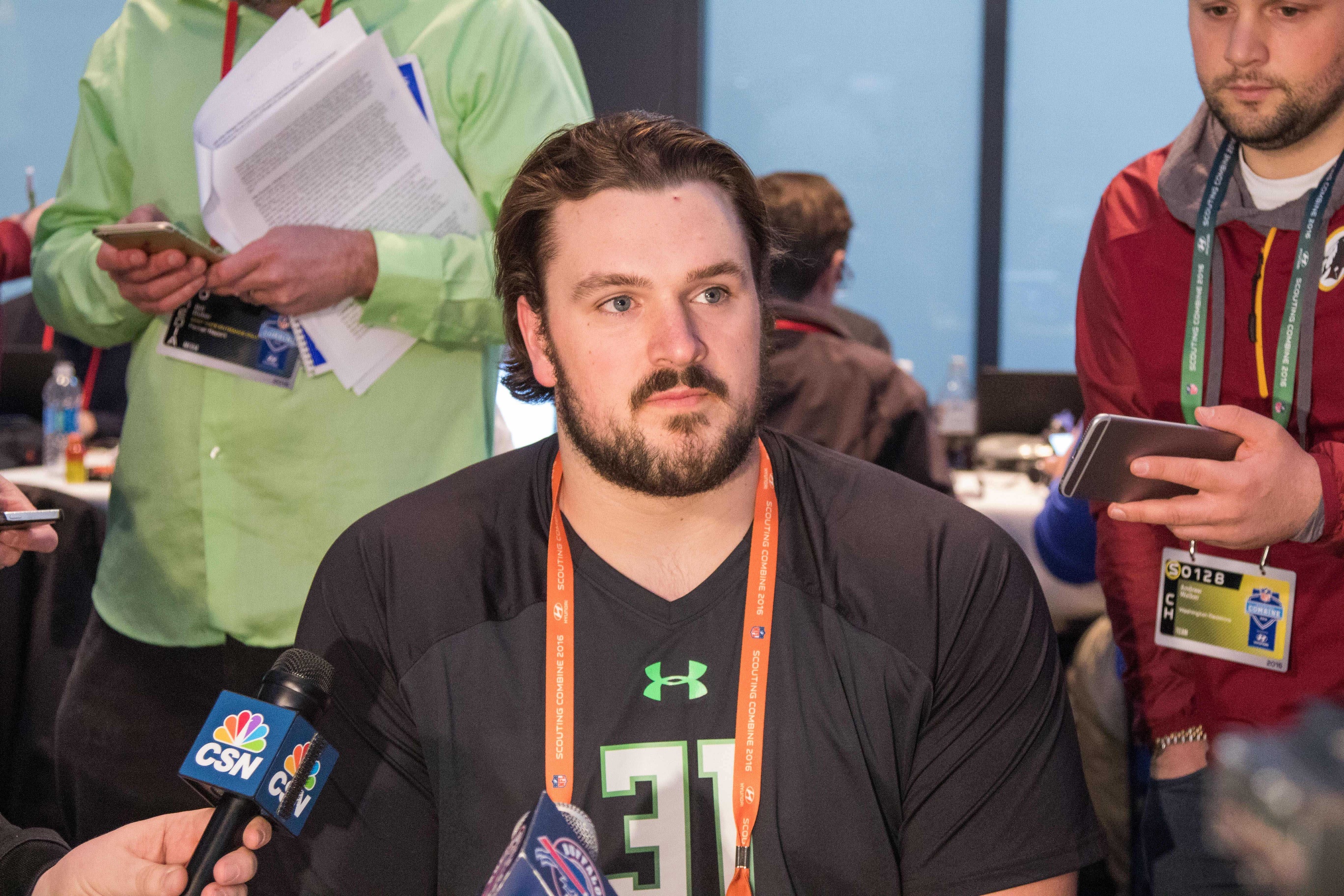 Rich Froning, a four-time champion of the CrossFit Games from 2011-14 — and dubbed "Fittest Man of Earth" for his efforts — has a personal-record clean and jerk of 370 pounds. McGovern has put up as much as 405.
Right now, hitting the gym is a prerequisite for his job. He's not ready for it to be his actual job yet.
"I am a football player that happens to excel in the weight room," McGovern said. "I love the game of football. It's something that I did long before I weightlifted."
Mitch Petrus did 45 bench-press reps at the combine in 2010 — most ever for an O-lineman. He had four starts in the NFL.
This game has chewed up and spit out the proverbial "workout warrior" more often than not over the years. Aside from pure size and strength, the skill and technique required to play up front are underrated.
At least he has a backup plan. Not enough prospects — especially the early entrants — can say the same.
"It's not like I'm sitting here wondering when my football career is going to be over so I can go weightlift," he said. "That's something that's always going to be there after my football career, but now I'm fully bought into football."
With the draft now just a month away, McGovern will soon learn if football has fully bought into him, too.
"I just would like to prove that I could also do it at the highest level."