MIZZOU
Eli Drinkwitz clarifies Boston College remarks; Jeff Hafley offers strong statement
Eli Drinkwitz said this week that he wishes Missouri didn't have to go on the road to Boston College this week.
He has always been clear that he means that in no way as a slight to Jeff Hafley's BC program. Rather, he'd like a more regional matchup for recruiting purposes.
Drinkwitz once again clarified those comments on Wednesday during the SEC coaches' conference call:
Here's the full quote pic.twitter.com/uoEgTIJpyf

— Mitchell Forde (@Mitchell4D) September 22, 2021

That's a pretty reasonable take. However, many people sent the quote to Hafley, too.
On Wednesday, Hafley said his phone blew up with people sending him Drinkwitz's quotes. He said he doesn't think Drinkwitz means anything by it, but he added that he'd happily get on a plane to come to Columbia:
Hafley's response to Drinkwitz's remarks about preferring a regional rivalry non-conference game over a trip to play at BC.

"If he really didn't want to come to Boston, he should have called me up & asked me, and I would have gotten on a plane and flew out to Missouri to play." pic.twitter.com/Ss7h3yYpch

— Andy Backstrom (@andybackstrom) September 22, 2021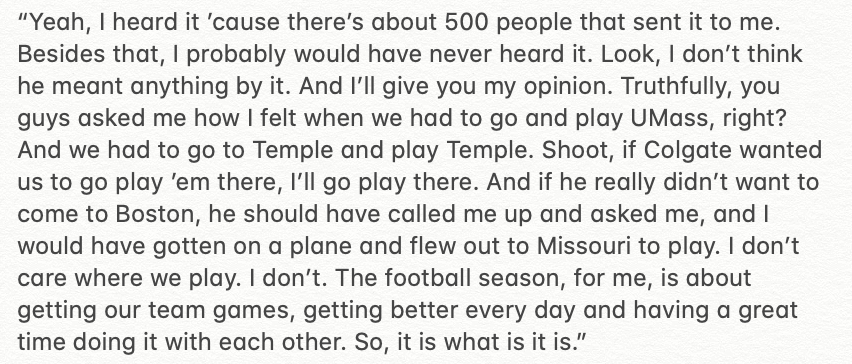 All of a sudden, this weekend's matchup between the Tigers and Eagles has gotten a lot more interesting.