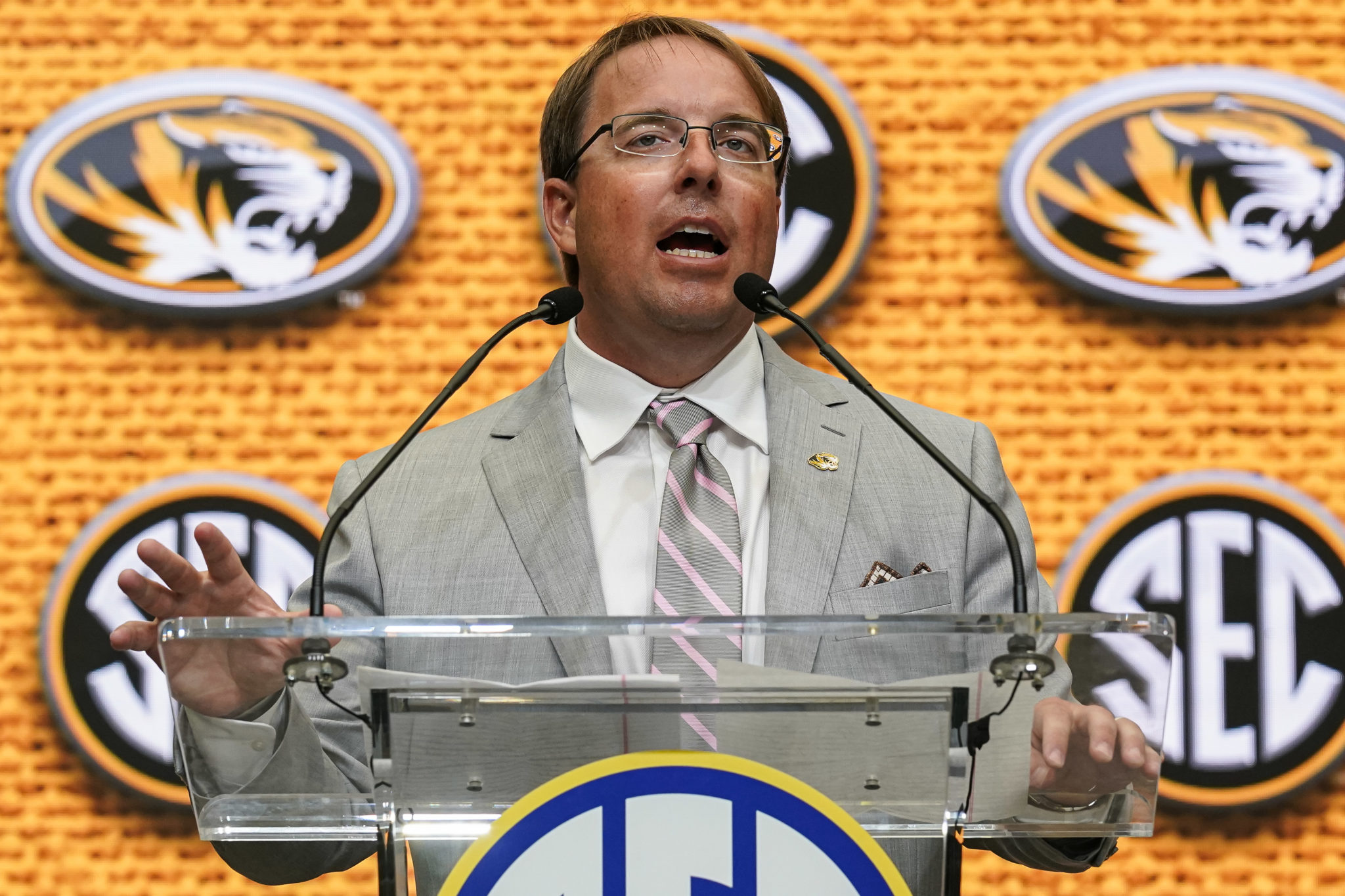 MIZZOU
Why Eli Drinkwitz's perspective, whether you like it or not, is something the SEC needs
ATLANTA — Eli Drinkwitz stepped away from an interview with a local radio reporter Monday and peeked into the suite next door on the 6th floor of the Omni Hotel at SEC Media Days.
With a Celsius energy drink in his hand — it's a 200-milligram caffeine energy drink that helped curbed his heavy Diet Coke consumption — Drinkwitz opened the door and poked Lane Kiffin about why his "Year of the Tiger" Air Jordans were better than his Carolina blue Air Jordans (I guess they're Ole Miss powder blue in this case).
"Do you need a Celsius or anything?"
Drinkwitz is, by all accounts, caffeinated and enjoying himself heading into Year 3 at Mizzou. Yes, he wants more production out of the quarterback position and ideally, his defense would have more of a pulse before the calendar turned to November.
But it's clear that Drinkwitz, who appeared at just his second SEC Media Days, has already learned a valuable thing or two about perspective.
For starters, ribbing a fellow SEC coach is all well and good. There's a difference between ribbing and the war of words between Jimbo Fisher and Nick Saban this summer.
Drinkwitz joked at SEC Media Days last year that then-Florida coach Dan Mullen was "going to complain about everything anyway." He then responded to Mullen's post-2020 matchup Darth Vader costume by not only beating Florida in 2021, but by dropping a "may the force be with you" line as he flipped up his hood and grabbed a lightsaber from underneath the podium.
MIC DROP from #Mizzou football coach Eli Drinkwitz after beating Florida in OT! 😂

"May the force be with you." pic.twitter.com/cVw9CcvXK0

— Andrew Kauffman (@A_Kauff) November 21, 2021
All in good fun? Sure, but Drinkwitz admitted that he regretted the move considering that Mullen was fired the next day.
"If I had known what was gonna transpire in the next 48 hours, I would've never done that," Drinkwitz told Saturday Down South.
At SEC Media Days, Drinkwitz opted against anything that would be considered a playful jab this time around. "I got in a lot of trouble last year. I've gotta stay in the fairway," Drinkwitz said. But make no mistake. Drinkwitz always plans on busting chops and attempting to loosen things up a bit.
"The days when the SEC are fun are when Steve Spurrier's cracking jokes at Phil Fulmer and Houston Nutt and those guys … that's what I remember being the SEC being," Drinkwitz said. "We're a little too buttoned up."
As strange as it sounds, there are only 4 coaches who have been in the conference longer than Drinkwitz. Go figure that it was only his second SEC Media Days. Still, at a time when the sport's changes finally match the SEC's head coaching turnover, Drinkwitz's perspective is necessary.
Many would be surprised to know that Drinkwitz, even though he's only entering Year 3 in the league as a head coach, is more of an SEC purist. He has opinions on the future of the sport (more on those in a minute).
"This is gonna get me in trouble," Drinkwitz said with a laugh. "At the SEC Spring Meetings, they said that there were only 4 coaches who were (in the SEC) in 2019. There's not enough continuity amongst head coaches in this league for us to determine the direction and future of the sport. There are a few great ones, obviously, with Coach Saban, Coach Smart and Coach Stoops, who have had great longevity in this league, and Jimbo Fisher and Lane Kiffin because of his time as an assistant.
"Those guys deserve more input in what the future should be."
Wait, did he just say he should have less input?
"No, I didn't say we should have less input. I just think it's kind of hard for us to have input if that input is consistently changing," Drinkwitz said. "You gotta remember: Coaches are always gonna be pushing for ideas that benefit them, and not necessarily what's for the great good of the game."
One thing that Drinkwitz believes is for the good of the game? The SEC switching to a 3-6-6 conference schedule model once Oklahoma and Texas arrive.
"I believe 3-6 is what needs to be implemented," Drinkwitz said. "I believe the SEC is built on storied traditions and the rivalries of playing consistent opponents and I think when you lose that consistency of opponent and your conference schedule is consistently jumbled, then you're not gonna have the passionate fan base, the embracing of that rivalry that pushes your team to want to achieve."
Music to SEC fans' ears.
"It's hard for me to believe that Georgia's not gonna play Auburn every year in the South's oldest rivalry, that Tennessee's not gonna play Florida … that Alabama's not gonna play Tennessee on the third Saturday of October," Drinkwitz said. "We're gonna do away with that in the SEC? For what? Give me a good reason why we're not gonna play those games. So that Texas can go to South Carolina? So Mizzou can go to Mississippi State? That doesn't make sense to me."
Fair point.
Drinkwitz did add that there's a bit of helplessness that coaches feel with the changing landscape of the sport. Universal rules for NIL? A positive. Adding Oklahoma and Texas? Another positive, though Drinkwitz isn't necessarily a fan of chasing the almighty dollar at the expense of the sport (he also opted against another "Horns Down" reference like the one he made at Media Days last year).
Again, music to SEC fans' ears. Music to Mizzou fans' ears is that Drinkwitz poked fun at the notion that his program will be part of any future realignment.
WATCH:
"No, nobody has asked me if we are getting traded." #Mizzou head coach, Eliah Drinkwitz, responding to questions regarding #Mizzou in the SEC following the additions made by the BIG10. #SECMD22 pic.twitter.com/7n3UArIevs

— KOMU 8 Sports (@KOMUsports) July 18, 2022
A decade after Mizzou joined the SEC, its coach doesn't come across as the new kid on the block, and not just because he busts chops with his fellow coaches. He's in his element at SEC Days, and not just because he gets to show off a new custom pair of Jordans (he really was proud of his "Year of the Tiger" kicks).
The guy who worked his way up from the bottom of the coaching ranks has settled in. Don't mistake that for a lack of urgency about getting the downfield passing game going and his desire to be more consistent, especially in road games. He prioritizes being himself, and recognizes that personality matters in recruiting, which he saw pay dividends when he signed the No. 15 class in the country.
Drinkwitz won't make the most noise of the coaches in Atlanta this week, but he might just have the most leveled perspective of the bunch.
"I don't take myself too seriously. I think people think I do," Drinkwitz said. "But I'm having a good time. Seventeen years ago, I was a 7th-grade football coach. In 10, 5 years, I may be doing that again. So I'm gonna enjoy the ride while we're on it."