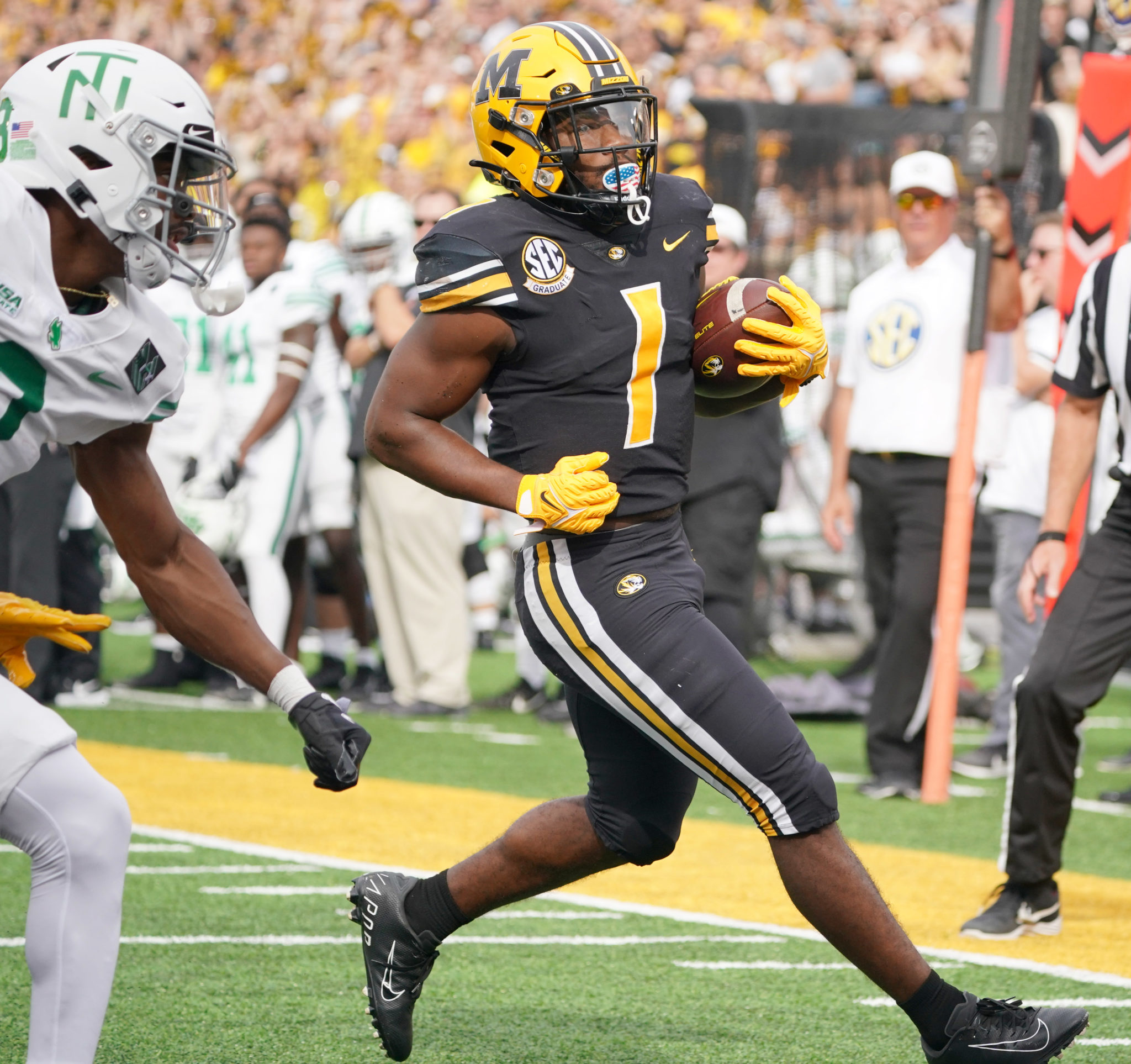 MIZZOU
Missouri football: 5 reasons the Tigers will beat Florida
Yes, Mizzou fans you read right, your Tigers will beat Florida on Saturday.
Even though the Tigers' past 2 victories have come against probably the 2 worst teams in the SEC in Vanderbilt and South Carolina, some questioned if they would even get to this point, which is winning 5 games.
Now that they have, their chances of winning 6 games and becoming bowl eligible is a real possibility, especially against the Gators.
Here are 5 reasons.
Tyler Badie will go off
If not for Bryce Young, Tyler Badie would probably be SEC Offensive Player of the Year. Badie is the No. 1 running back in the SEC and he has been carrying this team the past few weeks.
He just had another 200-yard game against South Carolina coming off a big week against Vanderbilt 2 weeks ago. The only team in the SEC that really has stopped him was Georgia. So this week, he goes against one of the worst run defenses in the country. Florida ranks 78th in the country in run defense, giving up 157 yards a game. South Carolina was better at stopping the run than Florida and looked at what happened to them.
Badie has a very good chance of putting up the same big numbers again this weekend and he inches closer to Devin West's single-season rushing record (1,578). Badie has 1,247 and counting.
Florida's defense is not good
Florida's defense, which used to be the pride of this team, allowed Samford (not Stanford although that would have been just as bad) to hang 42 points on them in the first half.
The Bulldogs ended up with 52. In the past 4 games, Florida has allowed 34,49, 40 and 52 points. They went 1-3 in those games and very nearly 0-4. Along the way, they fired their defensive coordinator, Todd Grantham. This is not Florida football.
It would be surprising if Missouri didn't reach or exceed its scoring average of 31 points.
Badie will get his. The Gators' secondary has been a mess of late and if Mizzou can get some decent quarterback play this week, watch out. It could be a long day for the Gators.
Mizzou wants this; Florida wants this to end
Who has more motivation coming into this game, Mizzou or Florida? It would have to be the Tigers. This team was on the verge of collapse a few weeks ago and now, they have a serious chance to get to 6 wins and a bowl game.
Clearly after losing to South Carolina and almost losing to Samford, what is the Gators' motivation here? Is Dan Mullen even coaching for his job anymore, or has that decision already been made?
The Tigers have momentum, the motivation, and did we mention Tyler Badie? If the Gators play like they did Saturday, they can probably start making plans to be in the Birmingham Bowl in January.
Mizzou will hold Florida's running game below its season average
The numbers still shout incompetence, but Mizzou's run defense has actually improved over the past few weeks.
They held South Carolina to 57 rushing yards and held their own against Georgia.
No Georgia running back got to 100 yards in that game.
The Gators rank No. 3 in the SEC in rushing yards, averaging 227 per game. But they're well below that against SEC defenses. They've only topped 200 yards twice against SEC teams.
As long as Mizzou can spy Emory Jones, they'll keep the Gators to under 200 yards as well.
Coaching
Florida coach Dan Mullen's coaching has been called into question this season. He hasn't handled the QB situation well. He retained Todd Grantham after a nightmarish 2020 and eventually had to fire him after the South Carolina debacle.
Now Mullen's job is on the line.
Eli Drinkwitz seems to have gotten his team back on track winning 2 out of their past 3 games. When he decided to basically put the offense on Badie's back, the results have been better for the Tigers.
The decision also to let go of his defensive line coach after the Tennessee game has benefited his defense.
At this point, Drinkwitz has looked more like a coach on a mission and Mullen looks more like a coach on his way out the door.
Both teams desperately need a win Saturday and the Tigers are probably more suited to win this game than against Arkansas. It's just a question of which Mizzou team decides to show up.