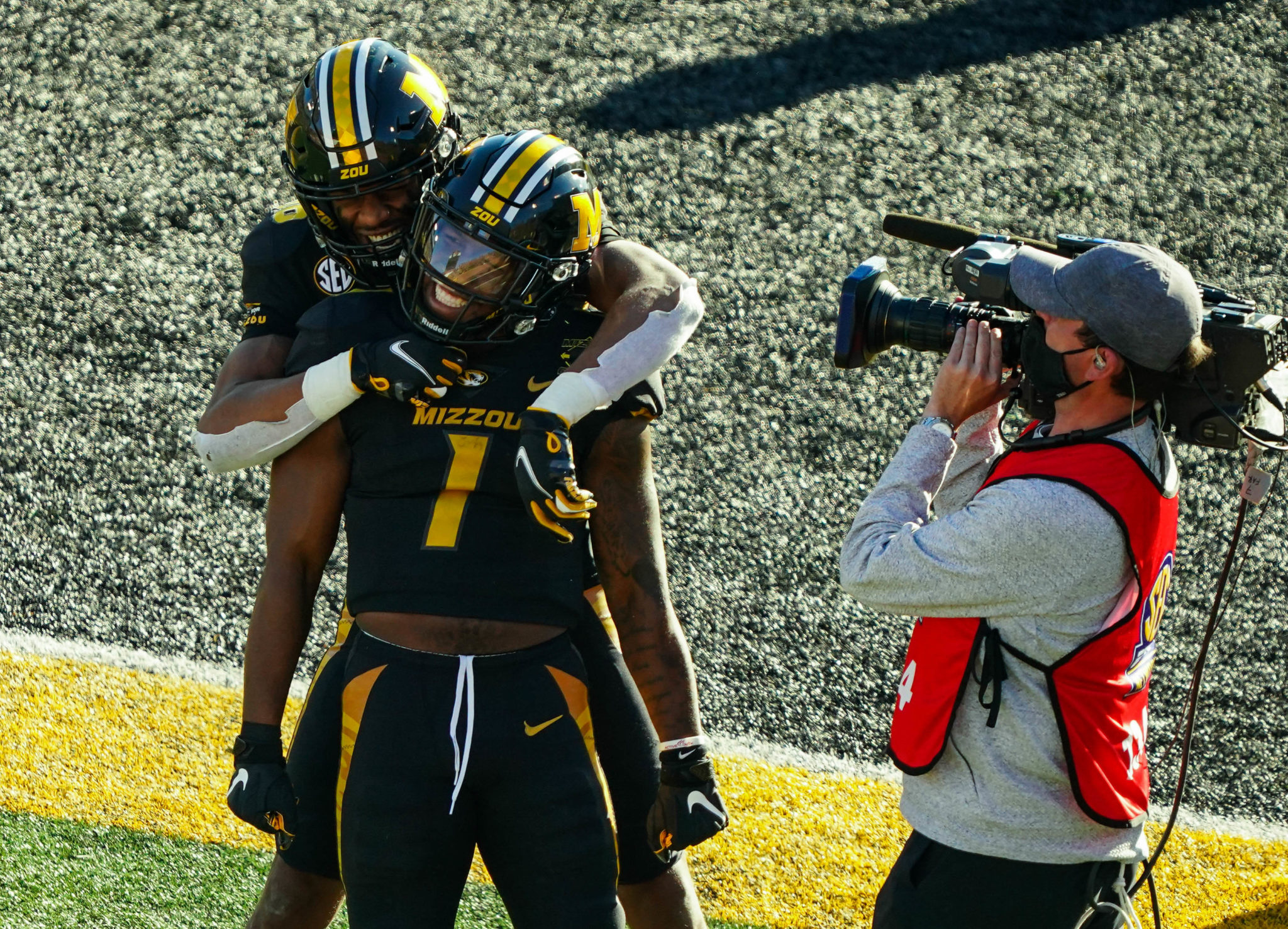 MIZZOU
6 offseason priorities for Mizzou in 2021
Mizzou's season ended on a disappointing note as the Tigers didn't get to play Iowa in the Music City Bowl in Nashville due to COVID-19 issues. But that shouldn't take away from the great start for Eli Drinkwitz in Columbia.
The 1st-year head coach finished 5-5, had a great recruiting class and energized the fan base. The program is trending up, so what's next? Here are 6 offseason priorities for Mizzou in 2021:
1. Commit to Tyler Badie at running back
It's going to be hard to fill the shoes of an all-time great at running back in Larry Rountree, but no one should expect Badie to do that.
Badie will be the No. 1 option at running back in 2021, but he's not the same runner as Rountree. Badie is faster, quicker and more of a threat to catch the ball out of the backfield. Throwing to backs, by the way, should be a bigger part of Mizzou's offense in 2021, and Badie has shown he can handle that kind of work as he was 5th on the team in catches with 28 for 333 yards and 2 touchdowns.
Rountree's hammer-style running was a great asset in Drinkwitz's offense. But Badie's make-you-miss talents are useful, too. Expect big things from the Memphis native next season, and the coaching staff should be thinking of ways to get him even more involved.
2. Keep developing Connor Bazelak
Everyone knows that the touchdown numbers weren't there for the redshirt freshman; throwing only 7 against 6 interceptions isn't going to excite anyone. That doesn't mean Bazelak had a bad year, though. Actually, it was quite the opposite — he had a great season and earned himself Co-Freshman of the Year in the SEC.
The next step in Bazelak's career is to keep improving and developing. He's in a great spot, learning under Drinkwitz. That step needs to include limiting interceptions and improving his deep-ball accuracy.
That's not all on Bazelak, however, as his receivers dropped too many passes this past season. Leading receiver Keke Chism returning for another year is great news. It was clear that Bazelak and Chism had a connection, especially late in the year as Chism had 31 catches in the final 6 games after starting with 4 in the opening 3.
Bringing in wideouts like former Arizona State commit Dominic Lovett and Ohio State transfer Mookie Cooper should help Bazelak.
3. Unleash the D-line
Mizzou has a 1st-team All-SEC member in defensive end Trajan Jeffcoat. The Tigers need to build off that and work on getting after the quarterback more in 2021 so they can finish better than 8th in the SEC in sacks.
The 6-foot-3, 265-pound Jeffcoat led the team in sacks with 6 and quarterback hurries with 7. He's a talented player, and he'll join an intriguing cast on the D-line next season as Markell Utsey, Akial Byers, Isaiah McGuire and maybe even Kobie Whiteside will be back. Add in the 2 freshmen in 4-star Travion Ford and 3-star Kyran Montgomery, and the Tigers' pass rush has the potential to be good.
4. Create more turnovers
Mizzou's defense needs to take the ball away next season more than it did in 2020. The Tigers tied Vanderbilt with just 9 takeaways.
How will the new Mizzou D-coordinator accomplish that? Interceptions. Get more of them.
Mizzou has solid defensive backs returning in Ennis Rakestraw, Martez Manuel, Jarvis Ware, JC Carlies, Jalani Williams and Ishmael Burdine, and they should be working on catching the ball more. Whatever the number of pass-catching sessions they do at practice, up it. Make these guys good catchers, and the interception numbers will rise.
5. Continue the recruiting success
Drinkwitz enjoyed a strong start to the season and signed the 26th-rated recruiting class in the nation. That's such an improvement from 2020's finish of 51st.
The program is on an upward trend, and Mizzou has to capitalize on the success in Columbia. How do the Tigers do that? By continuing to win. More victories will catch recruits' attention, and Mizzou has a great chance at starting the 2021 season on a high note with home games against Central Michigan, Southeast Missouri and North Texas and an away game at Boston College.
If you squint, you can see a 4-0 record before starting the SEC slate. Recruits will notice.
6. Get better in the red zone
Yes, Mizzou led the SEC in red-zone conversions in 2020, scoring on 94 percent of the attempts. But the Tigers ranked 10th in the conference in touchdown percentage in the red area at 58 percent. That's not good enough.
Drinkwitz is a smart guy. If Mizzou wants to be a real contender in the SEC East, touchdowns need to be scored once you get in the red zone.
Kicker Harrison Mevis is great — he made 17 of 20 field goals. But Bazelak is accurate enough to find his guys in the end zone. Mizzou should be more aggressive with the playcalling in that area and not settle for field goals.