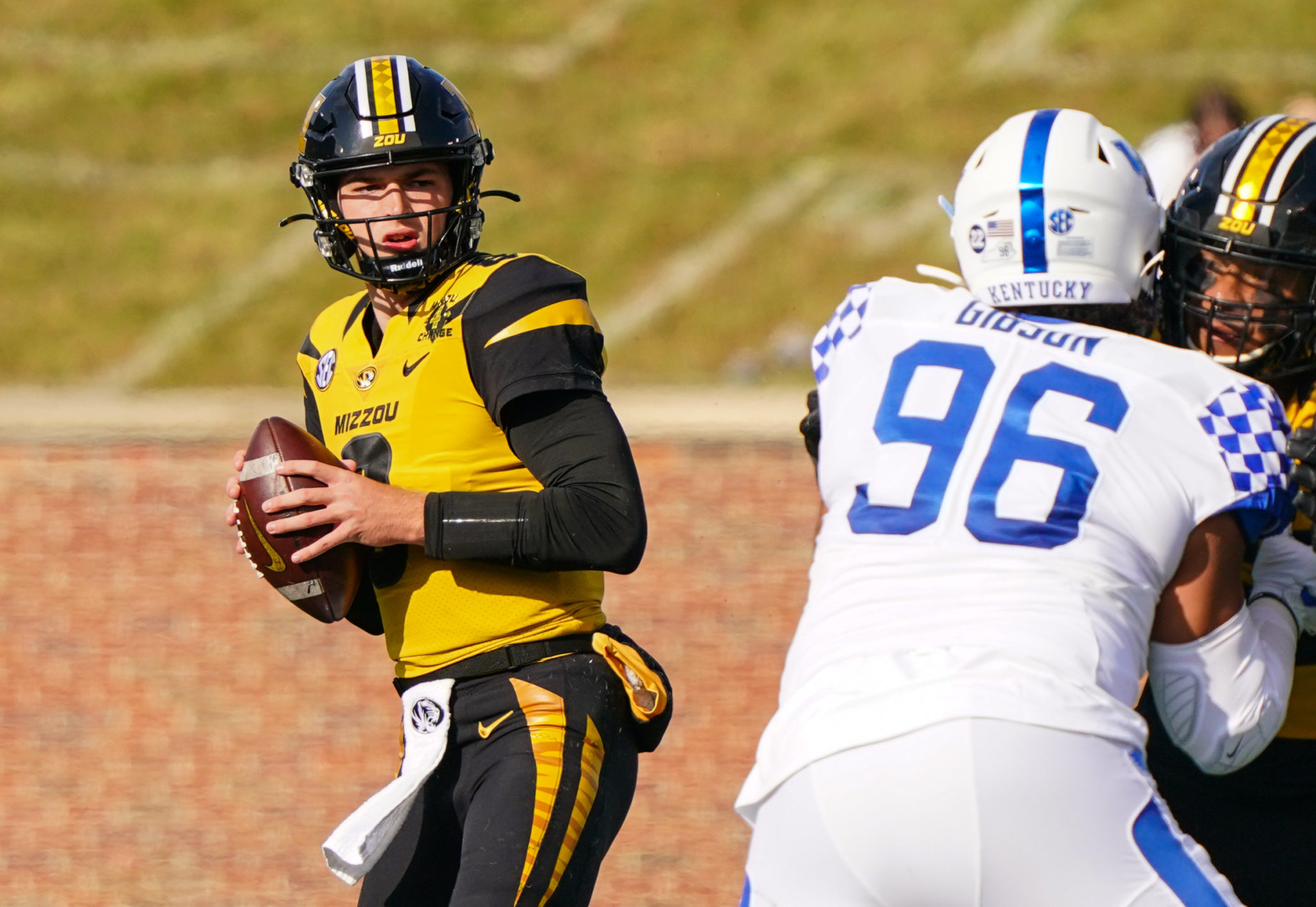 MIZZOU
Mizzou football: The Tigers' offense should have a big night at South Carolina
Missouri's 34-14 win over South Carolina last season snapped a 3-game losing streak to the Gamecocks. The 2 teams are scheduled to meet Saturday at 6:30 p.m. CT at Williams-Brice Stadium but under much different circumstances.
Both of the head coaches in last year's game — Mizzou's Barry Odom and South Carolina's Will Muschamp — are now gone. That became true this past Sunday after Muschamp was fired.
The Gamecocks (2-5) are in a bad place right now after 3 consecutive losses. Muschamp was hired because of his defensive prowess, but the last straw of his tenure was giving up 59 points to Lane Kiffin and the Ole Miss Rebels.
The Gamecocks rank 13th in scoring defense (36.7), 12th in passing D (288.3) and 11th in rushing D (176.1) in the SEC. On top of all that, things got worse on Tuesday when the team's best defensive players, junior corners Jaycee Horn and Israel Mukuamu, decided to opt out of the remainder of the season to focus on the NFL Draft. Horn and Mukuamu both have 2 interceptions, while Horn has a team-best 6 pass breakups.
If a couple of team leaders like Horn and Mukuamu can call it quits, what are others thinking right now? Mizzou (2-3) is in a unique spot, playing a team without solid leadership that might not be all in. And considering that the Gamecocks have given up an average of 53 points in their past 3 games, Tigers head coach Eli Drinkwitz has the opportunity to have his best offensive showing at Mizzou.
Since beating LSU on Oct. 10, when the offense netted 586 total yards and 45 points, Mizzou hasn't exactly lit up the scoreboard. The Tigers scored 20 against Kentucky and 17 against Florida. To be fair, the Wildcats are tough on defense and that Gators unit is playing better as of late. But Saturday's game needs to be a good one for Connor Bazelak and co.
With Horn and Mukuamu out, the smart move for the Tigers is to attack the secondary, which just gave up 513 yards and 4 touchdowns to Matt Corral. Mizzou's passing game needs to have a better outing than it had in the previous 2 games when it amassed just 201 yards against Kentucky and 208 against Florida.
Bazelak, who wasn't his usual accurate self against Florida, is more than capable of hurting a defense through the air. But the drops from his wideouts can't happen like they did against the Gators — I'm looking at you, Damon Hazelton.
According to secstatcat.com, Hazelton, Mizzou's grad transfer from Virginia Tech, has a team-high 5 drops on 30 targets. You'd like that number to be much lower for the receiver who's tied for the most targets on the team. The other wideout with 30 targets is Jalen Knox, who has 2 drops, 1 of which should have been a momentum-shifting long touchdown catch at Florida.
While the offense knows where to attack, Mizzou's defense shouldn't be confused about what it needs to do, either. Gamecocks sophomore running back Kevin Harris and senior wideout Shi Smith are studs — the Tigers need to limit their production and make someone else beat them.
Harris, a physical runner at 5-foot-10, 225 pounds, leads the SEC with 817 rushing yards. He's 2nd in yards per carry (6.24) and rushing scores (13), and he just torched Ole Miss' defense (doesn't everyone?) to the tune of 243 rushing yards and 5 touchdowns.
With South Carolina quarterback Collin Hill not wowing anyone (196 passing yards per game with 6 touchdowns and 6 interceptions), Mizzou's defense should trust corners Ennis Rakestraw, Jarvis Ware, Ishmael Burdine and Adam Sparks to hold their own against the Gamecocks' receivers while the front 7 — especially Nick Bolton, Devin Nicholson, Martez Manuel, Trajan Jeffcoat and others — worry about that rushing attack with Harris.
Safeties Manuel, Tyree Gillespie and Joshuah Bledsoe will be key in both run support and coverage against Smith, who's a handful in 1-on-1 coverage. Smith comes into the game with 596 receiving yards and 4 touchdowns.
Mizzou will have 3 players serving 1st-half suspensions against South Carolina for their roles during a halftime brawl at Florida, including D-tackle Markell Utsey, O-lineman Dylan Spencer and linebacker Chad Bailey. Utsey and Spencer hurt the most as they are starters.
Another thing to keep in mind: There's plenty of time for things to go south on the COVID-19 front. In his media session on Tuesday, Drinkwitz said his team was at 56 scholarship players, with more rounds of testing coming up later in the week. It will be interesting to see who will actually be available on Saturday.
If Mizzou plays this game, this is certain: The Tigers need to get out of there with a win behind their best offensive showing of the season.