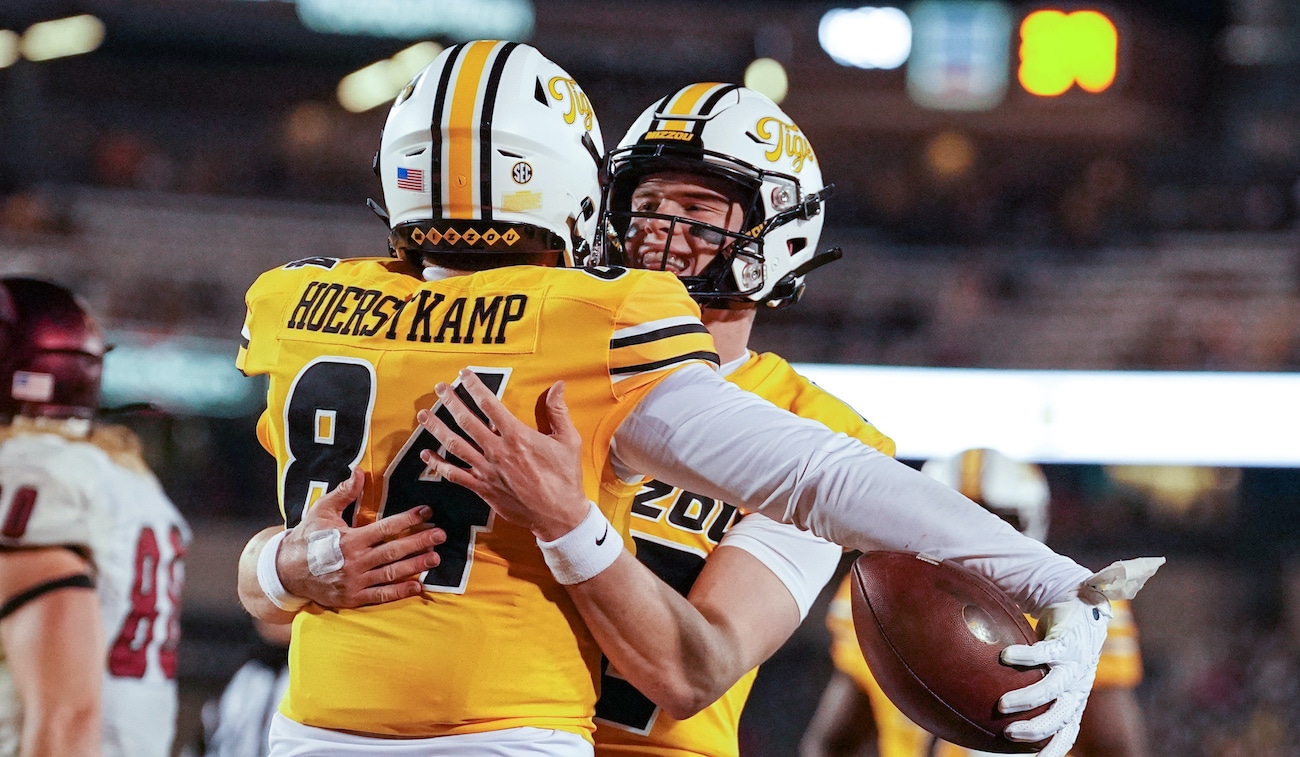 MIZZOU
Missouri football: What's at stake for the Tigers in the Arkansas game?
Anyone who watches college football on a deep level might view Missouri as one of the most intriguing teams in the sport.
Now, there's a heavy emphasis on the 8th word in that sentence because there's nothing exactly appealing about a football team that holds a 5-6 overall record and is 6th in the SEC East standings.
But it's worth noting that the Tigers have been 1 or 2 plays away in many of their losses, falling short in 4 of them by 1 score.
Outside of some play-calling issues that have been problematic for an offense that has had its fair share of woes this season and kept the defense on the field for too long, there are several bright spots the Tigers have between talent on the roster like wide receivers Dominic Lovett and Luther Burden and a defensive unit that ranked in the top 20 nationally for the better part of the season.
Missouri recorded a 45-14 victory over New Mexico State on Saturday in a contest against a lesser opponent that should have served as more of a tune-up game than anything else. Next up, the Tigers will look to end the season with a win against an Arkansas squad that suddenly looks far more formidable than it did 1 week ago.
Sam Pittman's team did the unthinkable on Saturday, registering a 42-27 blowout victory over Ole Miss, the same team that won 10 games last year to secure a New Year's 6 bowl game appearance and was favored to do more of the same before the events of this past weekend.
But there has been some inconsistency on the Razorbacks' end — something that is all-too familiar to Missouri fans — as Arkansas accomplished this just 1 week after suffering a 13-10 loss to a vastly improved LSU team that was preceded by a 21-19 loss to visiting Liberty. While the former was a respectable effort and a game that was kept much closer and low scoring than anyone expected, the latter was one the Razorbacks (6-5), despite some of their struggles throughout the season, should have won in their own stadium.
The home matchup on Friday afternoon against the Razorbacks is the only thing standing between Missouri and bowl eligibility, an idea that now looks a bit more real than it did at other points in the season. It won't be an easy thing to pull off given just how solid Arkansas has looked in some of its wins, but this is also a team that has exposed its weaknesses to opponents it was favored to come out on top against and isn't exactly the same from week to week.
Now, obviously, given the minimum win total that Missouri will have achieved to make it into a bowl game at all, it won't be a flashy or prestigious one that the Tigers make an appearance in against a team with a similar success rate.
The most likely and realistic options that will be determined by the SEC include the Gator Bowl, Liberty Bowl, Las Vegas Bowl, Music City Bowl, ReliaQuest Bowl and Texas Bowl.
Outside of those, the team can be selected by ESPN for either the Birmingham Bowl or the Gasparilla Bowl. Potential opponents who have been discussed for these games include Kansas, Oklahoma, Oregon State, Minnesota, Tulane and Washington State, though of those the Green Wave have a very real chance of breaking away into a New Year's 6 bowl game.
Despite not receiving the same level of attention as some of the other games with larger implications this weekend, the clash between the Hogs and Tigers should be a competitive and entertaining one set for a 2:30 p.m. CT kickoff on Friday at Faurot Field — and there's plenty on the line where the Tigers are concerned.