MIZZOU
Missouri RB tweets that offensive coordinator should be left at Arkansas
Many people have shown their frustration with Missouri's offense, and that's to be expected this season. However, it's certainly a surprise when a member of the team doesn't hide it.
Missouri redshirt senior RB Trevon Walters responded to a tweet in regards to offensive coordinator Josh Henson after the team's 28-3 loss to Arkansas.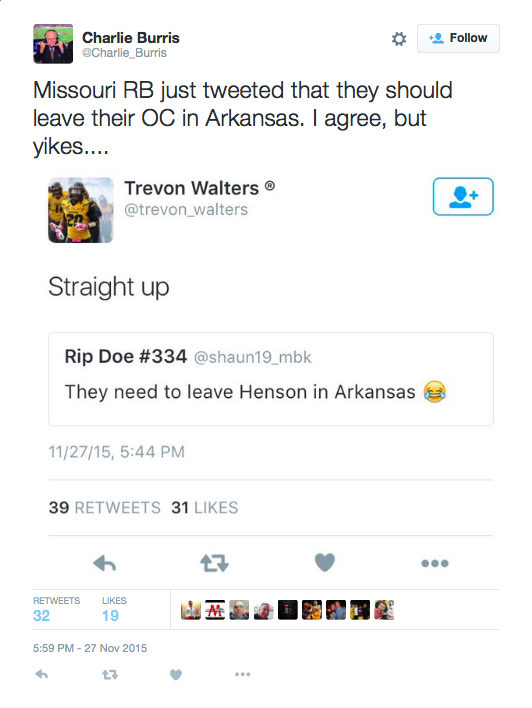 The Tigers only managed 171 yards, the team's second-lowest output of the season behind the 164 yards it recorded against Georgia on Oct. 17. Entering this week, Missouri averaged just 290.9 total yards per game, second-worst among Power 5 teams. Only Boston College's 278.9 ranks lower.
Missouri was 1-for-13 on third downs and was doubled up in time of possession (40:15 to 19:45) today against Arkansas.
Walters later revealed his frustration with the loss in general, and how coach Gary Pinkel was sent out on a sour note.
Man I came here to play football for coach Pinkel and get an education but the way we let him go out is an embarrassment.

— Trevon Walters ® (@trevon_walters) November 27, 2015