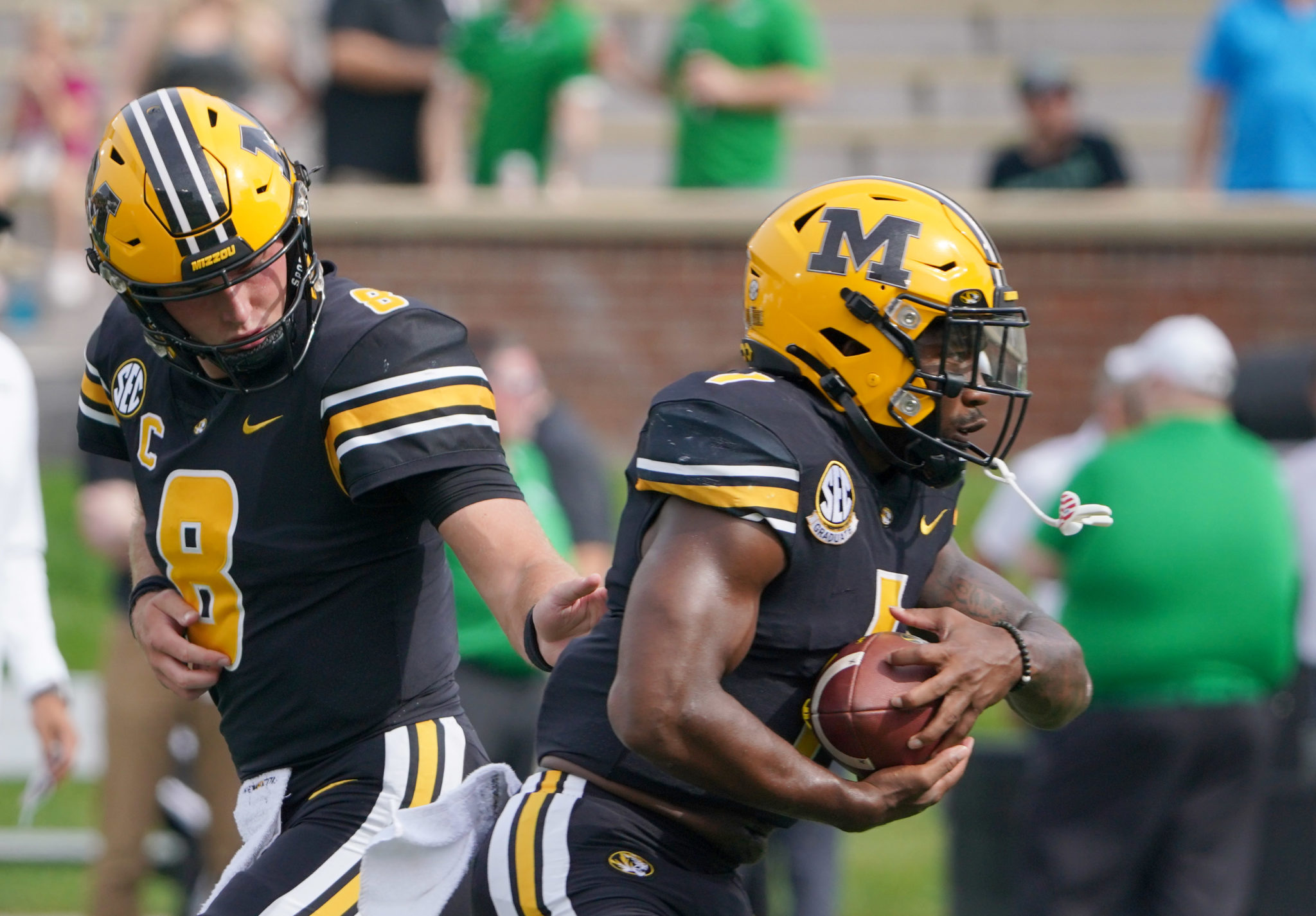 MIZZOU
Mizzou football: Is it time to shake up the offense?
Missouri's offense has stalled. The Tigers are averaging just 22 points per game against SEC teams.
In losses to Tennessee and Texas A&M, they scored a combined 38 points. Quarterback Connor Bazelak has seemed to regress, which begs the question: Should Eli Drinkwitz take advantage of the bye week and consider making some changes, either with personnel, scheme or play-calls?
We have a few ideas on how the Tigers can fix their offense before their next game against Vandy in 2 weeks.
Rotate quarterbacks
This idea probably won't sit well with Tigers fans, but now that the season is on the line, it might be the perfect time to make a change at quarterback.
Bazelak has thrown for nearly 2,000 yards and 12 touchdowns this season, but he has struggled against Power 5 opponents.
In fact, he has thrown all 7 of his interceptions in 4 games against Power 5 opponents, which is more than any other SEC QB this season. A perfect example is the Texas A&M game.
His first interception led to an Aggies touchdown, which killed Mizzou's momentum, and it was downhill after that.
It might be time to open up the quarterback competition with freshman Tyler Macon. That might sound insane, but what does Drinkwitz have to lose? The Tigers are 3-4, haven't won an SEC game, and are struggling on offense in SEC play. Can they get to 6 wins? It's possible, but they won't be favored at Georgia, vs. Florida or at Arkansas. ESPN's FPI doesn't give the Tigers better than a 14% chance to win any of those games.
Macon may be the spark the Tigers need. Even if the Tigers just bring him in on certain plays, it would be a wrinkle an opponent wouldn't expect to see.
Drinkwitz needs to do something to challenge Bazelak.
Auburn did. Bryan Harsin benched Bo Nix and let him watch TJ Finley rally those Tigers past Georgia State. Harsin went back to Nix, and Nix has played better. Now, he has won 2 SEC road games against LSU and Arkansas and their only SEC loss is to Georgia.
Bazelak needs a wake-up call if Mizzou wants to save its season.
Use Tyler Badie as a Wildcat QB
Tyler Badie is 2nd in the SEC in rushing, and 3rd in the SEC in rushing attempts per game.
So it's not like Mizzou ignores him. But utilizing him in Wildcat formations would give the Tigers an extra blocker and might help him get untracked. He has been bottled up in his 2 most recent SEC games, gaining just 68 yards against Texas A&M and 41 against Tennessee. He hasn't reached 100 yet against a Power 5 team.
Get JJ Hester more involved
Keke Chism and Tauskie Dove are Mizzou's 2 leading receivers, but they have combined to catch 1 touchdown pass.
Redshirt freshman JJ Hester has 2, which trails only Badie, who has 4.
Like most of the Tigers, Hester has feasted on inferior competition and struggled against SEC defenses. His 2 longest catches — 65 and 41 yards, both for TDs — came against Southeast Missouri and North Texas.
But he has the size (6-3, 202) and speed to become Mizzou's next big-play threat, and he's quickly becoming a fan favorite.
It angers Mizzou fans to watch this team continue to struggle. Something has to change.
Drinkwitz took a stand for his defense 2 weeks ago, but it may be time to do the same for his offense too.