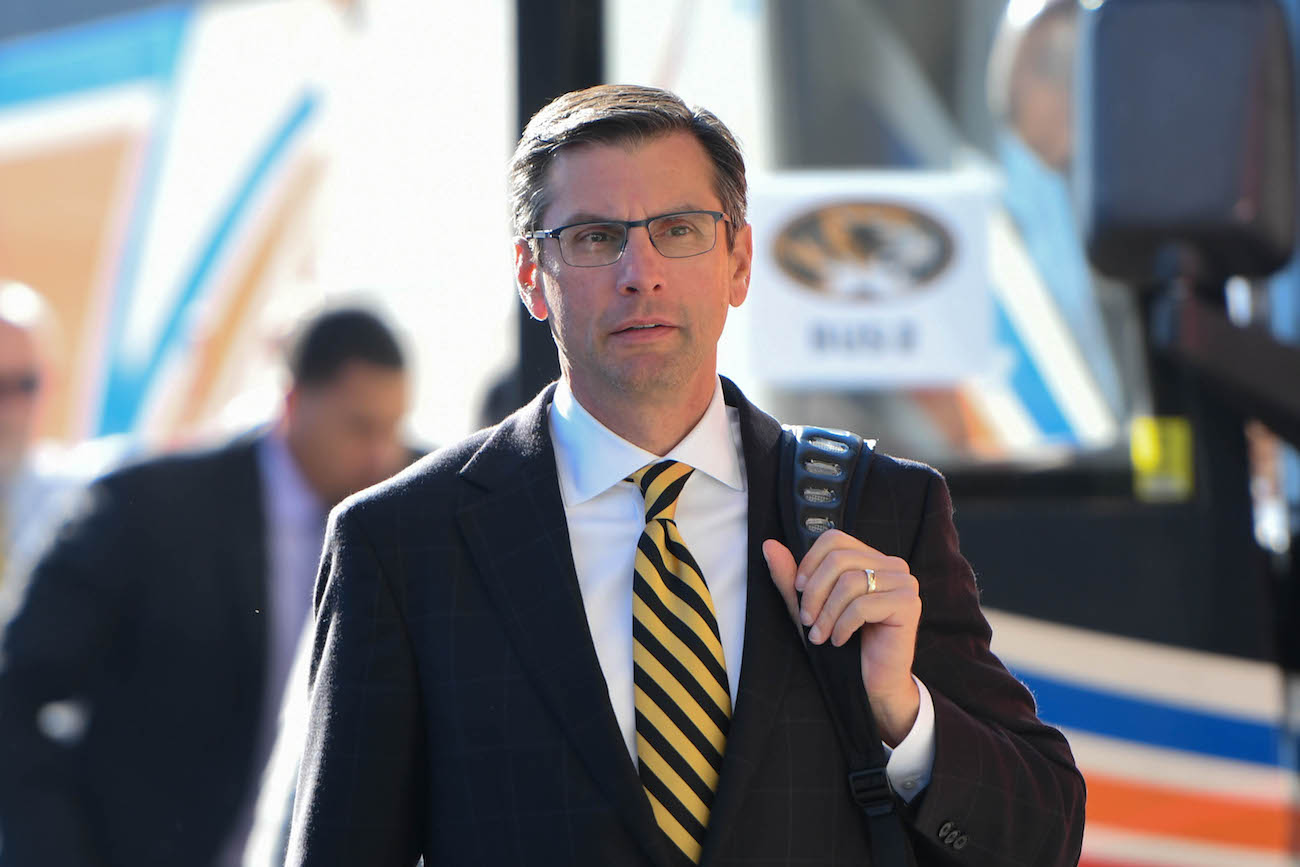 MIZZOU
Mizzou football: The Derek Dooley experiment isn't working. Is it time for a change?
The Missouri Tigers are in a tailspin. After rebounding from a Week 1 loss at Wyoming, the Tigers rattled off 5 consecutive home victories.
That seems like a distant memory, though, as the Tigers have now lost 4 games in a row following a disappointing 23-6 home loss to Florida on Saturday afternoon. The offense managed only 256 yards, including an abysmal 52 rushing yards on 29 attempts (1.8 yards per run).
The Gators made some big plays through the air, and the Mizzou defense didn't force any turnovers, but it's still hard to find too much fault with how the Tigers played defensively against the No. 11 team in the country.
Let's be completely honest here — this is on the offense. The defense still hasn't given up more than 30 points since Week 1. However, the offense has only managed 27 points total in the past 4 games. That's an average of fewer than 7 points per contest.
In the Tigers' first 6 games, during which they went 5-1, the offense averaged nearly 39 points per game. Admittedly, that was against mostly lesser competition, but if the offense could even get to 20 points these days, Mizzou would have a chance to win.
So, what has happened to the offense lately? Many fans are growing frustrated with OC Derek Dooley. When he was hired before the 2018 season, there was some confusion among fans and media members. Here was a guy who had never called plays before in his life. Why would coach Barry Odom and the Tigers trust him?
He promised an NFL-style offense, which was a major shift from former OC Josh Heupel's fast-paced attack that often left the Mizzou defense in tough spots. It worked for the most part under QB Drew Lock in 2018, and even looked good during the 5-game home winning streak.
Now, though, fans are in agreement. Dooley's system does look like an NFL offense — just not a good one:
They told us Derek Dooley runs a pro style offense when Mizzou hired him as our OC… Unfortunately it's the Jets offense. #UFvsMIZ

— Mick (@KC_Mick) November 16, 2019
https://twitter.com/appealingban/status/1196083080680919045?ref_src=twsrc%5Etfw%7Ctwcamp%5Etweetembed%7Ctwterm%5E1196083080680919045&ref_url=https%3A%2F%2Fsaturdaydownsouth.go-vip.net%2Fmizzou-football%2Fmizzou-fans-call-out-oc-derek-dooley-after-another-lackluster-offensive-performance%2F
Here's how each of the Tigers' drives ended on Saturday against Florida:
Punt
Punt
Punt
Field goal
Punt
Punt
Punt
Punt
Field goal
Punt
Punt
Punt
Interception
For those of you keeping score at home, that's 10 punts and 0 touchdowns. That's not going to get the job done against anyone — Florida or otherwise.
QB Kelly Bryant has been banged up. The receiving corps has dealt with injuries. RB Larry Rountree III and the offensive line have been inconsistent. Even with all that, the Tigers have been consistently outschemed.
They're running plays that have no chance to succeed. And, when they do have success and pick up a first down, they'll rush up to the line to try to speed things up, and promptly run a play that loses several yards.
Here's a sequence from Saturday's loss on a drive that led to a field goal, but should have gotten into the end zone:
Pass to Jonathan Nance — 24 yards
Pass to Jalen Knox — 44 yards
Dawson Downing run — loss of 7 yards
Boom. That's it. The drive was doomed after the Tigers tried to go fast and handed the ball to their 3rd-string running back. The next 2 plays (another Downing run and a pass to TE Albert Okwuegbunam) netted 10 yards, but that still left Mizzou facing a 4th-and-7.
Teams have figured out the Tigers' schtick — if they get a couple of first downs in a row, they're going to push the tempo with a running play. Those running plays aren't working (especially not with the 3rd-string running back).
It's time for Dooley to take a long look at this offense and make some major changes. If the Tigers continue to sputter on that side of the ball against Tennessee and Arkansas, Odom will need to make a change (assuming he's still around to make that change).
These are a couple of important weeks for Mizzou. This season's lofty expectations have been completely shot, but failing to reach 6 wins (especially with a game against Arkansas to close out the regular season) would be an unforgivable disappointment.