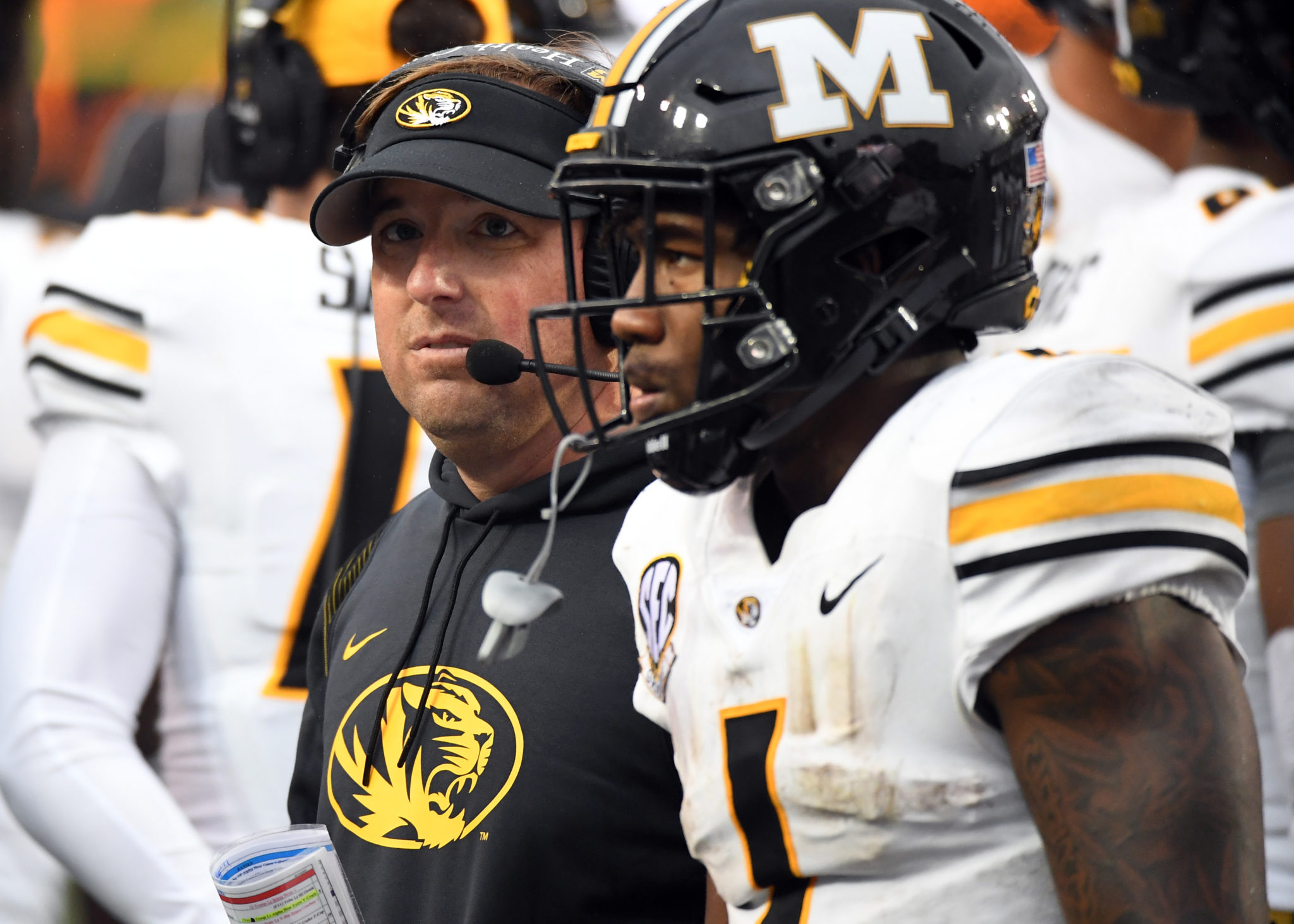 MIZZOU
Mizzou football: Where would a Tigers upset over No. 1 Georgia rank? Well, it would be historic
Las Vegas gives Mizzou next to no chance to upset No. 1 Georgia on Saturday.
The Tigers are 37.5-point underdogs, in fact.
Since 1980, only 2 other college football teams pulled off an upset as a bigger underdog. And the 37.5-point spread would be the 2nd-biggest upset win by a Power 5 underdog in that span. Further, no SEC underdog has won when the spread has been larger than 28.5.
So, yeah, Mizzou has a heck of a mountain to scale Saturday.
But so did Texas A&M earlier this year against Alabama. And, heck, South Carolina beat a few of these same Dawgs in 2019 as a 21.5-point underdog.
So while it would be historic, anything is possible. Nobody thought these SEC upsets would happen, either.
Texas A&M vs No. 1 Alabama 2012 and 2021
The Aggies upsetting then-No. 1 Alabama is not a new thing, it's just the latest thing. Back in 2012, Johnny Maziel rolled into Tuscaloosa after the Crimson Tide's come from behind victory at LSU and beat Alabama 29-23. Sound familiar?
In 2021, a week after Alabama defeated Ole Miss, they lost to the Aggies again in College Station 41-38. The Aggies were 18.5-point underdogs, were starting an untested backup QB and unranked. Nick Saban hadn't lost to unranked team since 2007, but he did that night. Costly mistakes and a great plan by Aggies head coach Jimbo Fisher took the Tide down.
No. 11 Louisville vs. Kentucky 2016
Louisville came into this game ranked 11th in the country and led by soon-to-be Heisman winner Lamar Jackson. The Kentucky Wildcats were 28-point underdogs and no one thought they had a chance to take out Jackson and the Cardinals, but the Wildcats had other plans.
Jackson had a terrible game. He had 3 picks and a fumble that cost his team the victory. Kentucky upset Louisville, 41-38. It was a big win for Mark Stoops over their biggest rival.
No. 4 Florida vs. Ole Miss 2008
No one saw this coming. The Gators, led by 2007 Heisman Trophy winner Tim Tebow, were 23-point favorites over Ole Miss.
But as some teams tend to do, they overlooked the Rebels and lost 31-30. This game probably is most remembered because of Tebow's post-game promise, but it should be noted for how the Rebels played.
They erased a 10-point deficit to tie the game, then took the lead and stopped Tebow on a 4th-down play to end the game. The Gators went on to win another national championship that season.
LSU vs. No. 6 Florida 2020
The Gators had already wrapped up the SEC East and a trip to Atlanta, but they were still in the running for the College Football Playoff, all they had to do was take care of business against LSU, which was a 24-point underdog.
The Tigers were 3-5 coming off a huge loss to Alabama the week before and looking for anything to save their season. LSU played its best game of the year against the Gators.
But despite that, the Gators were in position to win, but one thrown cleat and a field goal later, LSU ended UF's Playoff hopes, 37-34.
Vandy vs. No. 22 Mizzou 2019
This probably is a painful memory for most Mizzou fans, but it is proof, however, that upsets can happen even if it is to your team.
The 22nd ranked Tigers were 21-point favorites over the 2-5 Commodores. What's most painful is that Mizzou basically lost to the Vandy bench.
Quarterback Riley Neal came off the bench and threw a touchdown pass with just over 8 minutes to go in the game to seal the victory.
* * * * *
These upsets prove that anything can happen.
Obviously, Mizzou needs Georgia's help Saturday. A lot of it. Turnovers, a lack of motivation, a few bounces and calls that go their way, etc. They'll need all of that and then some to pull off the 3rd biggest in the sport in the past 40 years, based on the point spread.
Again, some of these Dawgs were on the 2019 team that lost to South Carolina as a 21.5-point favorite. Nobody is saying it will happen Saturday.
But …