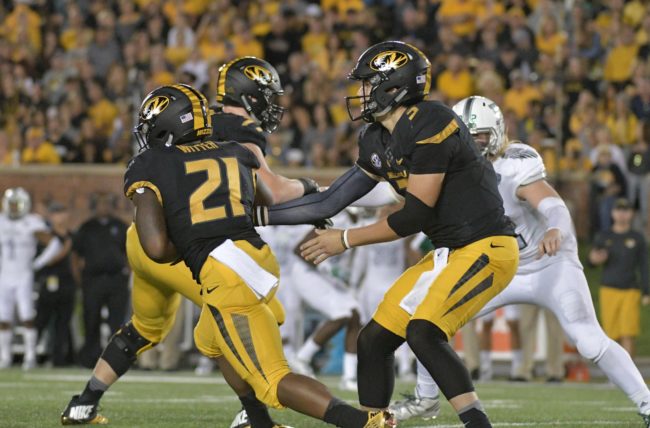 MIZZOU
Midterm grades: Missouri better or worse than we expected?
Through six games, the Missouri Tigers have posted a disappointing 2-4 record.
The past two weeks, Mizzou was dominated by LSU and Florida, losing 42-7 and 40-14, respectively.
When the Tigers have been good, they've been quite good — big wins against Eastern Michigan and Delaware State and a narrow loss to Georgia attest to that. But, as mentioned above, when they've been bad, they've been really bad.
But for every cause for alarm, there's been a positive sign. Midway through the 2016 season, Mizzou has looked better than last year's 5-7 squad.
This year's group still has a chance at a bowl berth. Games against Middle Tennessee, Vanderbilt, Kentucky and South Carolina remain. Win those, and the Tigers will be bowling come December.
There's still a lot of work to do, but the schedule does get easier.
Halfway through the season, here's how the Tigers have stacked up with preseason expectations:
Offense: Slightly better
Sophomore QB Drew Lock had a big September and has respectable numbers overall.
Through six games, Lock has thrown for 1,714 yards and 14 touchdowns. After looking lost in 2015, he's taken some positive steps this season.
Meanwhile, last year's atrocious running game has improved noticeably. As the offensive line has gained experience, the running backs have found more room to run.
The tandem of Damarea Crockett (390 yards, three touchdowns) and Ish Witter (339 yards, three touchdowns) have kept defenses on their toes.
The young unit has struggled against top SEC teams, but with several games against weaker foes remaining, there's room to improve even more in the second half of the season.
Defense: Worse
The Tigers have disappointed on defense, especially the past two games against LSU and Florida.
Even against West Virginia and Georgia, the defense didn't perform like last year's unit, which was one of the nation's best. Losing Walter Brady and Harold Brantley no doubt hurt.
Mizzou has struggled to get pressure on opposing quarterbacks and star DE Charles Harris (above) hasn't been the dominant force he was in 2015. That's partially because teams no longer have to worry about Brady on the other side.
The secondary has been opportunistic, snagging an SEC-leading 10 interceptions. DBs John Brown and Aarion Penton both have three picks, trailing only Florida DB Jalen Tabor, who has four.
In order for the Tigers to become bowl eligible, the defense will need to step up against teams like Vanderbilt, Kentucky and South Carolina, which have below-average offenses.
Special teams: Slightly better
The special teams units have been slightly better, but only because there was nowhere to go but up from last year.
The Tigers have a great punter in Corey Fatony but still need more from their kick returners and K Tucker McCann.
However, the special teams units haven't made any major mistakes this season, which is a positive.
Coaching: Slightly worse
Transitioning from Gary Pinkel was always going to be difficult. First-year coach Barry Odom has done a decent job, but there's a definite drop.
New defensive coordinator DeMontie Cross's unit has disappointed and Josh Heupel's offense has struggled against tough teams.
Still, there are good signs all around. Cross' defense played well against Florida, as 21 points were allowed by the offense and kicking team. Heupel's offense has the potential to be explosive against teams with weaker secondaries.
Yes, Mizzou misses Pinkel, but year one under Odom hasn't been a disappointment.
Freshman class: Significantly better
WR/KR Johnathon Johnson has made some game-changing plays and RB Damarea Crockett has taken over as the team's top runner.
WR Dimetrios Mason has also contributed offensively, recording 17 catches for 208 yards.
Several young skill-position players are contributing in big ways, giving Mizzou's offense a big boost. The future is bright for the Tigers' freshman class.
Returning stars: Slightly worse
Harris hasn't performed as well as hoped in Cross's defense, an assessment that holds for many returning starters on that side of the ball.
On offense, Lock and Moore have looked explosive at times, but have struggled mightily against tougher opponents.
Senior LB Michael Scherer is fourth in the SEC with 52 tackles, but, much like with Harris, more was expected coming into the season.
There's still time for the returning stars to turn things around. If they do, the Tigers should find success against their remaining SEC East foes.
Overall: As expected
Coming into the 2016 season, there weren't many expectations placed on the Tigers. They were picked to finish sixth in the East, after all. A 2-4 record is about what most fans would have expected.
Winnable games remain, and a near-miss against an overrated Georgia team should inspire some hope against lesser SEC East squads.
There's still a chance for the Tigers to finish 6-6 and go to a bowl game, but there are plenty of improvements that need to be made for that to happen.
Mizzou hosts Middle Tennessee on Saturday for Homecoming. The important game for the Tigers' bowl chances kicks off at 3 p.m. Central time and can be seen on the SEC Network.