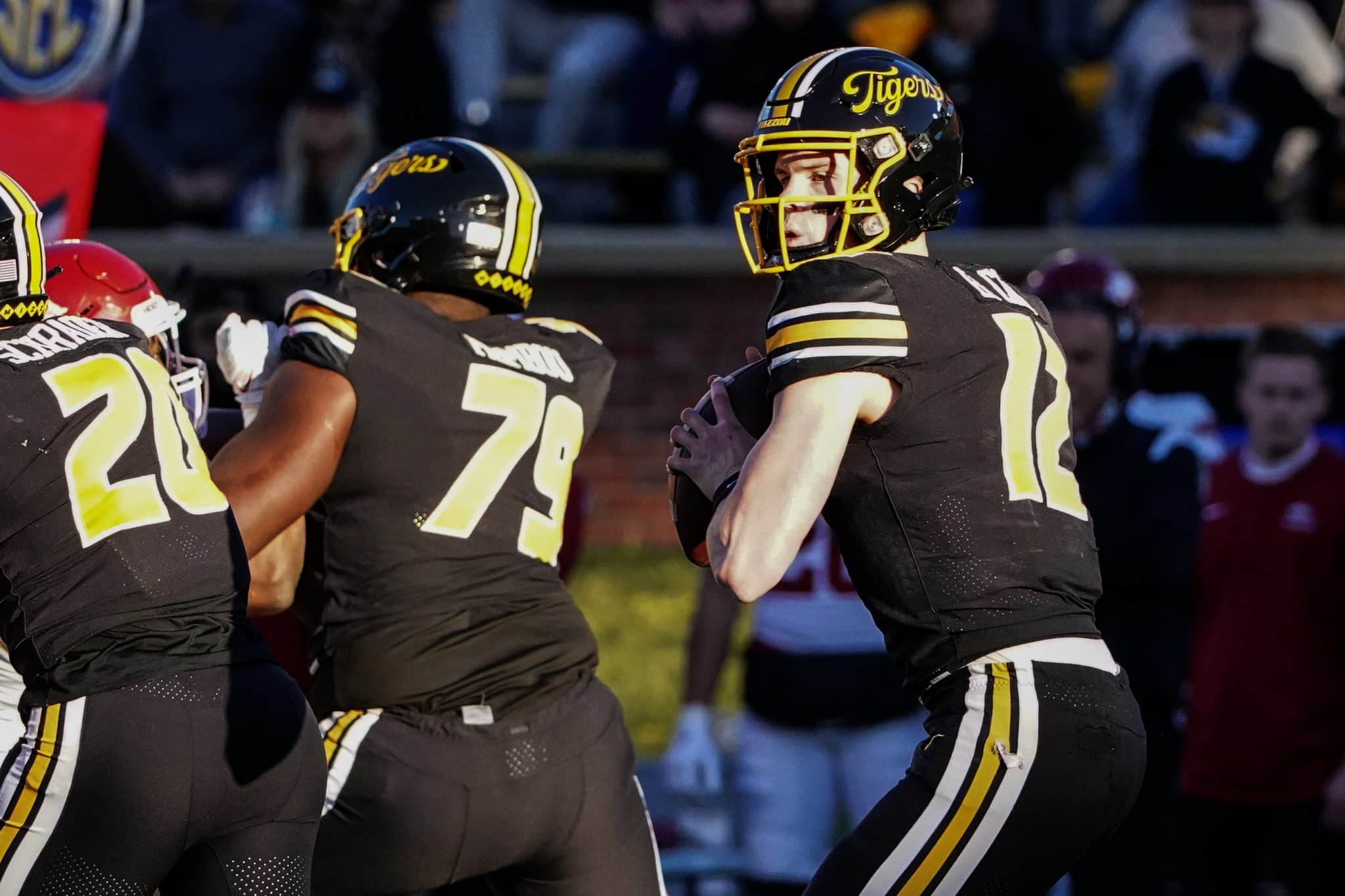 MIZZOU
Rapid Reaction: Brady Cook leads Mizzou to win over Arkansas, bowl eligibility
The Battle Line Rivalry trophy belongs to Missouri. Brady Cook led Mizzou to a 29-27 win over Arkansas on Friday. The Tigers are now bowl-eligible after picking up win No. 6 of the 2022 season. The Razorbacks will still go bowling, finishing 6-6 in the regular season.
It took all 3 phases for Mizzou to earn the upset victory as a 3-point home underdog.
With Cook throwing for 242 yards and leading the way on the ground (18 rushes, 138 yards, TD), with some help from Cody Schrader (18 carries, 87 yards, TD), the Tigers gained 468 yards of offense, a notable increase up from the season average of 362 per game.
The Tiger defense was able to contain Arkansas' potent ground game. Razorback standout RB Raheim Sanders ran for over 200 yards in Week 12 against Ole Miss, but Friday, he had just 10 carries for 47 yards, adding a receiving touchdown.
Blake Baker's unit also wreaked havoc in the backfield. The Tigers recorded 7 sacks, taking 36 yards off of KJ Jefferson's rushing total. MU finished with 11 total tackles for loss.
After a 21-20 first half that ended in Arkansas' favor, the scoring slowed down in the final 2 quarters. Luther Burden's touchdown reception put Mizzou up 26-21 in the 3rd quarter. Eli Drinkwitz elected to go for 2, but the Tigers could not convert. Harrison Mevis' 3rd-quarter field goal made it 29-21.
Arkansas was able to hang around. The Razorbacks chipped away at the 8-point deficit with a pair of second-half field goals to get it to 29-27 with 12:40 to go in the 4th quarter.
After a partially-blocked punt, Mizzou had the ball on the Razorback 35-yard line with 6:26 to go up 29-27. The Tigers' drive, though, ended on a missed 54-yard field goal attempt from Mevis after Cook was sacked for a 6-yard loss on 3rd down.
Mizzou could not quite run out the clock, giving the ball back to Arkansas with 14 seconds left on the clock.
Arkansas' Columbia struggles continue. The Razorbacks have yet to win at Mizzou.