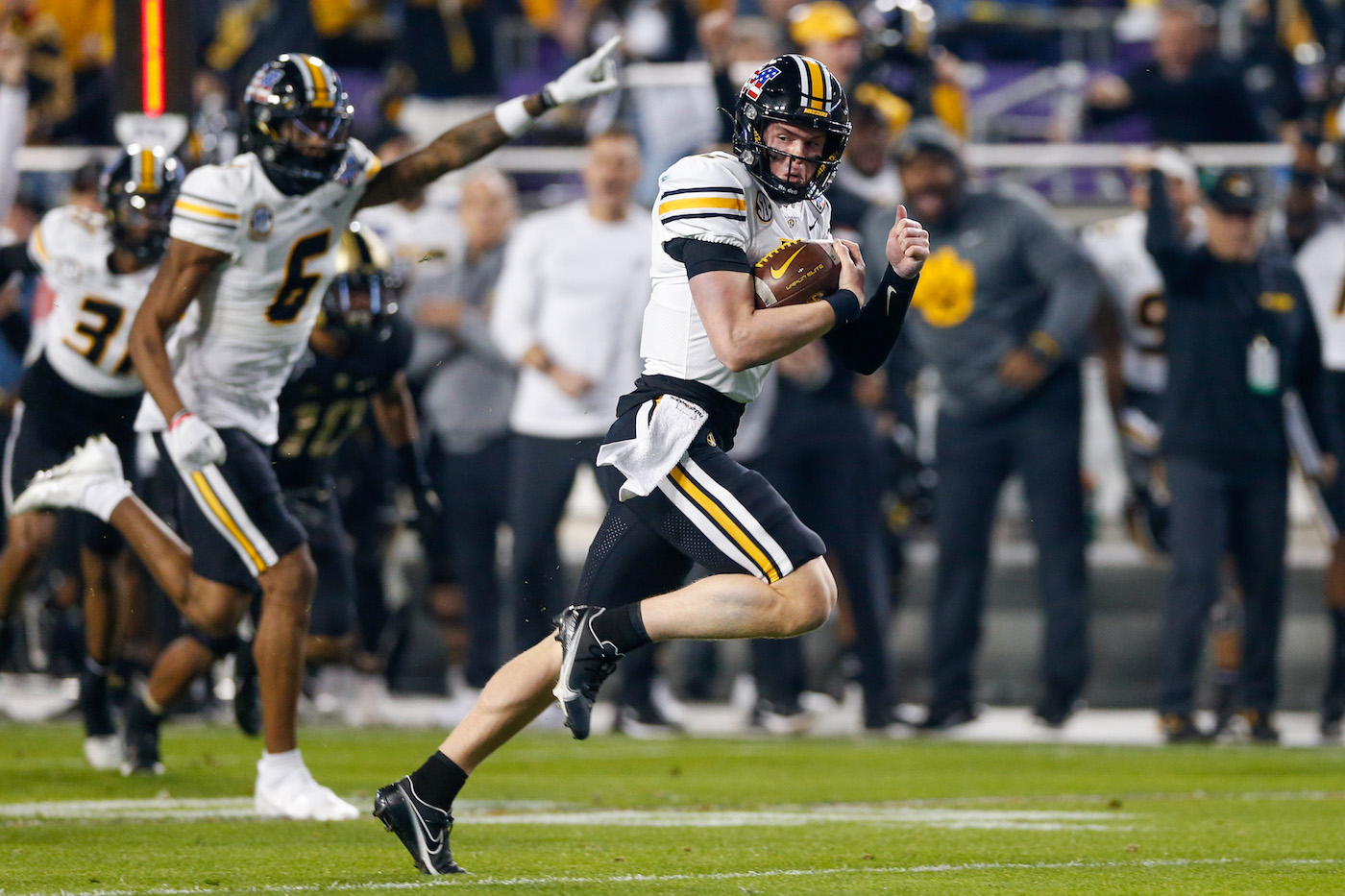 MIZZOU
Rapid Reaction: Mizzou falters in second half, falls to Army in Armed Forces Bowl
Mizzou turned to a new quarterback for the Armed Forces Bowl against Army on Wednesday night.
Down several key starters, most notably star RB Tyler Badie (preparing for NFL Draft) and leading tackler Martez Manuel (injury), the Tigers needed some players to step up.
After the Tigers' first drive, it appeared new QB Brady Cook, stepping in for starter Connor Bazelak, was going to be that guy. He ran for a 30-yard touchdown on the opening drive, giving Army a taste of its own triple-option medicine:
WATCH: #Mizzou QB Brady Cook runs for a 30-yard TD on the Tigers opening drive of the #ArmedForcesBowl pic.twitter.com/rKkHWYTlNK

— Andrew Kauffman (@AndrewABC17) December 23, 2021
However, subsequent Mizzou drives stalled, with a couple of those ending with red-zone field goals. Fortunately for Eli Drinkwitz's crew, All-SEC kicker Harrison Mevis was up to the task, going 3-for-3 in the first half to give the Tigers a 16-7 halftime lead:
Harrison Mevis for MVP! pic.twitter.com/iTBM2A53KW

— Andrew Kauffman (@AndrewABC17) December 23, 2021
After halftime, though, it was all Army. Mizzou's offense went flat, scoring 0 points. Meanwhile, Army did what Army does — sustain long drives that end in touchdowns.
This play cut Mizzou's lead to 2 points:
Jakobi Buchanan hit the end zone like a freight train ? pic.twitter.com/lD4YZeHfiV

— ESPN College Football (@ESPNCFB) December 23, 2021
Then, a rare passing touchdown gave the Black Knights the 21-16 lead:
https://twitter.com/FTB_Vids_YT/status/1473859850551529473
After Army recovered a fumble and had its offensive drive stall out, the Black Knights downed a punt at the 2-yard line:
ELITE punt by Army!! pic.twitter.com/S0Iwfk9CHt

— ✯✯✯✯✯ (@FTB_Vids_YT) December 23, 2021
On the Tigers' second-to-last drive, these were 2 key plays that hurt Mizzou's chances of coming back:
This was also a big play on that last drive. Brady Cook nearly connected deep over the middle with Kibet Chepyator, but the hit by Marquel Broughton knocked it away. pic.twitter.com/p3ULg4mWBf

— ✯✯✯✯✯ (@FTB_Vids_YT) December 23, 2021
Finally, late in the fourth quarter, Mizzou broke through, with Cook connecting with Keke Chism for the go-ahead score:
MIZZOU TAKES THE LEAD!! Brady Cook hits Keke Chism for the 6 yard TD! #ArmedForcesBowl pic.twitter.com/gKDZ04VNua

— ✯✯✯✯✯ (@FTB_Vids_YT) December 23, 2021
However, the Tigers missed a wide-open throw on the 2-point conversion and left time on the clock for Army. The Black Knights marched down the field quickly and got into field goal range.
Army didn't miss the 41-yard field goal at the end of the game, securing a 24-22 victory over the Tigers.
41 YARD FIELD GOAL IS… GOOD!!!!! ARMY WINS!!!!! #ArmedForcesBowl pic.twitter.com/vtXyGPkTdP

— ✯✯✯✯✯ (@FTB_Vids_YT) December 23, 2021
The Tigers fell to 6-7 on the season. Now, there are several major question marks that need to be addressed in Columbia this offseason.